The Walt Disney Company announced Friday evening that the hit animated film Frozen 2 would come to the Disney+ streaming platform Sunday, March 15, three months before its planned release date.
The move was to "[surprise] families with some fun and joy during this challenging period," according to a statement obtained by Newsweek.
"Frozen 2 has captivated audiences around the world through its powerful themes of perseverance and the importance of family, messages that are incredibly relevant during this time, and we are pleased to be able to share this heartwarming story early with our Disney+ subscribers to enjoy at home on any device," said Bob Chapek, the new Disney CEO.
Though the film hits the platform on Sunday in the United States, international subscribers will not have long to wait. Frozen 2 comes to Disney+ in Canada, the Netherlands, Australia and New Zealand two days later, on Tuesday, March 17. Disney also says the Ultra HD version of the film will become available in the U.S. on that date; the version released Sunday in the U.S. is the standard high definition edition.
The film stars Idina Menzel, Kristen Bell, Josh Gad and Jonathan Groff. The plot follows the beloved characters from the first film as they attempt to discover the source of Elsa's (played by Menzel) magical ice powers. The songs were written by the same team as Frozen, Kristen Anderson-Lopez and Robert Lopez, and features seven new songs.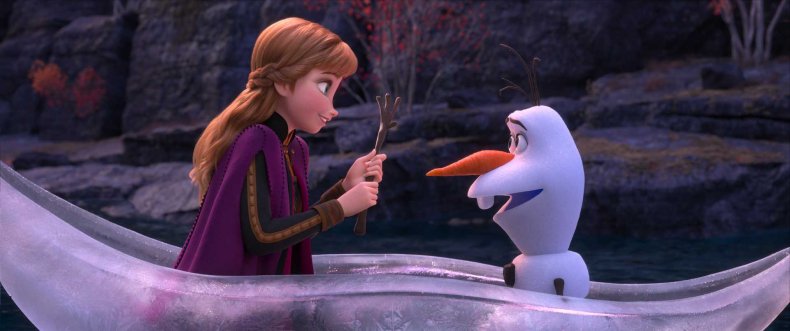 Yesterday, the Walt Disney Company announced that it was closing Disneyland, Walt Disney World in Orlando, Florida, Disneyland Paris and the Disney Cruise Lines on Saturday due to concerns over the coronavirus that causes the disease COVID-19. Hotels at Disneyland will remain open until Monday, March 16 so guests can make travel arrangements.
At Walt Disney World and Disneyland Paris, however, hotels will remain open until further notice, the company said in a statement. The retail complexes, Disney Springs in Florida and Disney Village in Paris, will also remain open. The company also confirmed that all cast members at the shuttered theme parks will be paid during the closure.
A number of companies have made services free or waived fees in response to the coronavirus. AT&T will waive data overage fees temporarily for its customers that don't have an unlimited plan, to ease the costs of working from home during the crisis. Hotel chains Hilton, Four Seasons and Marriott also announced they were waving cancellation and change fees in areas hit by the virus. Similarly, American Airlines, United, Delta and other airlines have waived cancellation fees or fees for itinerary changes.