Frustrated Cop's TikTok Video Viewed Over 1.4M Times: 'All of Us Are Not Bad…I'm So Tired'
One cop is going viral after posting a TikTok detailing his frustrations with the national conversation about law enforcement.
"I'm tired. I am so goddamn tired. I wake up every morning and kiss my family goodbye, knowing there's a possibility I won't come home," Major Kelvin Dingle says to the camera. "I am tired of every time I wake up in the morning there's someone else polarizing the fact that maybe law enforcement is just not a good thing."
He continues, "All of us are not bad. I am not as they are. Most of us are not. There are bad people in every career. I am so goddamn tired, tired, tired."
Toward the end of the video, Dingle, who recorded himself while driving, says, "I give everything. I am tried."
The video was posted to the social media platform over the weekend and has since been viewed over 1.4 million times.
Dingle is the operations commander at the Morehouse School of Medicine's public safety office, in Atlanta. He often documents his experiences as an officer on his TikTok account, where he describes himself as both an "inspirational speaker" and "Christian Youth counselor" in his biography.
Dingle has received an outpouring of support on TikTok, with users commenting on his video with messages like "I'm so upset that this is your reality" and "You have so much support."
One user wrote, "This absolutely breaks my heart. I am SO grateful for you and appreciate all you have sacrificed. I feel so blessed to have men like you."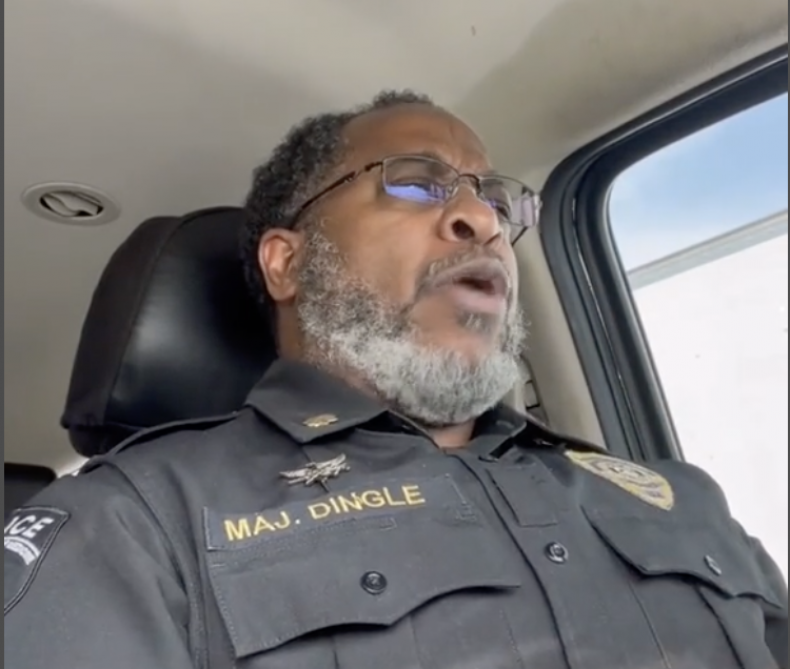 Opinions about law enforcement have become increasingly divided since the police killing of George Floyd in Minneapolis last year. As the nation has been forced to confront systemic racism, and specifically police brutality against Black and brown Americans, there has been a growing number of calls to defund or abolish police departments.
Black Lives Matter activists have urged local governments to withdraw money from police budgets and reinvest it in other forms of community programs, such as mental health services.
Many cities have enacted police reform, with police departments banning chokeholds and pledging greater transparency.
In Congress, Democratic lawmakers have introduced the George Floyd Justice in Policing Act, legislation that aims to combat police misconduct, excessive force and racial bias in policing. While the bill passed by a mostly party-line vote in the House, it has not come to a vote on the Senate floor yet. But some of these efforts have also received pushback from some law enforcement officers who feel their jobs have been made more dangerous by the national discourse surrounding police.
Newsweek reached out to Dingle for comment but did not hear back before publication.