Federal Trade Commission (FTC) Chair Lina Khan said federal enforcers will not "back down" while Big Tech has been "flexing some muscle or kind of trying to intimidate us" amid the agency's ongoing antitrust lawsuits.
Khan told CNBC on Wednesday that it has taken "courage" to continue with its legal battles with Big Tech because the agency has comparatively limited resources when matched up against billion-dollar corporations.
"We have to make very difficult choices about which billion-dollar deals we're going to ensure we're closely investigating, but there are very real trade-offs in terms of what that work is going to come at the expense of," Khan said in her first on-camera interview.
In its antitrust suit against Facebook, the FTC is seeking to prove that the company maintains dominance over the digital marketplace through mergers that thwart competition. The case's outcome could put future antitrust cases in the FTC's favor by placing the tech industry in a more vulnerable position when faced with antitrust litigation.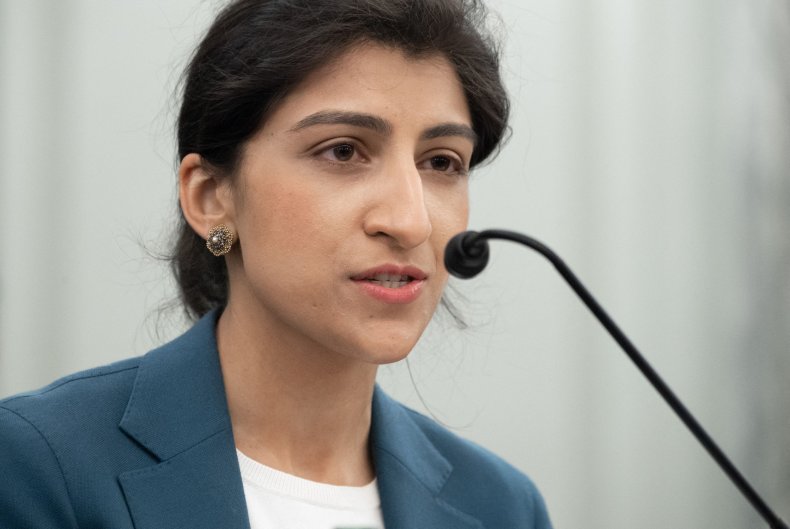 Knowing the potential implications of the case, Facebook has not made the legal challenge easy for Khan. Last year, the tech giant asked a judge to have her recused from the antitrust case, arguing that she had already made up her mind regarding the antitrust violations. Facebook alleged that she "has consistently made public statements" accusing the company of violating rules.
The judge did not dismiss the request until last week. Newsweek reached out to the FTC for comment but did not hear back in time for publication.
"We're really showing these companies, but also showing the country, that enforcers are not going to back down because of these companies flexing some muscle or kind of trying to intimidate us," Khan told CNBC. "I think those are the types of lessons that we're trying to learn looking back over the last decade."
On Tuesday, the FTC announced in a joint statement with the Department of Justice that it was seeking public input regarding the nation's guidelines for corporate mergers, a key part of antitrust regulation. The agencies said they wanted input on how to "modernize" merger rules to "better detect and prevent illegal, anticompetitive deals."
As Khan moves forward in her role heading the FTC, which she assumed last June, she will move "with a fierce sense of urgency" as the agency reflects on past barriers to antitrust victories in an era of emerging digital technologies, she told CNBC.
"I think there's an opportunity here to really change and learn from the mistakes of the past, and that's what we're going to try to do," she said.