Full List of 229 Black People Killed by Police Since George Floyd's Murder
At least 229 Black people have been killed by police officers across the U.S. in the year since George Floyd's murder.
Today marks the one-year anniversary of Floyd's death after then-Minneapolis police officer Derek Chauvin pressed his knee into Floyd's neck for more than nine minutes as he gasped for air, prompting widespread protests and calls for a change in U.S. policing. However, data shows police have continued to kill Black people at similar rates to previous years.
According to the Mapping Police Violence database, officers across the country have killed at least 229 Black people since Floyd's death in Minneapolis on May 25 last year. The vast majority are male, and range in age from three months to 88.
Samuel Sinyangwe, a data scientist who co-founded the project, told Newsweek that the figure is "most likely an underestimate because more recent killings have fewer articles reporting details such as the race of the victim."
Sinyangwe added: "Excluding 'unknown race' records, Black people make up a similar proportion of people killed out of the total number of killings as in past years."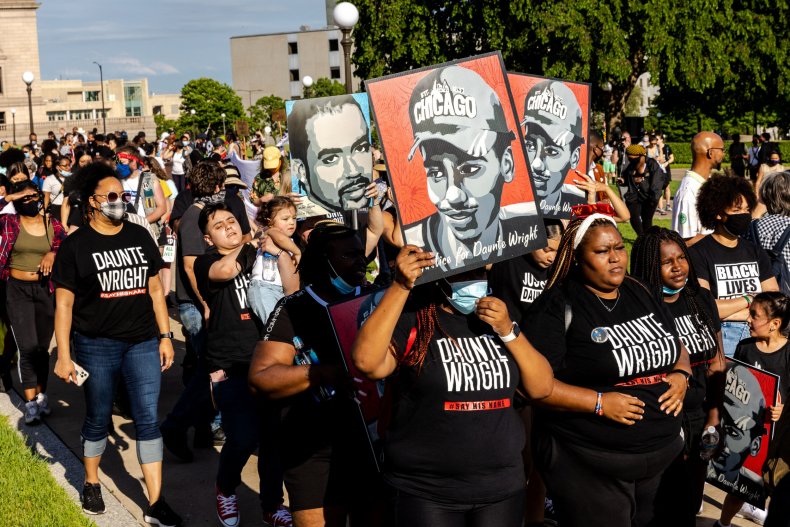 Here are the names (where available), ages and locations of the 229 Black people who have been killed by police since George Floyd:
Tony McDade aka Natosha McDade, 38, Tallahassee, FL
Modesto "Marrero Desto" Reyes, 35, Marrero, LA
Ruben Smith III, 35, North Little Rock, AK
Jarvis Sullivan, 44, Yulee, FL
Terrell Mitchell, 34, Philadelphia, PA
Momodou Lamin Sisay, 34, Snellville, GA
Derrick Thompson, 46, Fountain, FL
David McAtee, 53, Louisville, KY
Tyquarn Graves, 33, Brooklyn, NY
Kamal Flowers, 24, New Rochelle, NY
Lewis Ruffin Jr., 38, Orlando, FL
Phillip Jackson, 32, Tunnell Hill, GA
Michael Blu Thomas, 63, Lancaster, CA
Rayshard Brooks, 27, Atlanta, GA
Cane Van Pelt, 23, Crown Pont, IN
Donald Ward, 27, Phoenix, AZ
Brandon Gardner, 24, Beach Park, IL
Terron Jammal Boone, 31, Rosamond, CA
Derrick Canada, 43, Giddings, TX
Skyleur Toung, 31, San Bernardino, CA
Robert D'Lon Harris, Vinita, OK
Rasheed Mathew Moorman, 26, Roanoke, VA
Aloysius Larue Keaton, 58, Little Rock, AK
Kevin O. Ruffin, 32, Sheboygan, WI
Ky Johnson, 31, Kansas City, MO
William Wade Burgess III, 27, St. Louis, MO
Joseph W. Denton, 35, Milwaukee, WI
Paul Williams, Houston, TX
Malik Canty, 36, Paterson, NJ
Erroll Johnson, 31, Monroe, LA
Richard Lewis Price, 49, San Diego, CA
Hakim Littleton, 20, Detroit, MI
Vincent Demario Truitt, 17, Austell, GA
Aaron Anthony Hudson, 31, Syracuse, NY
Darius Washington, 24, Chicago Heights, IL
Vincent Harris, 51, Baton Rouge, LA
Jeremy Southern, 22, Sacramento, CA
Name withheld by police, Detroit, MI
Chester Jenkins, 60, Stockton, CA
David Earl Brooks Jr., 45, Roxboro, NC
Darrien Walker, 28, Detroit, MI
Ashton Broussard, 30, Houston, TX
Amir Johnson, 30, Ventnor City, NJ
Julian Edward Roosevelt Lewis, 60, Sylvania, GA
Salaythis Melvin, 22, Orlando, FL
Jonathan Jefferson, Bossier City, LA
Rafael Jevon Minniefield, 29, Moreland, GA
Kendrell Antron Watkins, 31, Tuscaloosa, AL
Anthony McClain, 32, Pasadena, CA
Adrian Jason Roberts, 37, Hope Mills, NC
Trayford Pellerin, 31, Lafayette, LA
Damian Lamar Daniels, 31, San Antonio, TX
Julius Paye Kehyei, 29, Houston, TX
Name withheld by police, 43, Dearborn Heights, MI
Michael Anthony Harris, 44, Daytona Beach, FL
Robert Earl Jackson, 54, Thorsby, AL
Dijon Kizzee, 29, Westmont, CA
Deon Kay, 18, Washington, D.C.
Steven D. Smith, 33, Syracuse, NY
Major Carvel Baldwin, 61, San Antonio, TX
Steve Gilbert, 33, Delray Beach, FL
Jonathan Darsaw, 28, Moscow, TN
Robert Coleman, 88, West Sacramento, CA
Darrell Wayne Zemault Sr., 55, San Antonio, TX
Charles Eric Moses Jr., 33, Brunswick, GA
Dearian Bell, 28, Atlanta, GA
Patches Vojon Holmes Jr., 26, Bellefontaine Neighbors, MO
Kurt Andras Reinhold, 42, San Clemente, CA
Willie Shropshire Jr., 57, Waggaman, LA
DeMarco Riley, 27, Decatur, GA
Jonathan Price, 31, Wolfe City, TX
Stanley Cochran, 29, Philadelphia, PA
Tyran Dent, 24, Queens, NY
Anthony Jones, 24, Bethel Springs, TN
Kevin Carr, 23, Los Angeles, CA
Dana Mitchell Young Jr., 47, Los Angeles, CA
Fred Williams III, 25, Los Angeles, CA
Akbar Muhammad Eaddy, 27, Rock Island, IL
Dominique Mulkey, 26, Tampa, FL
Marcellis Stinnette, 19, Waukegan, IL
Rodney Arnez Barnes, 48, Elmwood Place, OH
Gregory Jackson, 45, Moss Point, MS
Mark Matthew Bender, 35, San Bernardino, CA
Ennice "Lil Rocc" Ross Jr., 26, Kansas City, MO
Jakerion Shmond Jackson, 19, Sylvester, GA
Walter Wallace Jr., 27, Philadelphia, PA
Maurice Parker, 34, Las Vegas, NV
Kevin Peterson Jr., 21, Vancouver, WA
Name withheld by police, 42, Detroit, MI
Justin Reed, 34, Jacksonville, FL
Michael Wright, Sacramento, CA
Reginald Alexander Jr., 25, Dallas, TX
Frederick Cox Jr., 18, High Point, NC
Rodney Eubanks, 25, Baltimore, MD
Vusumuzi Kunene, 36, Lanham, MD
Brandon Milburn, 37, Oklahoma City, OK
Tracey Leon McKinney, Gulfport, MS
Angelo "AJ" Crooms, 16, Cocoa, FL
Sincere Peirce, 18, Cocoa, FL
Arthur Keith, 19, Cleveland, OH
Name withheld by police, Inglewood, CA
Shane K. Jones, 38, Dania Beach, FL
103. Shawn Lequin Braddy, 37, Laurel, MD
Jason Brice, 39, La Vergne, TN
Kenneth Jones, 35, Omaha, NE
Rodney Applewhite, 25, Los Lunas, NM
Terrell Smith, 17, Atlanta, GA
Rondell Goppy, 41, Queens, NY
Ellis Frye Jr., 62, Culpeper, VA
Cory Donell Truxillo, Houma, LA
Mickee McArthur, 28, Ferry Pass, FL
Udofia Ekom-Abasi, Phoenix, AZ
James David Hawley, 47, Pineville, LA
Kevin Fox, 28, Detroit, MI
Dominique Harris, 20, St. Petersburg, FL
Maurice Jackson, 42, Phoenix, AZ
Andre K. Sterling, 35, Bronx, NY
Casey Christopher Goodson Jr., 23, Columbus, OH
Kwamaine O'Neal, 47, Toledo, OH
Mark Brewer, 28, St. Louis, MO
Donald Edwin Saunders, 37, Dayton, OH
Thomas Reeder III, 44, Flint, MI
Joseph R. Crawford, 23, Fort Atkinson, WI
Joshua Feast, 22, La Marque, TX
Charles E. Jones, 36, Houston, TX
Bennie Edwards, 60, Oklahoma City, OK
Jeremy Daniels, 29, Concord Mills, NC
Johnny Bolton, 49, Smyrna, GA
Larry Taylor, 39, Mobile, AL
Andre Maurice Hill, 47, Columbus, OH
Isaac Frazier, 31, Houston, TX
Sheikh Mustafa Davis, 20, Midway, GA
Shamar Ogman, 30, Hartford, CT
Marquavious Rashod Parks, 26, Davisboro, GA
Larry Hamm, 47, Denver, CO
Helen Jones, 47, Phoenix, AZ
Jason Cooper, 28, Charleston, SC
Jaquan Haynes, 18, Atlanta, GA
Shyheed Robert Boyd, 21, Highland, CA
Dolal Idd, 23, Minneapolis, MN
Carl Dorsey III, 39, Newark, NJ
La Garion Smith, 27, Homestead, FL
Tre-Kedrian Tyquan White, 20, Richburg, SC
Vincent Belmonte, 18, Cleveland, OH
Shawn McCoy, Spokane, WA
Robert "Lil Rob" Howard, 30, Memphis, TN
Jason Nightengale, 32, Evanston, IL
Matthew Oxendine, 46, Pembroke, NC
Patrick Warren Sr., 52, Killeen, TX
Lymond Maurice Moses, 30, Wilmington, DE
Kershawn Geiger, 24, Carmichael, CA
Reginald Johnson, 48, Biloxi, MS
Zonterious Johnson, 24, Lawton, OK
Christopher Harris, 27, Toledo, OH
Eusi Malik Kater Jr., 21, Titusville, AL
Tyree Kajawn Rogers, 38, Wichita Falls, TX
Randy Miller, Los Angeles, CA
Roger D. Hipskind, 37, Wabash, IN
Karl Walker, 29, Dixon, CA
Marvon Payton Jr., 27, Las Vegas, NV
Jenoah Donald, 30, Hazel Dell, WA
Dontae Green, 34, Baltimore, MD
Treyh Webster, 18, Mobile, AL
Christopher Hagans, 36, Stratford, CT
Andrew Hogan, 25, Trotwood, OH
Dustin Demaurean Powell, 34, Lakeview, TX
Gregory Taylor, 45, Seattle, WA
Jordan Walton, 21, Austin, TX
Brandon Wimberly, Coral Gables, FL
Daverion Kinard, 29, Fontana, CA
Arnell States, 39, Cedar Rapids, IA
Benjamin Tyson, 35, Baltimore, MD
Donald Francis Hairston, 44, Culpeper, VA
Chandra Moore, 55, Detroit, MI
Andrew Teague, 43, Columbus, OH
Howayne Gale, 35, Lakeland, FL
Tyshon Jones, 29, Rochester, NY
Tyrell Wilson, 32, Danville, CA
Nika Nicole Holbert, 31, Nashville, TN
Christopher Ruffin, 28, Palm Bay, FL
Daryl Lenard Jordan, 50, Miami, FL
Kevin L. Duncan, 38, Bellefontaine, OH
Frankie Jennings, 32, Charlotte, NC
Travon Chadwell, 18, Chicago, IL
Malcolm D. Johnson, 31, Kansas City, MO
Donovan W. Lynch, 25, Virginia Beach, VA
Matthew Blaylock, 38, Los Angeles, CA
Michael Leon Hughes, 32, Jacksonville, FL
Willie Roy Allen, 57, Lithonia, GA
DeShawn Latiwon Tatum, 25, Rock Island, IL
Noah R. Green, 25, Washington, D.C.
Diwone Wallace, 24, Alorton, IL
Gabriel Casso, 21, Bronx, NY
Desmon Montez Ray, 28, Birmingham, AL
Dominique Williams, 32, Takoma Park, MD
James Lionel Johnson, 38, Takoma Park, MD
James Alexander, 24, Philadelphia, PA
Raheem Reeder, Tallahassee, FL
DeShund Tanner, 31, Georgetown, KY
Faustin Guetigo, 27, Rockford, IL
Daunte Wright, 20, Brooklyn Center, MN
Miles Jackson, 27, Westerville, OH
Mathew Zadok Williams, 35, Decatur, GA
Anthony Thompson Jr., 17, Knoxville, TN
Pier Alexander Shelton, 28, Bremen, GA
Lindani Myeni, 29, Honolulu, HI
Innes Lee Jr., 25, Cleveland, OH
Roderick Inge, 29, Tuscaloosa, AL
Larry Jenkins, 52, Winter Haven, FL
Name withheld by police, 31, Fort Worth, TX
Dequan Cortez Glenn, 24, Douglasville, GA
Doward Sylleen Baker, 39, Dothan, AL
Ma'Khia Bryant, 16, Columbus, OH
Andrew Brown, 42, Elizabeth City, NC
Tory Casey, 41, Rosenberg, TX
Michael Lee McClure, 26, Billings, MT
Marvin Veiga, 32, Nashville, TN
Hanad Abidaziz, 25, Kansas City, MO
Terrance Maurice Parker, 36, Washington, D.C.
Eric Derrell Smith, 30, Biloxi, MS
La'Mello Parker, three months, Biloxi, MS
Latoya Denis James, 37, Woodbine, GA
Ashton Pinkee, 27, Mesquite, TX
Adonis Traughber, 54, Clarksville, TN
Kalon Horton, 29, Leicester, MA
Lance Lowe, 30, Stockton, CA
Tyrone Penny, 21, Decatur, GA
Darion M. Lafayette, 24, Champaign, IL
Kortnee Lashon Warren, 23, Albany, GA