Full List of Bizarre Weather Phenomena Caused by the 'Arctic Outbreak'
The Northeast was exposed to an assortment of rare cold weather phenomena when an arctic blast impacted the region late last week and through the weekend.
New England was hit with record-breaking cold air after an unseasonably warm winter. Wind chill plummeted to -10 degrees in New York City, -33 degrees in Boston, and -60 degrees in northern Maine.
The Associated Press reported that in New Hampshire, Mount Washington was hit with the coldest wind chill in United States history on Saturday when a wind chill of more than -108 degrees was documented over the weekend. According to a Washington Post article that was published on Saturday, the National Weather Service (NWS) described the cold front as "a historic Arctic outbreak for the modern era."
In addition to the dangerous cold, residents in the Northeast also experienced myriad rare winter weather events—everything from frost quakes and cracking trees to sea smoke.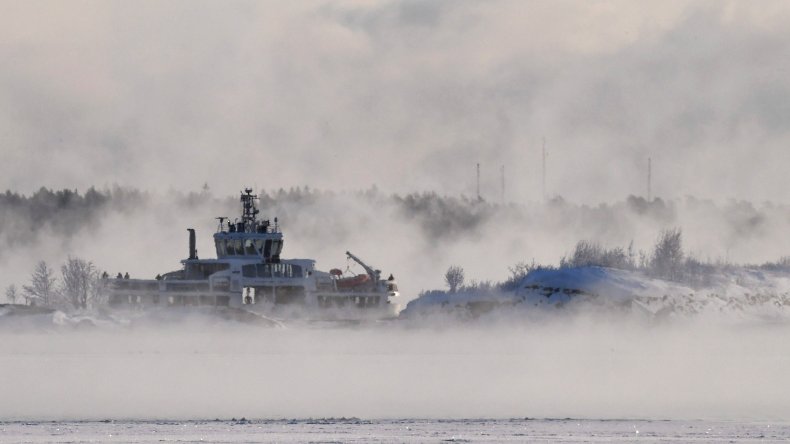 NWS offices throughout the Northeast documented the bizarre happenings, such as frost quakes in Piscataquis County, Maine.
NWS Caribou tweeted Friday that its office received reports of "quakes" occurring across the area. NWS added that the quakes were known as frost quakes, or cryoseisms. Just like earthquakes, the frost quakes generate tremors and thundering sensations when sudden cracks occur in frozen soil.
Frost quakes usually don't produce enough power to cause structural damage, although there are instances where small cracks form in the ground, according to a Friday report by AccuWeather. Meanwhile, some Twitter users reported items falling off their shelves.
KNWA News chief meteorologist Dan Skoff said in some cases, the frost quakes can shake houses, which occurred in Arkansas late January during a similar cold weather event.
"Did any of you hear a LOUD boom this evening & your house shook as a result of it? At first you might think it was thunder from a lightning bolt, but there were no cloud flashes in NWA tonight. You may have experienced what's known as a #cyroseism #frostquake #icequake #ARwx," he tweeted.
One Twitter user that experienced the frost quake said it sounded like someone drove into his house or that someone dropped a large frozen turkey on the counter.
The rare weather occurrences didn't stop at frost quakes. The same NWS office shared an eerie video of trees cracking later Friday night.
"Sound of Trees cracking in Lamoine, ME on the Downeast coast. Likely from water inside the trees freezing and expanding. This has caused some tree damage and power outages," NWS Caribou tweeted.
The video, which is 30 seconds long, has been viewed more than 10,000 times as of Monday morning. The towering trees could be heard snapping and cracking above the sound of a heat pump throughout the clip.
A third rare occurrence was also witnessed over the weekend in the same region. Sea smoke, also known as frost smoke or steam fog, occurs when frigid air moves over warmer water. The phenomenon creates an appearance of smoke over the water. Typically, sea smoke is seen in the Arctic, but residents of Little Compton, Rhode Island, witnessed it Saturday morning.
"A large sea smoke vortex dwarfs Sakonnet Light in Little Compton, #RhodeIsland this morning as extreme cold moved into the region," photographer Mike Cohea tweeted.
AccuWeather senior meteorologist Tom Kines told Newsweek on Monday that the weather events were "unusual".
Kines added that the sea smoke occurred because some lakes in the region weren't frozen, which is untypical for this time of year.
Update 2/6/2023, 12:53 p.m. ET: This article has been updated with comment from Tom Kines.