A Washington State man was unpleasantly surprised last December when a funeral home informed him that a stranger had been buried in the place of his father.
Jerald Weber filed a lawsuit against Curnow Funeral Home this week, alleging that the funeral home inflicted emotional distress and violated consumer protection laws by burying a different person instead of his father, 97-year-old World War II veteran William Weber, The Seattle Times reported.
The suit states that funeral director Brian Curnow called Weber on December 1 to tell him that an unnamed person "was buried in his father's coffin, received military honors, and was wearing his father's uniform."
Extended family members, some of whom had traveled from different states, had gathered three weeks earlier on November 12 to watch who they wrongly believed was William Weber be buried next to his late wife, Helen.
The funeral at Kent, Washington's Tahoma National Cemetery featured full military honors including a gunfire salute and an American flag ceremoniously folded and draped on the casket.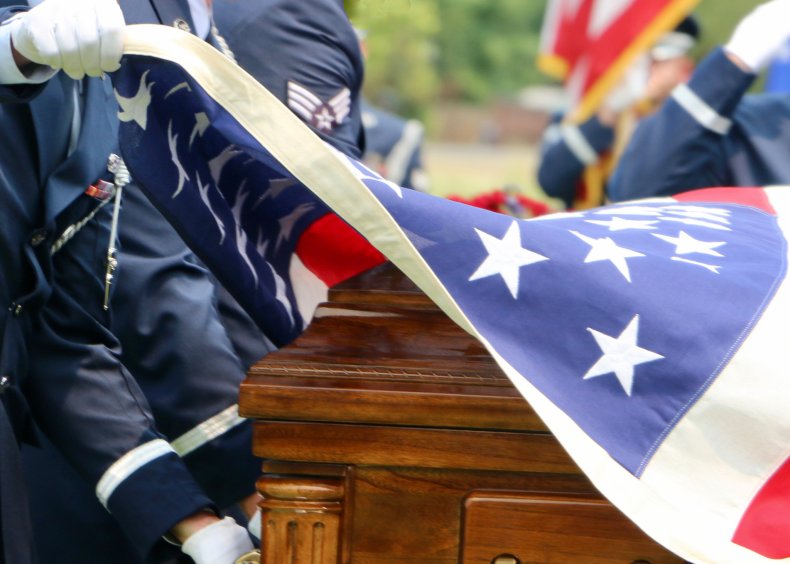 "My family and I are devastated," Weber told Seattle news station KIRO. "I am just wrought with just anger, and just sadness, and just the negligence that went into this. It's just unspeakable."
"I don't know who that person is, who received military honors in my father's casket," he added. "My father's not buried with my mother at Tahoma National Cemetery. It's a stranger."
After Weber was informed of the mistake, arrangements were made to move his father's body to a different funeral home.
A catheter that Curnow Funeral Home had promised to remove was allegedly still attached to William Weber's body, as was the same shirt and an adult diaper that had been worn on the day of his death, October 11.
The new funeral home said that the body was too badly decomposed to identify and asked that photos be sent to confirm Weber's identity instead. A second funeral was held by the family in early January, almost two months after the first.
Christine Anthony of Washington State's Department of Licensing, which regulates the funeral industry, told KIRO that the funeral home had not "self reported" the mix-up. An investigation has been launched by the agency and the state Funeral and Cemetery Board.
Curnow Funeral Home told the news station that it was "working with the family and proper authorities, including the Washington State Department of Licensing, regarding this matter."
Weber said that he was moving forward with the lawsuit despite receiving a formal apology from the funeral home, along with a refund for the first funeral and reimbursement for the second.
Newsweek reached out to Curnow Funeral Home for comment.
Although burial mix-ups are not common occurrences, they have been reported nationally.
During a Columbus, Ohio funeral last month, the family of Sonya White, who had recently died unexpectedly at the age of 51, were surprised to discover a different person placed inside the coffin and dressed in the clothing of their loved one.
Two sisters received a similar shock during what they thought was a viewing for their deceased mother Mary Archer at a North Carolina funeral home last September. The sisters came face to face with the remains of a different person who bore "no similarity" to their mother but was wearing her clothing.