Many social media users were less than impressed when the Group of Seven (G-7) nations pledged on Monday to give an immediate 20 million euros ($20 million) to combat ongoing fires ravaging the Amazon rainforest. They suggested that the amount did not go nearly far enough to address the problem, which could have serious repercussions impacting the entire planet.
"We must respond to the call of the forest which is burning today in the Amazon," said French President Emmanuel Macron, who was hosting the G-7 Leaders Summit in France over the weekend. The G-7 is made up of the world's wealthy democracies and includes the U.S., United Kingdom, Germany, Italy, Japan and Canada, in addition to France.
The Amazon rainforests, which are largely in Brazil but also spread into other South American countries, are often referred to as the "lungs of the Earth." Scientists are concerned about the forests being decimated, as they produce a significant amount of the world's oxygen while removing CO2 from the atmosphere.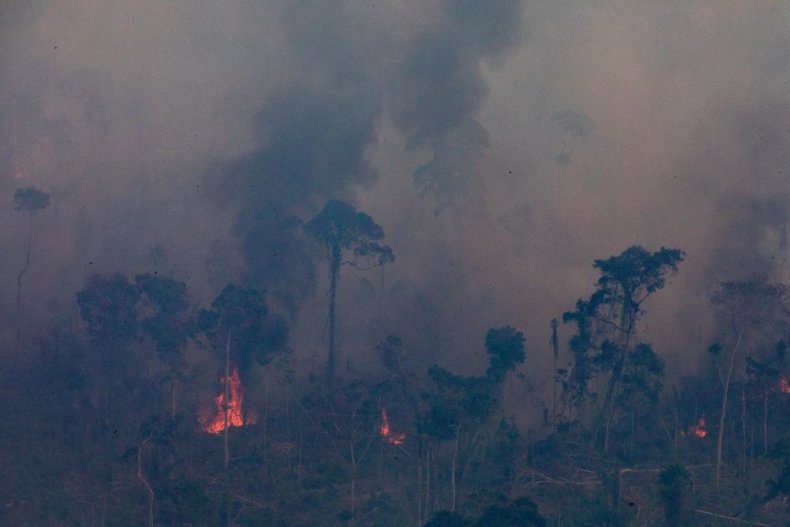 Under far-right President Jair Bolsonaro, Brazil has encouraged more mining, farming and other activities that lead to burning and clearing the rainforests. Although uncontrolled fires occur annually in the rainforests, the size and scale of the devastation has gone beyond the norm and shocked people around the world.
As a result, many on Twitter felt world leaders should do significantly more to address the problem
"Netflix paid $100 million to stream Friends," Twitter user Pablo Hidalgo pointed out as a comparison.
"The US has spent over $100 million on Trump's golf trips," journalist Jordan Uhl tweeted.
"Let me get this straight: $1 billion is immediately pledged when an old church burns down in Paris," Twitter user Tom Talisman wrote. "A global catastrophe on the other hand, one that poses a threat to every living being on this planet, is met with $20 million from nations with a combined GDP of $40 trillion?"
Several others made the same comparison. "Within hours of Norte [sic] Dame catching fire, France and prominent European families pledged $1 billion to rebuild it," political activist and commentator Nathan H. Rubin tweeted. "But the Amazon only gets $20 million?"
Many also criticized President Donald Trump for not attending the climate meeting when the issue was discussed. However, Macron said he and his American counterpart had previously agreed to the group's contribution.
By way of comparison, one charity backed by actor Leonardo DiCaprio has announced that it will contribute $5 million to fight fires in the Amazon. Speaking to Reuters on Monday, DiCaprio said, "Governments around the world, including Brazil, need to work together to make sure this doesn't continue."