Bolsonaro's Chief of Staff Mocks Amazon Aid Offer: 'Macron Cannot Even Avoid a Predictable Fire in a Church…And He Wants to Give Us Lessons?'
The Brazilian government has rejected offers of aid from G7 nations to help tackle the devastating wildfires ravaging the Amazon rain forest, accusing foreign countries of a colonialist mindset and denying the situation is out of control.
The leaders of the G7—Canada, France, Germany, Italy, Japan, the U.K. and the U.S.—jointly announced on Monday they would pledge $22 million to help fight the record number of fires blazing in the Amazon, which have prompted international concern given the forest's importance as a carbon store and oxygen production zone.
But President Jair Bolsonaro's Chief of Staff, Onyx Lorenzoni, quickly rejected the offer, instead suggesting that G7 leaders—who had been meeting in Biarritz, France—focus on their own domestic affairs.
Responding to the pledge, Lorenzoni told the Globo news website, "Thanks, but maybe those resources are more relevant to reforest Europe," the BBC reported.
Referring to a major fire that destroyed part of the historic Notre Dame cathedral in Paris in April, he added, "[President Emmanuel] Macron cannot even avoid a predictable fire in a church that is part of the world's heritage, and he wants to give us lessons for our country?"
Though Brazilian Environment Minister Ricardo Salles had earlier said the offer of aid was welcome, the government quickly changed course on Monday to take a more confrontational stance.
Macron has described the spate of fires as an "international crisis," and while hosting the G7 meeting sought to bring global attention to the blazes. But the far-right government in Brazil has been dismissive of his efforts.
Bolsonaro has said the French president engaged in "unreasonable and gratuitous attacks against the Amazon region," and accused Macron of having a "colonialist mentality." Bolsonaro has also said his French counterpart was "hiding his intentions behind the idea of an 'alliance' of G7 countries."
Lorenzoni echoed the sentiment on Monday, and declared that Brazil is "a democratic, free nation that never had colonialist and imperialist practices, as perhaps is the objective of the Frenchman Macron."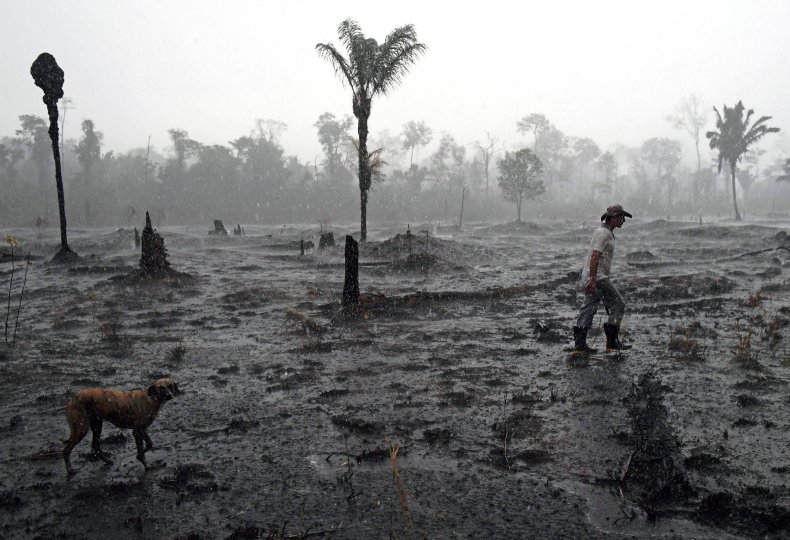 Meanwhile, Bolsonaro's Defense Minister Fernando Azevedo e Silva denied that the fires were out of control, even though some 2.3 million acres of forest have been affected.
The military has deployed some 44,000 troops to the affected region to help battle the infernos, which environmental groups have said are being driven by fires intentionally set by cattle ranchers and loggers seeking to clear the land for industrial use.
Far-right Bolsonaro was elected in October last year. Among his campaign pledges was a vow to open the Amazon up to more industrial development despite protests from indigenous groups and environmentalists. Nonetheless, Silva suggested Brazil could teach "any nation" how to protect native forests.
The Brazilian government's perceived lackluster response to the fires has raised concerns among global leaders that Bolsonaro's administration is not committed to protecting or saving the rain forest.
Though wildfires are common during the dry season, this year marks an 85 percent increase in their incidence when compared with the same period in 2018. Bolsonaro has also been criticized for rhetoric encouraging arsonists and for his government's failure to punish culprits.
This weekend, European Union Council president Donald Tusk said a proposed huge trade deal between Europe and Brazil—the EU-Mercosur agreement—may collapse if Brazil does not bring the fires under control. And last week, Finland's finance minister even suggested that his nation and the EU should work together to ban Brazilian beef imports entirely.
The graphic below, provided by Statista, illustrates how Bolsonaro's approval rating has been diminishing since taking office.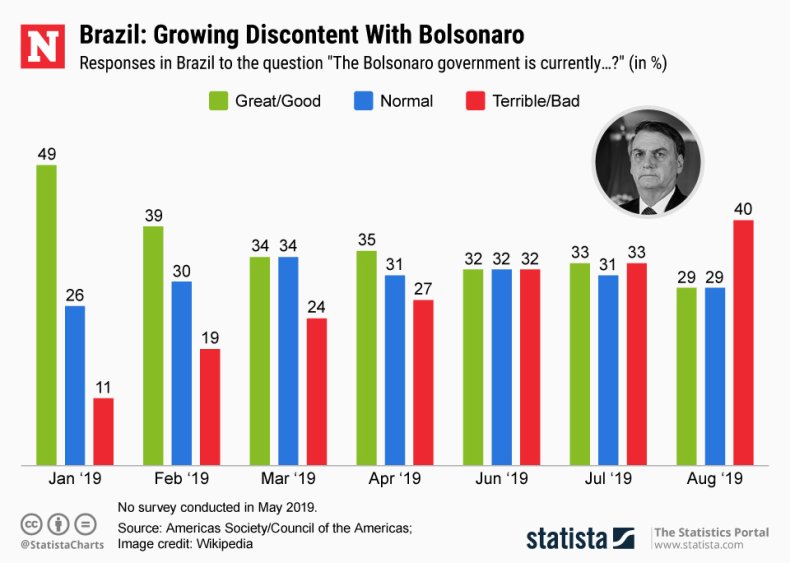 This article was updated to include an infographic.