G7 Leaders Mock Vladimir Putin at Summit Discussing Ukraine War
G7 leaders mocked Russian President Vladimir Putin's infamous shirtless horseback photo shoot during a summit in Germany, where war in Ukraine is high on the agenda.
British Prime Minister Boris Johnson and his Canadian counterpart Justin Trudeau mocked the Russian leader during the meeting at Schloss Elmau, in Bavaria, on Sunday.
As Johnson sat down with other world leaders, he said: "Jackets on? Jackets off? Shall we take our clothes off?"
Trudeau then responded: "Let's wait for the picture."
Johnson then added: "We all have to show that we're tougher than Putin."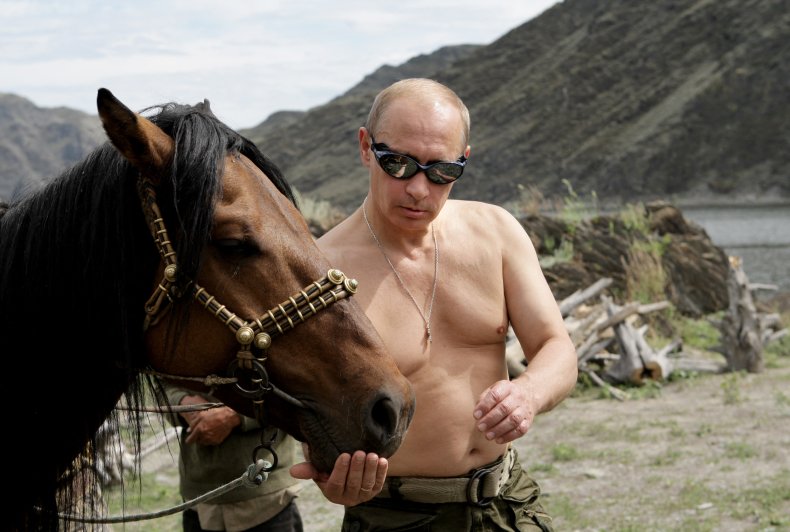 The Canadian Prime Minister replied: "We're going to get the bare-chested horseback riding display."
European Union President Ursula von der Leyen also took the opportunity to mock the Russian President. She added: "Oh yes. Horseback riding at its best."
Johnson, willing to push the mockery further, looked over to reporters and said: "We've got to show them our pecs."
The world leaders had referred to the infamous 2009 photos of a bare-chested Putin riding a horse during a visit to Siberia's Tuva region.
Putin's photos have been ruthlessly mocked online in the years since they were taken.
Newsweek has contacted the Kremlin for comment.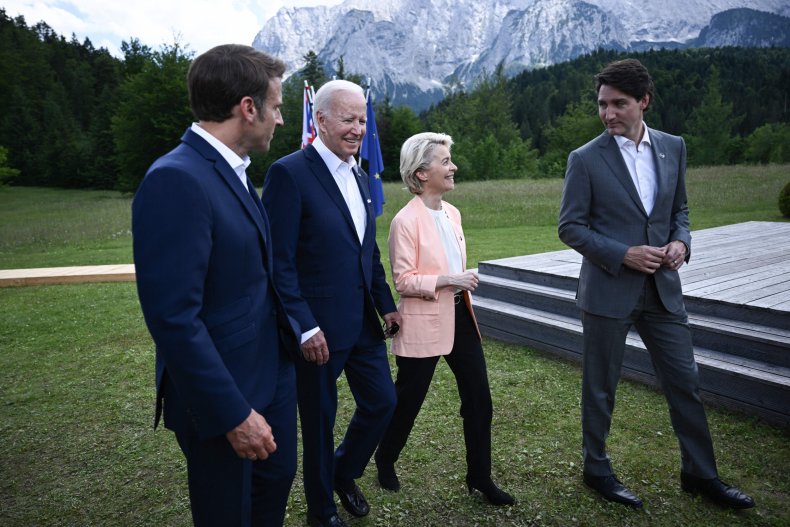 Russia's war with Ukraine is high on the agenda for world leaders at the G7 summit, as U.S. President Joe Biden and others aim to thrash out a plan to support Kyiv in the months ahead.
At the summit, Biden told allies "we have to stay together" as the impact of the war continues to be felt across the world.
The seven members used the summit to announce a ban on imports of Russian gold in a move aimed to further heap pressure on Russia's leaders and eliminating revenue streams that allow Putin to finance Russia's invasion.
According to the news agency, Russian gold exports were worth $15.45 billion in 2021 and the wealthy in the country have bought bullion to limit the impact of targeted sanctions.
Johnson said in a statement: "The measures we have announced today will directly hit Russian oligarchs and strike at the heart of Putin's war machine.
"We need to starve the Putin regime of its funding. The U.K. and our allies are doing just that."
Russia has faced a mountain of Western sanctions since Putin ordered troops into Ukraine in February.
While the war in Ukraine is high on the agenda, German Chancellor Olaf Scholz said in March that the conflict should not distract leaders from other major issues such as the aftermath of the COVID-19 pandemic and the climate crisis.