Gabby Giffords Launches Gun Safety Bus Tour in Orlando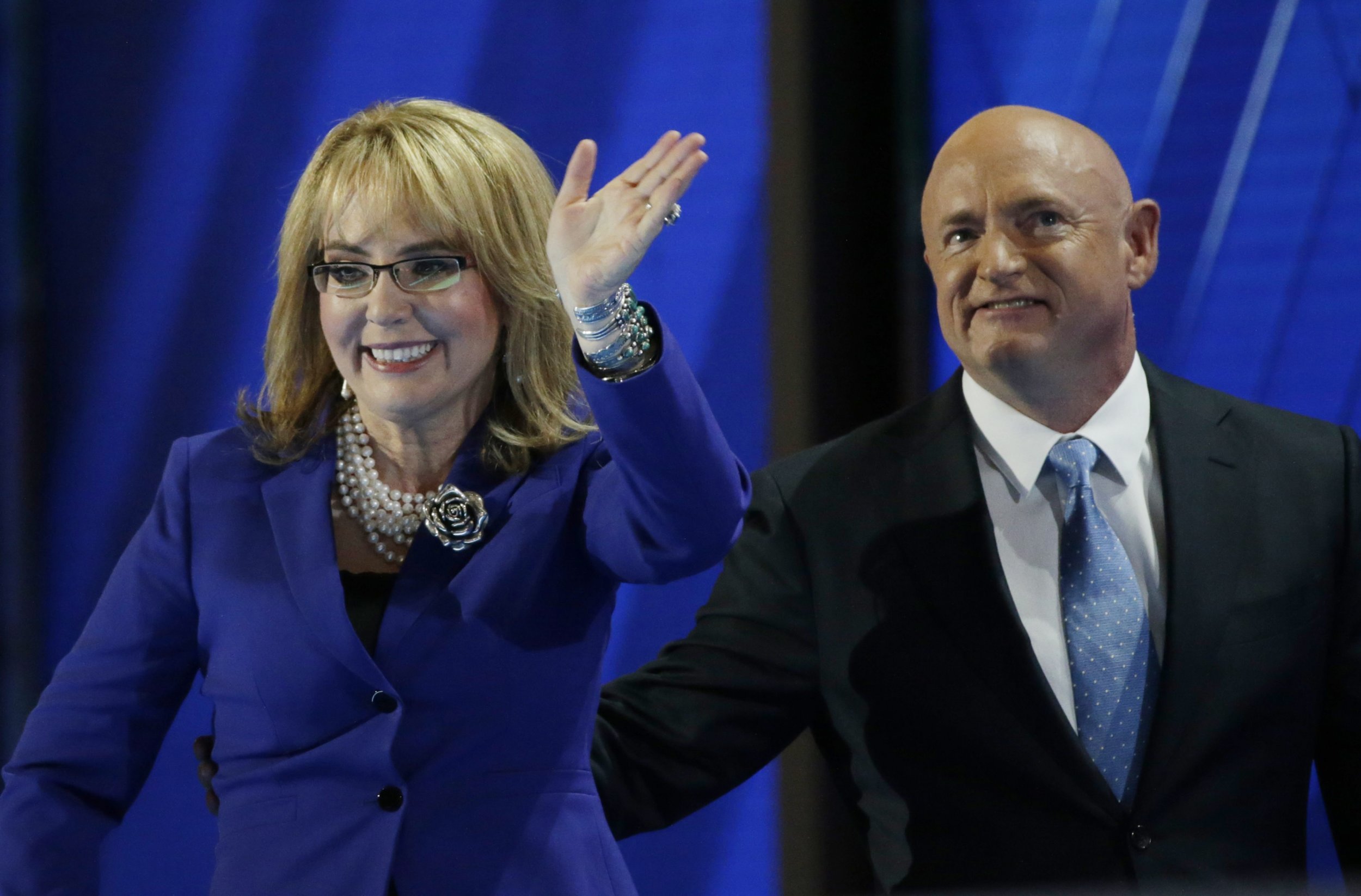 A leading gun safety political action committee co-founded by Democrat Gabrielle Giffords, the former U.S. representative from Arizona who survived a 2011 shooting, has launched a 14-state campaign to demand an end to gun violence.
Less than two months before the presidential election—the first since 20 first-graders and six educators were killed at a school in Newtown, Connecticut, in 2012—Americans for Responsible Solutions (ARS) is vowing to hold elected officials accountable in its effort to make the country's communities safer and promote candidates who are committed to taking action once elected.
Giffords and her husband, astronaut and Navy combat veteran Mark Kelly, on Tuesday kicked off the 2016 Vocal Majority Tour in Orlando, Florida. The city became central to the gun control debate after 49 people were killed by a gunman at gay nightclub Pulse in June. It was the country's worst mass shooting.
"It took nine minutes to ring that church bell in honor of them...to ring 49 times," Patty Sheehan, the Orlando city commissioner, said during an event Tuesday to kick off the national tour. "It took less than five minutes to kill them. This has to stop."
The tour is part of ARS's initiative to mobilize millions of voters to make this year's election a referendum on gun safety and support leaders up and down the ballot who are committed to taking steps to reduce gun violence.
"Now is the time to come together. Be responsible, Democrats, Republicans, everyone. We must never stop fighting. Fight, fight, fight," Giffords said at the Tuesday event.
The bus tour will reach at last 43 cities across 14 states in six weeks, stretching until Election Day on November 8. After Orlando, the tour will continue to other parts of Florida and then head to states including Iowa, Minnesota, Wisconsin, Ohio, Maine, New Hampshire, New York and Virginia. Residents of Maine and Nevada this fall will be voting on whether to expand criminal background checks to all gun sales in their states.
In each city, the tour will hold events to encourage people to vote. The group also will organize roundtables with local and national leaders who are committed to addressing gun violence.
The tour launched in the wake of two high-profile shootings: Early Monday morning, a lawyer in Houston opened fire near a strip mall, injuring at least nine people. On Friday, a man killed five people at a mall in Burlington, Washington.
With Congress failing to act on gun violence, major gun safety groups—and even the National Rifle Association—have taken their causes to the state level. Along with the tour, ARS is supporting candidates in state elections with endorsements. In a surprising move, the group in August threw its support behind two Republican senators in their races for re-election. The group recognized senators Pat Toomey of Pennsylvania and Mark Kirk of Illinois for breaking with the gun lobby and the beliefs of most Republican elected officials on the issue of gun control.
Another leading group, Everytown for Gun Safety, has promised to unleash "an unprecedented level of election activity" to reach millions of voters in the most crucial swing states ahead of the November races, in an effort to elect "gunsense champions."