Gun Safety Activists Vow to Press Fight for Stronger Laws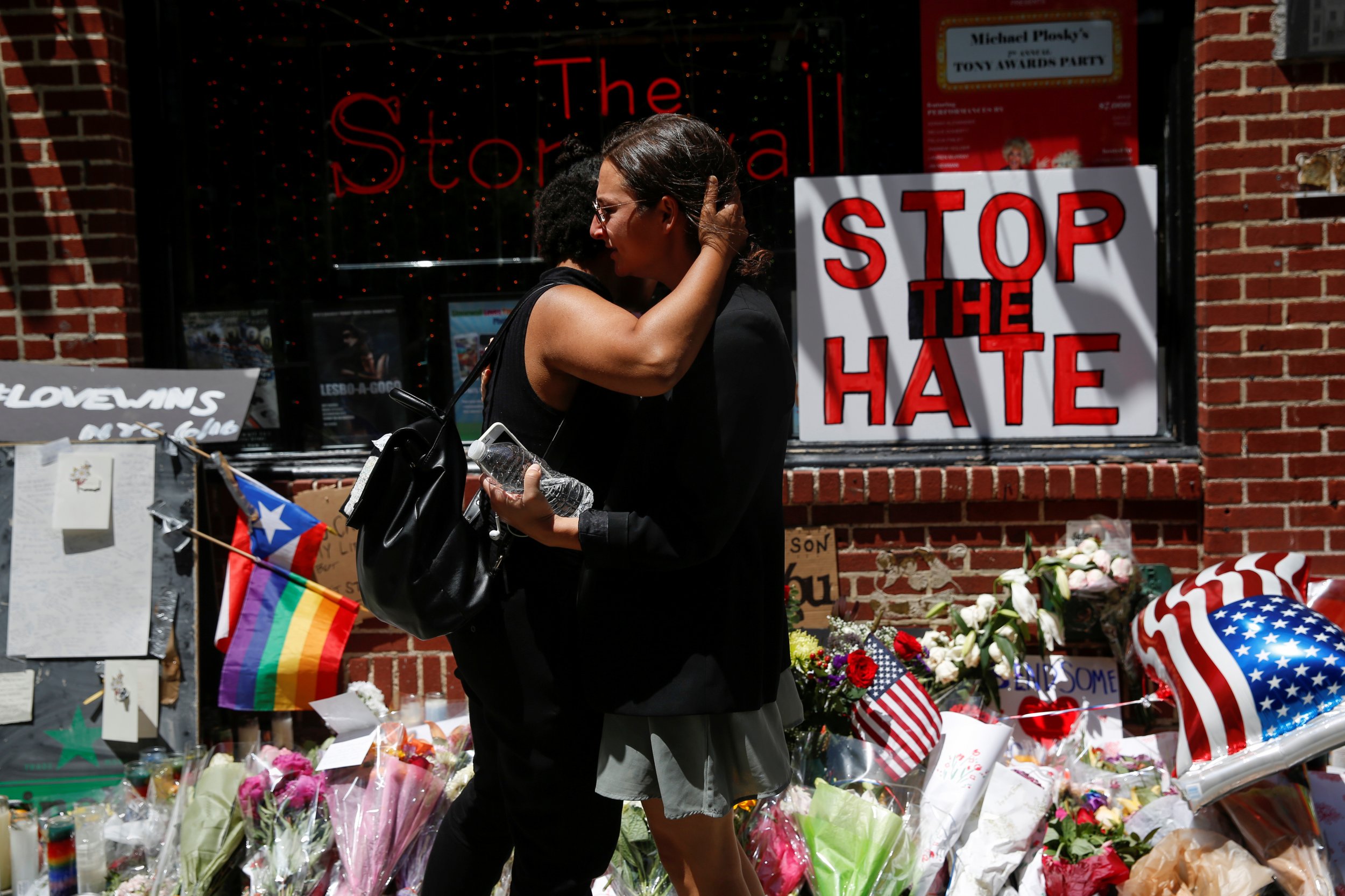 After the Senate on Monday night rejected four gun measures in the wake of the recent massacre at a gay nightclub in Orlando, Florida, leaders within the LGBT community are calling for their peers to speak up against gun violence.
"The Senate's inaction yesterday has turned our grief into anger. The LGBT community is well organized and is ready to flex its political muscle," Russell Roybal, acting executive director of the National LGBTQ Task Force Action Fund, said Tuesday morning during a press call.
The measures, which were expected to fail before they went up for votes, were brought forward in the days after the country's worst mass shooting—49 people were killed—on June 12 in Orlando. The gun reform legislation quickly was taken up in the Senate after it was learned that the gunman, Omar Mateen, previously had been on the FBI terror watch list and had pledged allegiance to the Islamic State, better known as ISIS. Each party introduced a bill on two issues within the gun debate: one related to suspected terrorists and gun purchases, the other regarding universal background checks on potential gun sales.
"Gun violence requires more than moments of silence," President Barack Obama said on Twitter Tuesday morning. "It requires action. In failing that test, the Senate failed the American people."
With less than five months remaining until Americans head to the polls to elect their next president, activists aren't backing down. Mara Keisling, the founding executive director of the National Center for Transgender Equality, on Tuesday called on the LGBT community to "try something new" and "disarm hate," a call to action adopted by the gun safety movement in the wake of the Orlando massacre.
Roybal added that LGBT Americans aren't strangers to being the targets of violence.
"The failure of the Senate to take any action yesterday tells the LGBTQ community that our lives are disposable. That, in the face of the largest mass shooting in modern American history, we do not matter. That, despite the gains we've made in the last several years, we are still second-class citizens," he said.
A bipartisan group that includes four Republicans and four Democrats is co-sponsoring a gun-control bill presented by Senator Susan Collins (R-Maine) Tuesday afternoon. It has three parts: Individuals listed on the no-fly list or a "selectee" list of people who require additional screening at airports would be prohibited from buying firearms; Americans and green-card holders could appeal, with the burden of proof on the government; and a lookback provision would ensure that the FBI is promptly alerted if anyone who has been listed on the broader terrorism screening database in the past five years purchases a firearm.
"Our goal is simple and straightforward. We want to make America safer," Collins said at a press conference Tuesday afternoon to announce the bill. "All of us are united in our desire to getting something significant done on this vital issue." The purpose, she added, is "no-fly, no-buy."
In addition to Collins, the group includes Senator Heidi Heitkamp (D-N.D.); Senator Kelly Ayotte (R-N.H.); Senator Martin Heinreich (D-N.M.); Senator Jeff Flake (R-Ariz.); Senator Angus King (I-Maine); Senator Lindsey Graham (R-S.C.); and Senator Tim Kaine (D-Va.).
The Orlando massacre, said Ayotte, highlighted the urgent need to address the terrorist loophole.
Collins said she is confident there will be a Senate vote on the bill likely next week.
In the wake of the Senate's rejection of the four measures on Monday night, activists with Everytown for Gun Safety vowed to unleash "an unprecedented level of election activity" to reach millions of voters in the most crucial swing states ahead of the November races. The activists aim to elect "gunsense champions." Everytown leaders said a movement is growing in statehouses across the country and pledged to continue with their strategy to strengthen gun laws state by state until Congress acts.
"Every single political leader who failed us, Republicans and Democrats alike, is on notice. We will support only those candidates willing to stand up to the dangerous agenda of an extremist gun lobby, which means guns for anyone, anywhere, anytime, no questions asked," said Shannon Watts, founder of Moms Demand Action for Gun Sense in America, which is part of Everytown.
"If our lawmakers are unwilling to do what we elect them to do, we have no problem electing leaders who will," she said Tuesday.
Everytown, which former New York City Mayor Michael Bloomberg created in 2014 to oppose the National Rifle Association, also wants to ensure that presumptive Democratic presidential nominee Hillary Clinton, who the group endorsed and who has made curbing gun violence a key issue of her campaign, is elected. The organization has promised to give 50,000 volunteer shifts to pro-gun safety campaigns, including Clinton's.
Bloomberg also created Everytown to motivate elected officials to enact stricter laws at all levels, in an effort to curb gun violence. In the 2014 midterm elections, the billionaire spent more than $20 million of his own money to support gun-safety ballot measures and gubernatorial candidates from both parties, including Charlie Baker, a Republican of Massachusetts, and John Hickenlooper, a Democrat of Colorado, whom he believed would take a bipartisan governing approach.
Already set for November, two gun background checks initiatives will be on the ballots in Maine and Nevada. In both states, residents launched similar initiatives—to expand criminal background checks to all gun sales—and qualified them for the ballots.​ In 2014, Washington passed its Initiative 594 directly through voters.
Over the weekend, the NRA weighed in on the current gun debate. Executive Director Wayne LaPierre, who after the December 2012 massacre in Newtown, Connecticut, called for more guns in all schools across the country, said laws won't stop mass shootings and terrorism. He cited the attacks on a facility in San Bernardino, California; at the finish line of the Boston Marathon in Massachusetts; and in Paris. "What we're doing with this debate on the Hill right now, it's like they're trying to stop a freight train with a piece of Kleenex," he said Sunday on CBS News's Face the Nation.
Less than a month after the NRA endorsed presumptive Republican nominee Donald Trump for president, the candidate said he wanted to meet with the organization to discuss "not allowing people on the terrorist watch list, or the no-fly list, to buy guns." Meanwhile, the NRA has said its objective is to ensure that Americans wrongly placed on the no-fly list or in the database are given their legal rights to due process.
Trump has walked back his comment that Americans should carry guns in places where alcohol is consumed. In a tweet Monday morning, Trump said he was referring to "additional guards or employees" carrying guns, not patrons.
While announcing the bipartisan gun initiative on Tuesday, Senator Graham, who said he owns an AR-15, a rifle similar to the firearm used in the Orlando massacre, told the NRA, "I understand your concern about denying somebody their right to buy a gun," but he added that every right has boundaries.
"If we can't pass this," he said, "it truly is a broken system up here."