Gabby Petito Case Live Updates: Coroner Won't Say if Laundrie Was Involved in Death, But Decries 'Domestic Violence'
The Teton County Coroner announced Tuesday that Gabby Petito's cause of death was strangulation and her designated manner of death remained a homicide. The autopsy results came about three weeks after her body was discovered and identified after a nationwide search.
The coroner said that Petito was the victim of a homicide days after her body was found, but until Tuesday did provide any details on what may have caused her mysterious death. Dr. Brent Blue did not disclose any other findings from the autopsy, except that her body was believed to have been in the wilderness for three to four weeks before discovery.
Petito was reported missing on Sept. 11, prompting a mass search and rescue effort that eventually uncovered her body in Wyoming's Grand Teton National Park. Authorities are still searching for Brian Laundrie, Petito's fiancé, who was named as a person of interest in her case after returning from a cross-country road trip without her.
Steven Bertolino, a lawyer for Laundrie family, released a statement following the cause of death announcement. He called Petito's demise a "tragedy" and said that Laundrie is still missing.
The live updates for this event have ended.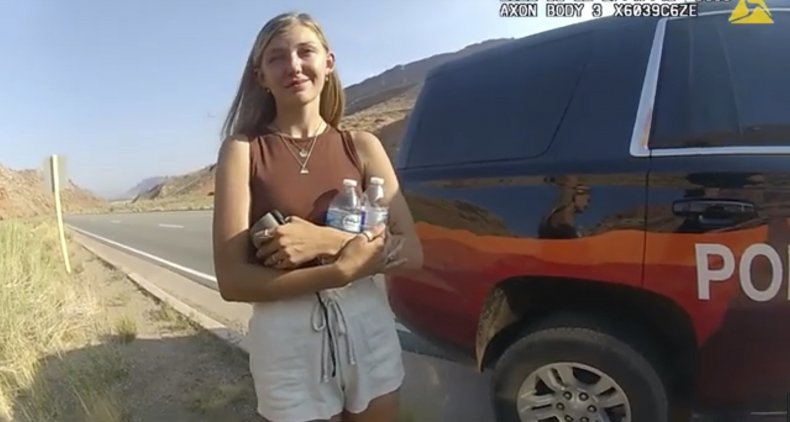 Coroner won't say if Laundrie was involved in death, but decries 'domestic violence'
After announcing Gabby Petito's cause of death, Teton County Coroner Dr. Brent Blue declined to comment on whether Brian Laundrie was involved when asked multiple times by reporters.
"We are only tasked with the determination of cause and manner of death. Who committed the homicide is up to law enforcement," he said during a news conference Tuesday.
Later, when asked to reflect on his experience working on such a publicized case, he decried Petito's homicide as "one of many deaths around the country of people who are involved in domestic violence." He added "it's unfortunate that these other deaths did not get as much coverage as this one."
Laundrie has been named a person of interest in the case, but authorities have yet to locate him despite massive search efforts. Released police camera footage of Laundrie and Petito shortly before her disappearance has sparked concerns over potential domestic violence in their relationship.
Laundrie lawyer says Brian still missing, calls Petito's death a 'tragedy'
A lawyer for Laundrie family released a statement following the announcement of Gabby Petito's cause of death Tuesday, calling her demise a "tragedy" and explaining that Brian Laundrie is still missing.
In the brief statement, Steven Bertolino also clarified that the current fraud charges filed against Laundrie have to do with the unauthorized use of a credit card that belonged to Petito and not her death. Laundrie has been named a person of interest in the case.
Bertolino said in the statement that the fraud charge would be addressed when Laundrie is located.
Coroner says Petito's body was in wilderness for 3 to 4 weeks
Teton County Coroner Dr. Brent Blue said that Gabby Petito's body was outside in the wilderness for three to four weeks before it was discovered.
Blue did not provide additional insight on the state of her body, or whether they believed she died in the location she was discovered.
ID to air Gabby Petito special with commentary, analysis on case
Investigation Discovery, or ID, announced that it will air a special Wednesday night on the Gabby Petito case.
The special, titled "GABBY PETITO: ID SPECIAL REPORT," will feature guest analysis and commentary on her death and the events leading up to it.
Jason Sarlanis, ID's president of crime and investigative content, said in a press release that Petito's case "could be the defining case of our generation" and the people at ID "are doing everything in our power to help find Brian Laundrie and use our platform to bring much-needed attention to the many other missing persons cases still left tragically unsolved."
John Walsh, the creator and former host of "America's Most Wanted," will appear on the special.
North Port memorial for Gabby Petito removed, all items given to family
The makeshift memorial for Gabby Petito in North Port, Florida, was removed Tuesday by city workers and all the items left there given to Petito's family.
News Nation Now's Brian Entin posted a picture of the memorial on Monday before it was taken down. Visitors had placed stuffed animals, candles, flowers, fake butterflies, posters and other items at the site.
The parents of Brian Laundrie, Petito's fiancé, currently live in North Port. The city plans to erect a permanent steel bench in honor of Petito at the site of the temporary memorial, the Independent reported.
Former FBI agent doubts coroner will release exact cause of death
As many in the U.S. await the Teton County Coroner's ruling on Gabby Petito's autopsy, one former FBI agent doubts that the 22-year-old's exact cause of death will be released.
In an interview with News Nation Now's Brian Entin on Monday evening, Jennifer Coffindaffer said that while she expects the coroner to release the official results, she doesn't expect it to be detailed
"That is based on the fact an ongoing investigation and those details are so crucial for the investigation. Moreover, say that specific details are released as an example that she was strangled and later there are witnesses that say they thought they observed something, perhaps a strangulation, did it come from this coroner's report—and the specifics of that—or was it something they really saw?" Coffindaffer said.
Other news reports, including one from the Associated Press, say that Blue does plan to announce how Petito was killed. A press release from the Teton County offered few details on the press conference, simply stating that it was in regard to the "ruling on the autopsy" of Petito.
How to watch coroner's press conference on autopsy findings
The press conference from Teton County Coroner Dr. Brent Blue will be live-streamed on Zoom, but viewing is limited to members of the media.
Several local news sites and stations are expected to provide their own streams of the announcement at 2:30 p.m. ET, including NewsNationNow, WPBF 25 in Florida and NBC affiliate WESH 2 News.
Read more here