Bodycam Footage Reveals True Interior of Gabby Petito's Van
Footage recorded by police officers unwittingly revealed a glimpse into Gabby Petito's van, which shows a chaotic interior in stark contrast to how it was portrayed on her YouTube channel.
The 22-year-old was on a months-long trip across the country with her fiancé, Brian Laundrie, in a white 2012 Ford Transit van, with Florida license plate QFTG03. The pair left New York on July 2, where Petito was originally from, to embark on a four-month road trip after converting the van.
Earlier posts on Laundrie's Instagram document the pair transforming the vehicle, with a post shared last December saying: "New Van means new adventures." Another post, shared this July, set out the couple's plans, showing them posing alongside the white van.
It read: "Downsizing our life to fit into this itty bitty van was the best decision we've ever made. With the limited space we wanted to take advantage of every inch, while also keeping everything minimalist. Definitely felt inspired by a lot of other #vanlifers on @youtube but we came up with a completely original layout.
"Barely spent anything on the conversation and couldn't be happier with the outcome. #vantour coming soon! Sacrificing space to wake up in nature every day has been no sacrifice at all."
Petito's Instagram indicates the pair traveled to Kansas, two locations in Colorado and four national parks in Utah, as well as the Mystic Hot Springs. It later transpired Petito had been attempting to establish herself as a blogger documenting their journey, with the snap shared in the above post used as the thumbnail for their YouTube account, Nomadic Statik.
Tragically the account only has one video posted, entitled: "VAN LIFE | Beginning Our Van Life Journey." It appears to contain highlights from the pair's trip, showing them driving, camping and exploring various locations.
The caption says: "A glimpse into our van adventures! After our first cross country trip in a little Nissan Sentra, we both decided we wanted to downsize our lives and travel full time, but trying to fit everything for two people into the tiny little trunk of the car, also spending way too much on gas, food, and airbnb, was not the road to take.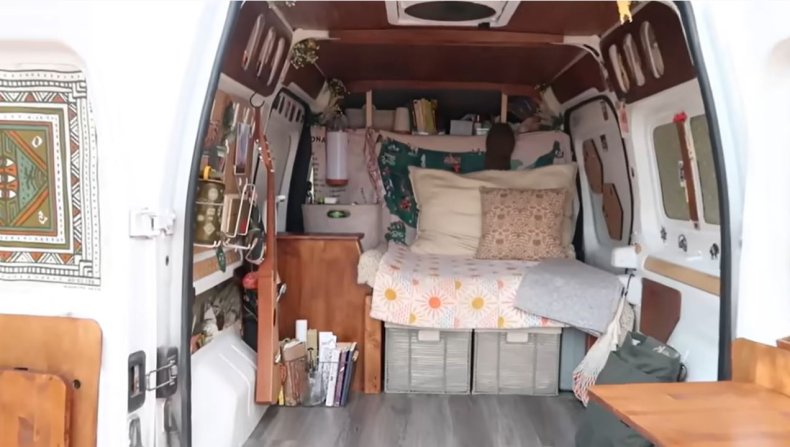 "We quickly realized we had to come up with a solution if we wanted to continue traveling and living nomadically, so that's why we handcrafted our own tiny van, a simple 2012 Ford transit connect, utilizing space with unique designs and features. Creating a space for both artistic expression and distance hiking. Thank you so much for watching, and we hope you tag along on our journey wherever the van takes us!
"Follow our van life journey for some awesome van life ideas, tips, hacks, camping spots, and so many beautiful places to travel!"
The video shows a spotless interior, with a seating area with cushions, accessories on the wall, plants, neatly organized belongings and a pegboard with what appears to be trinkets, camping gear and pictures. Books, clothing and stickers adorn the inside, with under-seating storage and even a guitar on the wall.
The immaculate living space is in stark contrast to the one seen by Moab police department officers, who pulled the couple over on August 12, in Moab City, Utah. Bodycam footage captured Petito crying after an "altercation" with Laundrie, according to a police report submitted by Officer Eric Pratt.
In the footage a distressed Petito tells officers how Laundrie is a "downer," adding: "I just quit my job to travel across the country, and I'm trying to start a blog, a travel blog, so I've been building my website. I've been really stressed, and he doesn't really believe that I can do any of it."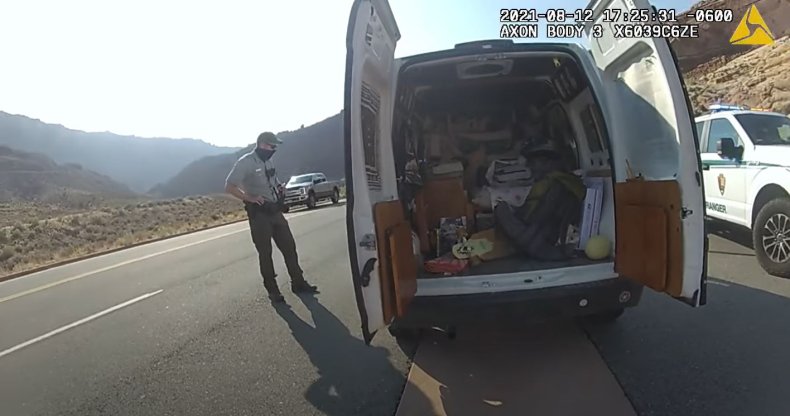 As officers chat to both parties, and take photos of scratches on Laundrie, the back van doors are open, revealing the interior.
It's a far cry from the scenes shown on the couple's own YouTube channel, with items strewn across the floor, including what appears to be a ball, backpack and longboard, among other possessions. The seating area appears to have items piled on top of it, while boxes are also seen to be stacked on the right-hand side.
It's not clear when the pair recorded the images they edited into their first, and last, video which was uploaded on August 19, a few days after they were pulled over. Other segments in the seven-minute, 59-second long footage show the table attached to the door in the down position, as Petito makes herself a bowl of yogurt and granola.
A body discovered in a national park in Wyoming on September 19 was confirmed by the FBI to be that of Gabrielle Petito. An autopsy concluded the death was a homicide, with the cause of death pending the final results.
A manhunt remains underway for Laundrie, last seen on September 14, with vast areas of a 25,000-acre wildlife preserve near his parents' home, in North Port, Florida, being searched.