As investigators follow multiple leads in the race to find missing 22-year-old, Gabby Pepito, her mother said she doesn't believe the final text she received from her daughter's phone was really sent by Gabby.
Pepito's family, who reported their daughter missing on September 11, after not hearing from her for two weeks, has expressed frustration at Petito's partner, Brian Laundrie, who had been traveling with her. The two were on a months-long road trip in their modified camper van since July and had been documenting their outdoor travels around the country's state and national parks for Petito's popular Instagram account.
"She doesn't believe it was from her daughter," Rick Stafford, an attorney for the family told Insider, or the last text Schmidt received from Petito's phone. "Looking back now with all the facts...she believes it's not her daughter."
The Instagram photos stopped on August 25, just a few days before her phone sent its last text to the influencer's mother, Nicole Schmidt, reading: "No service in Yosemite," sent August 30.
Before that, Schmidt, who said she and her daughter were normally in frequent contact, told reporters that she and her daughter FaceTimed on August 25.
According to Schmidt, Petito told her mother she and Laundrie were on their way to Grand Teton National Park and Yellowstone National Park in Wyoming.
That was the last time she saw her daughter's face or heard her voice.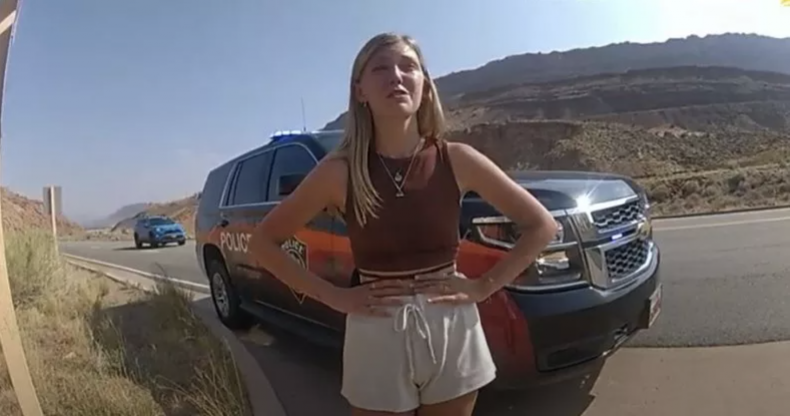 On Sunday, Schmidt was more wavering in her convictions when she told Fox News: "I don't know if it was technically her or not, because it was just a text, I didn't verbally speak to her."
By Wednesday police had released the news that the van, along with Laundrie had already made it back to Florida, but without Petito. Stafford pointed to this new evidence in explaining why Schmidt now doubts her daughter sent her the August 30 text.
Stafford added, "She's not going to say who she believes it was from."
Laundrie was named a "person of interest" in Petito's disappearance by North Port, Florida police on Wednesday. As of Thursday, he has so far retained a lawyer and refused requests to be interviewed by police.
Petito's family issued a statement Wednesday calling Laundrie "reprehensible" for refusing to speak with investigators about her disappearance.
"Brian, how could you do this to Gabby? You selfishly remain silent while Gabby is all alone in the wilderness," the statement, released by the family's attorney, Richard Stafford, read. "Brian, your silence is reprehensible! We beg you to do the right thing and help us bring Gabby home."
Police records have turned up evidence, including police bodycam video, that the couple fought soon before Petito's disappearance.
Newsweek reached out to Stafford and North Port police for comment.
Correction (9/16/2021, 6:44 p.m.): This article previously listed the name of the attorney as Robert Stafford instead of Rick Stafford.