Why is February 13 'Galentine's Day'? The Memes Explained
Valentine's Day, as we all know, is a mass conspiracy created by big greetings card companies to sell more flowers, cards and balloons.
But in recent years, a rival has emerged that combines the beauty of friendship, the sweet relief of leaving your partner at home, and the joy of receiving empowering gifts from your female-identifying friends.
That day, of course, is Galentine's Day, celebrated the day before V-Day proper—that is February 13.
Galentine's Day is the latest pop culture-inspired special day that has emerged from the hive mind that is millennial Twitter, alongside other such celebrations as Mean Girls Day (October 3, byatch) Star Wars Day (May the 4th be with you), and of course Leap Day (February 29), the day when the gilled creature Leap Day William emerges from his trench and trades children's tears for candy (it's a 30 Rock reference).
For those who missed the origins of Galentine's Day and are now confused every February 13: Firstly, we have a great streaming recommendation for you, and secondly you can read on for a beginner's guide to the celebration once described as: "Like Lilith Fair minus the angst, plus frittatas."
What is Galentine's Day?
The February 13 celebration is an invention of the writers of the NBC sitcom Parks and Recreation—the same writers who made October 13 "Treat Yo' Self Day," but that is another story for another day.
The idea comes from Season 2, Episode 16 of the comedy show, conveniently titled "Galentine's Day." The episode first aired on February 11, 2010. The episode is available to stream on Peacock.
Like many good ideas in the show, it was the invention of the show's main character, the enthusiastic public servant Leslie Knope (played by Amy Poehler). As Leslie describes the day herself in the episode: "Oh it's only the best day of the year. Every February 13th, my lady friends and I leave our husbands and our boyfriends at home, and we just come and kick it, breakfast-style. Ladies celebrating ladies."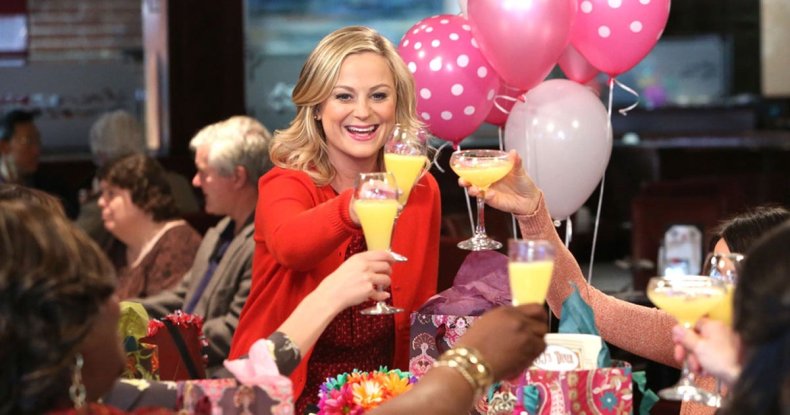 In fact, Leslie in general is a font of wisdom when it comes to quotes celebrating female friendships. After all, she is the woman who describes her personal code as, "hoes before bros. Uteruses before duderuses. Ovaries before brovaries."
In an LAist oral history of the holiday, Parks and Recreation showrunner Mike Schur credits writer Aisha Muharrar as having the initial idea.
He said of the concept: "It was the perfect Leslie Knope idea, because the idea was, the day beforehand, let's eliminate the romantic aspect of it—because it's exclusionary to people who aren't in romances—and say, there isn't a day set aside where we just celebrate friendships, especially female friendships. And so she just took it upon herself to do that."
Or, as The Atlantic's Megan Garber put it: "Galentine's Day was, in its initial conception, the character of Leslie Knope, fictional woman, realized in micro-holiday form: insistently earnest, aggressively generous, finding deeply canny methods of ensuring that every social occasion will involve the consuming of waffles."
Of course, the holiday took on a life of its own.
Though there has been a spike in search in February every year since 2010, Google Trends reveals that 2020 saw an explosion in searches for the holiday, with search interest quadrupling compared to that of 2019 (which already hit a record for the search term "galentines day.")

The term became so popular, in fact, that things took a meta twist.
On February 13, 2018, four of the female cast members from Parks and Recreation staged a real-life Galentine's Day reunion, featuring Aubrey Plaza, Amy Poehler, Rashida Jones, plus Kathryn Hahn, who appeared in the show but not in the Galentine's Day episode.
Stuck for gift ideas? In the first Galentine's Day episode, Knope gifts her friends a bouquet of hand-crocheted flower pens, a mosaic portrait of them made from the crushed bottles of their favorite diet soda and a personalized 5,000-word essay explaining why they are all so awesome.
A card would probably do the job, however, as long as it was written from the heart.