Game of Thrones Inspired Ice Hotel Lets Vistors Sleep Like the Night King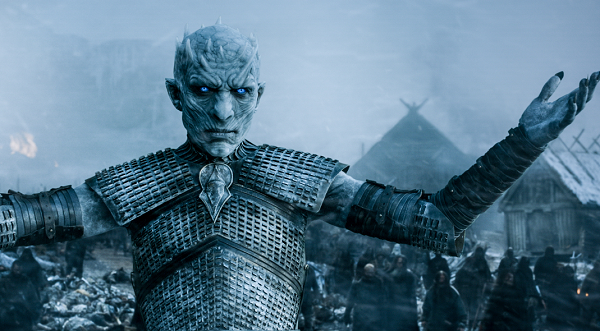 Game of Thrones fans have never seen where the Night King lives. He and his legion of zombies have been spotted north of The Wall, in areas once occupied by the Free Folk (also known as wildings), and he is currently leading his murderous horde south, bringing winter to the continent of Westeros. But where does he lay his icy, blue-eyed head at night, when he's not turning innocent people into zombies?
With a little imagination and the help of a few talented ice sculptors from Russia, Poland, Latvia and Ukraine, Lapland Hotels SnowVillage in Finland is giving fans an idea of just that. In partnership with HBO Nordic, the Finnish hotel has created GoT-themed rooms, lavishly decorated with snow and ice.
Covering nearly 5 acres of land, Lapland's SnowVillage features rooms, suites, restaurants, bars and shops made entirely of natural, crystal-clear ice. The hotel opens every December, for the winter season, and the ice designs and themes change each year.
Visitors aren't obligated to stay in rooms dedicated to the Night King during the hotel's GoT experience. For those who don't want to sleep with a terrifying, larger-than-life-sized White Walker looming over their bed, the hotel offers suites influenced by Winterfell, Castle Black and other places south of The Wall.
In addition to the rooms, guests will also find an ice-made iron throne, along with a Braavos-inspired Hall of Faces. There is even an Ice Chapel, for couples looking to have a white wedding. Once they've tied the knot, they can keep celebrating at the Ice Bar, featuring a colossal ice dragon that may or may not be the Night King's newest pet, Viserion.
Though accomodations include toasty sleeping bags, room temperatures are necessarily cold. The hotel therefore recommends that guests pack long-sleeved undergarments.
The SnowVillage is a 25-minute car-ride from Kittilä airport in Finland. Rooms and rates vary, but fans should inquire about reservations quickly. Unlike the long night the White Walkers are bringing to Kings Landing when the HBO series returns in 2019, the GoT SnowVillage will only be available for booking through April 30, 2018. Check HERE for more information.