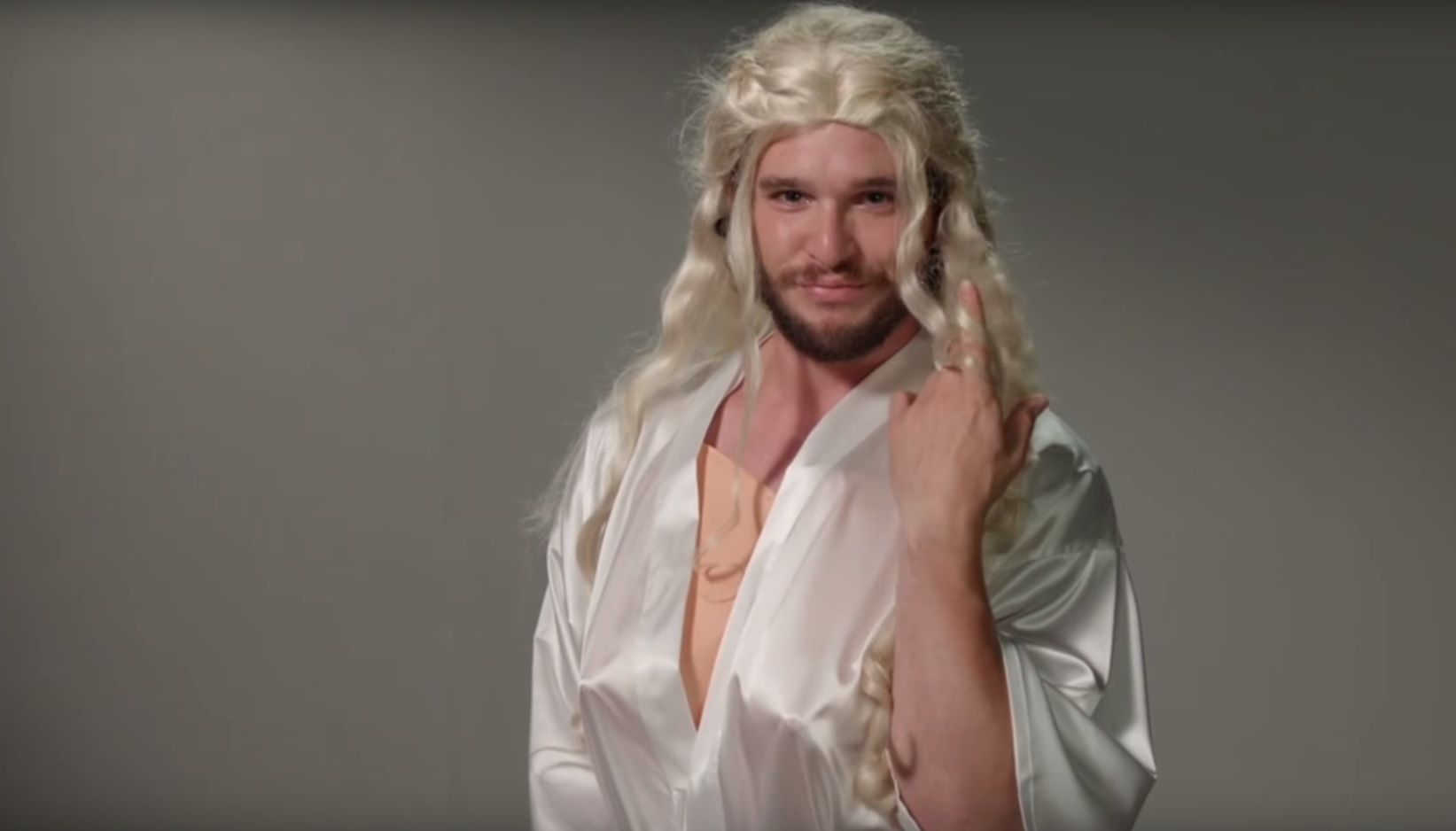 Imagine if Kit Harington wasn't Jon Snow in Game of Thrones, but Queen Cersei, or Daenerys Targaryen, or, well, any number of other characters.
On Monday night's Jimmy Kimmel Live, the late-night talk show host uncovered "lost footage" of Harington's various Thrones auditions before he landed the part of the brooding King in the North.
In the spoof clip, Harington auditions for the role of "Kirsty Lannister," and has to be corrected on the character's name. Not off to a great start, Kit.
"When you play the game of thrones, you win or you die," the actor says, displaying just a smidge of the withering disdain that makes Lena Headey's portrayal of Cersei so perfect.
"Now, if you'll excuse me, I have to have sex with my brother," he adds as a punchline.
Related: Really big Game of Thrones spoilers—be warned
Next, Harington gets on his knees and tries to audition for the role of pint-sized Arya Stark. That doesn't go well for obvious vertically challenged reasons.
In an alternate universe, I definitely want to see Harington play Mother of Dragons, Daenerys. The actor, sporting just a silk robe, seductively says: "Well, hello, Khal Drogo, would you like to see my dragons?" This is oddly compelling.
Harington proceeds to disrobe and flash his (prosthetic) breasts. Hey, it isn't Game of Thrones without some nudity.
The Brit actor's best audition, however, is a part he knows pretty well: Jon Snow's redheaded Wildling lover, Ygritte (played by Harington's real-life girlfriend Rose Leslie). He nails the famous "You know nothing Jon Snow" line—and also looks pretty damn good in a red wig.
All cosplay aside, it's time to get back to serious business, because Game of Thrones' penultimate season begins Sunday on HBO.
For more Game of Thrones-related content, click here , and pick up the new issue of Newsweek, on newsstands Friday, for an exclusive interview with Gwendoline Christie, a.k.a. Brienne of Tarth.