"Game of Thrones" Spoilers: Jon Snow and Daenerys Targaryen Are Probably Going to Get It On in the Season 7 Finale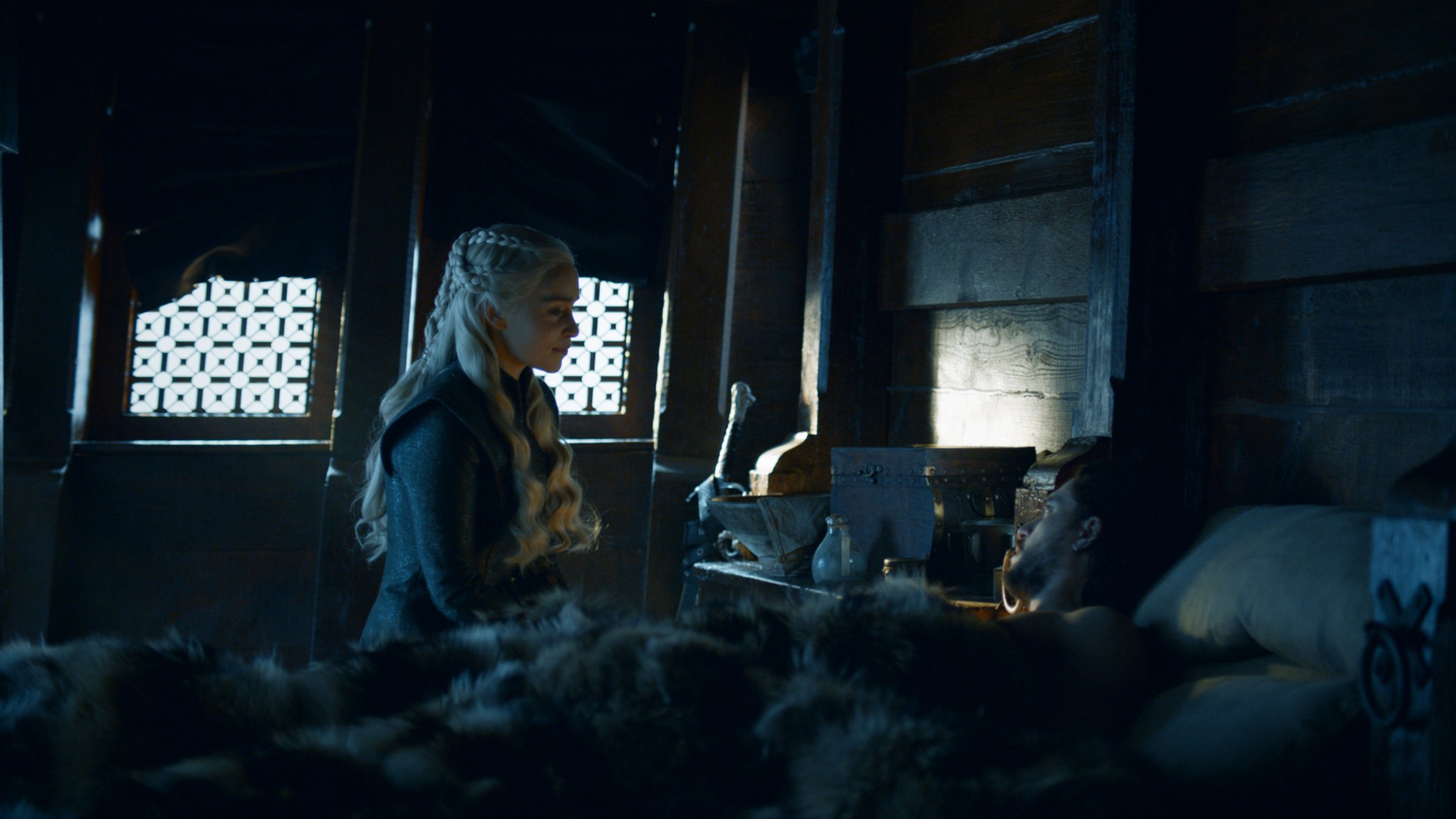 If you thought Game of Thrones couldn't get more intense after Viserion's death (and resurrection), then prepare to lose your minds when the Season 7 finale airs Sunday.
It looks like Jon Snow (Kit Harington) and Daenerys Targaryen (Emilia Clarke) are finally going to get it on after weeks of romantic tension between them.
The groundwork was laid in last Sunday's episode, "Beyond the Wall," when Dany tended to an injured Jon on a boat heading back to the safety of Dragonstone, following their perilous journey beyond the Wall to face the White Walkers. The tender moment was punctuated by Jon accepting Dany as his queen.
Alan Taylor, who directed the episode, tells Newsweek that the boat scene will propel the romance between Jon and Dany toward "the next step."
"[When] Jon agrees to subsume his power under hers, to bend the knee, I look at it as basically a political scene," Taylor explains. "But there's also so much emotion. You see tears well up in Dany, and she breaks eye contact and breaks holding his hand, because she sees where it's going. Their performances were just the right level of falling for each other and holding back.
"The story's obviously not over between them. This is just the beginning of what's going to happen next between them. It was fun to take them to that next step."
Related: GoT director on fan criticism of Season 7 pacing
So what is that next step? Speaking on the phone, Taylor chuckles and gives a playful "no comment" when I ask if Jon and Dany will consummate their burgeoning relationship in the next episode. Reading between the lines, I think that's a yes.
In another interview, this time with Deadline, Taylor again hinted there's "still a step further" for Dany and Jon to go and acknowledged Jon has "fallen for [Dany] both, you know, emotionally and politically."
"There's still a step further to go with them in terms of the romantic side of things and a lot more to play out in terms of how the politics and the power struggle will work, but it was at least a sort of solid step forward in that major arc," Taylor told Deadline.
If Taylor is indeed suggesting that a love scene is the next step for Jon and Dany on the "romantic side of things," presumably it would take place in the Season 7 finale, because Season 8 does not begin filming until October, and scripts for the final season are likely still under lock and key.
Taylor, whose film credits include Thor: The Dark World and Terminator: Genisys, was one of the regular directors on the first two seasons of Game of Thrones. "Beyond the Wall" marks his first episode back after a five-year absence.
The filmmaker told Deadline that he was aware all the way back in Season 1 that the plan was for Game of Thrones to eventually unite Dany and Jon as a power couple. "[A Song of Ice and Fire author] George R.R. Martin came to visit. He was sitting in a chair, and he was being really quite open about things that were to come," the director said. "He alluded to the fact that Jon and Dany were the point, kind of."
Taylor tells Newsweek there was another moment that he also knew was coming before viewers did.
"There are a couple of moments when I've been in awe of the scale of which George was thinking, and [executive producers] David [Benioff] and Dan [Weiss].
"One of them was the Hodor reveal—why the character was called that, why he behaved the way he did. You meet him in Season 2, and you don't get that reveal until Season 6. The long-term thinking about some of those things is what gives the show real scale.
"The second thing is the march toward Jon and Dany partnering up. It's been in the creators' minds from the beginning, but it's taken a long, steady march to get there."
Game of Thrones airs Sundays at 9 p.m. on HBO.
For more Game of Thrones coverage on Newsweek, click here.