'Game of Thrones' Season 7, Episode 3: Watch Teaser Trailer for 'The Queen's Justice' Featuring Big First-Time Meeting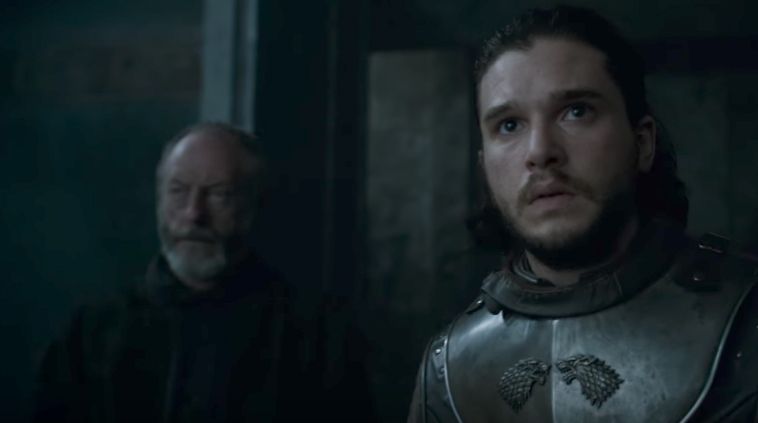 Khaleesi will see you now, Jon Snow.
Next week's Game of Thrones episode, "The Queen's Justice," is set to be a monumental one, because for the first time in seven years, Jon Snow (Kit Harington) and Daenerys Targaryen (Emilia Clarke) will come face-to-face.
In last Sunday's episode, "Stormborn," Dany summoned Jon Snow to Dragonstone to meet his queen and bend the knee. Of course, there's a lot more at play here. The invitation came at the recommendation of his Hand to the Queen, Tyrion Lannister (Peter Dinklage), who believes Jon could be a very powerful ally in the North to Dany's claim to the Iron Throne. The Red Priestess Melisandre (Carice van Houten) was also convinced that he could help her efforts. On Jon's side, however, meeting Dany is a means to convince her to join his fight against the army of the dead and procure some of that invaluable dragonglass to make weapons to kill the White Walkers.
Only the audience (and Bran Stark) at this point know that Dany and Jon are, in fact, aunt and nephew. Will this be revealed in "The Queen's Justice"?
Related: Things you missed in the latest 'Game of Thrones' episode, "Stormborn"
Elsewhere in the teaser trailer, Euron Greyjoy (Pilou Asbæk) is seen parading through King's Landing following his huge victory over Theon (Alfie Allen) and Yara (Gemma Whelan) Greyjoy, his nephew and niece. As Queen Cersei says in the teaser, the war has begun and she's "drawn first blood." Euron overcoming Yara and Theon's fleet is a blow to Dany's plan to surround King's Landing and starve out Cersei and her army, as she and Tyrion laid out in Episode 2.
Euron's victory at sea is another reason why the meeting between Dany and Jon is more pertinent than ever. Euron presumably now has Yara and Ellaria Sand (Indira Varma) captive, so Dany will need to revise her strategy to take King's Landing, because it's unlikely their troops will follow her orders now that their respective rulers are out of the picture. Can Dany convince Jon to unite the great Northern houses and the Wildlings to surround King's Landing?
The war continues. After the epic battle scene at sea in the last episode, this time it's the Unsullied who are enacting the next part of Dany and Tyrion's plan to take Casterly Rock, the ancestral home of the Lannisters. Prepare for more casualties.
Game of Thrones airs Sundays at 9 p.m. on HBO.
For more Game of Thrones coverage on Newsweek, click here.