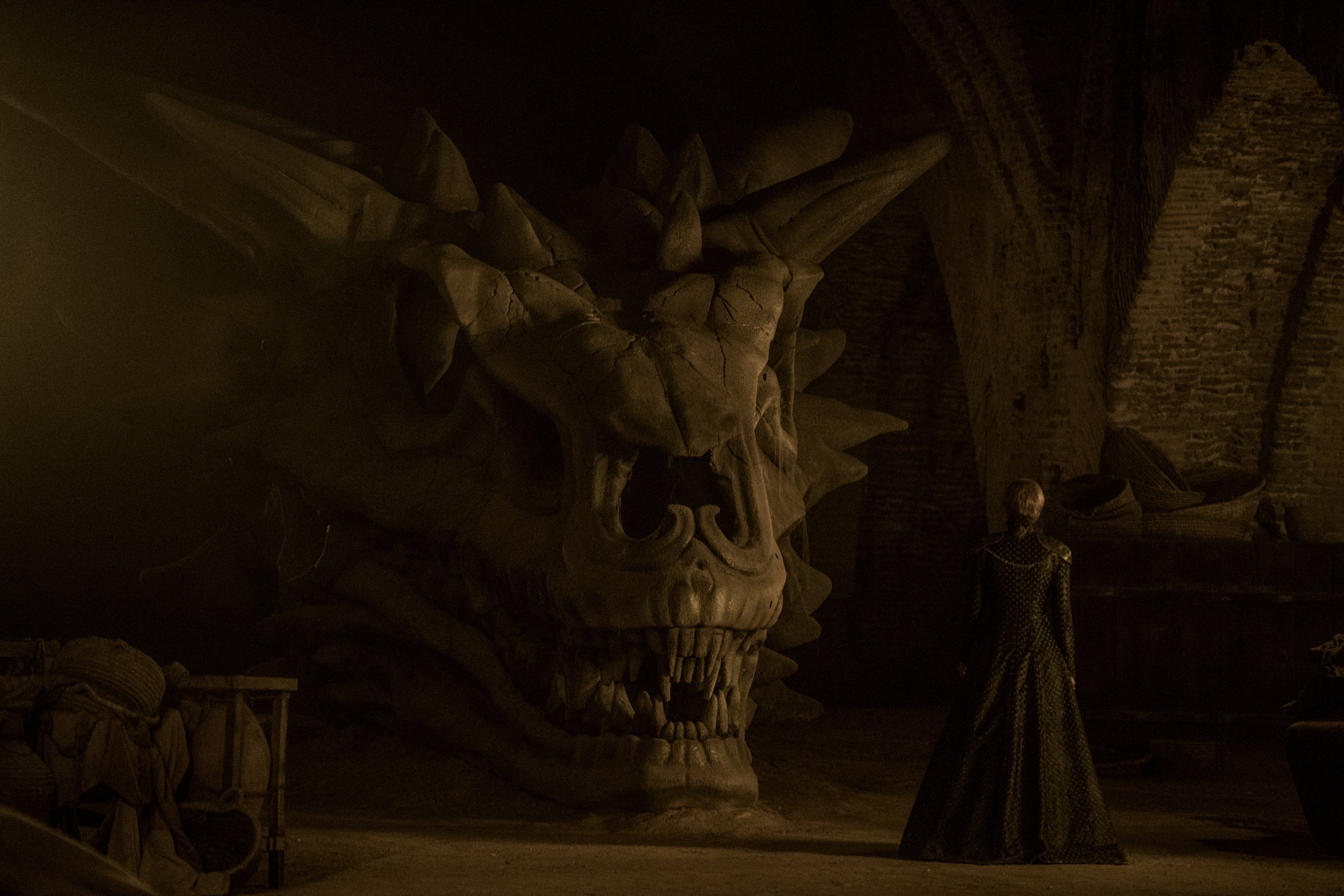 Score one for Queen Cersei. Sunday's Game of Thrones saw the battle for Westeros get underway with a fiery showdown at sea between Euron Greyjoy (Pilou Asbæk) and his nephew and niece Theon (Alfie Allen) and Yara Greyjoy (Gemma Whelan). Of course, the first big action sequence of Season 7 had to have some casualties and, just like that, two-thirds of the Sand Snakes are now dead.
A quick recap of the events in "Stormborn": At Dragonstone, Daenerys Targaryen (Emilia Clarke) and Tyrion Lannister (Peter Dinklage) devised their plan to take the Seven Kingdoms, and Tyrion perfectly anticipated his sister Cersei's (Lena Headey) strategy to rally the great houses of Westeros against the foreign invasion. Grey Worm (Jacob Anderson) and Missandei (Nathalie Emmanuel) totally got it on. Melisandre (Carice van Houten) arrived at Dragonstone and seemingly aligned herself with Dany—and, in the process, her famous Azor Ahai prophecy may have been completely rewritten (more on that later). Jon Snow (Kit Harington) was summoned by Dany to bend the knee to his queen; that is now two queens requesting his presence in as many episodes—which queen will he side with? Samwell Tarly (John Bradley) tried to cure Jorah Mormont's (Iain Glen) greyscale in a scene so graphic that I nearly threw up. Arya Stark (Maisie Williams) learned that the Starks have retaken Winterfell and is finally heading home (hurrah). And it was RIP Obara (Keisha Castle-Hughes) and Nymeria (Jessica Henwick) Sand, the first major deaths of Season 7 in the Greyjoy civil war at sea.
There is much to discuss from Sunday's episode. So, as always, let's dissect what you may have missed:
The Prince That Was Promised
Has Game of Thrones just rewritten the biggest prophecy in the show's mythology? When Melisandre met with Daenerys at Dragonstone, she and Dany ruminated over the famous "Prince That Was Promised" prophecy—aka the Azor Ahai prophecy—only for translation queen Missandei to offer a new interpretation. In High Valyrian, she said, nouns have no gender—so the prince could be a prince or a princess.
Daenerys is probably the character best suited to fulfil the prophecy at the moment. After all, she does command fire-breathing dragons and the whole premise of the faith of the Lord of Light is worshipping the fire god.
But there's still the possibility that Jon Snow is the rebirth of Azor Ahai, the famous Lord of Light. "I believe you have a role to play—as does another," Melisandre told Daenerys. Jon is a secret Targaryen and therefore probably has some fiery powers of his own.
Related: Game of Thrones' eunuch sex scene—how Grey Worm and Missandei can find intimacy
"Winter is Coming" callbacks
If it feels like Game of Thrones is getting all nostalgic on us, it really is. There were two moments in "Stormborn" that circled us back to the very first episode.
In her war room, Daenerys echoed comments her now deceased brother Viserys made in "Winter Is Coming," mocking him for believing the hollow words of supporters to his claim to the Iron Throne.
"They cry out for their true queen? They drink secret toasts to my health?" Dany said.
In the first episode, back when Viserys was trying to broker Dany's marriage to Khal Drogo, a Targaryen sympathizer told him: "The people drink secret toasts to your health. They cry out for their true king."
That the Khaleesi is able to see through this insincere flattery shows that she is much better positioned to rule than her brother ever was. It's also a nice reminder of her growth from essentially being forced into a marriage in the first episode to a strong, confident queen in "Stormborn."
The other callback is when Jon received the summons from Tyrion. He was convinced that the letter really was from Dany's Hand to the Queen because it reiterated something that Tyrion told Jon in the first episode back in 2011.
The Starks hosted a dinner banquet at Winterfell for the visiting King Robert, Queen Cersei and the Lannister siblings. Jon was not invited to attend because he is a bastard. Tyrion didn't attend either, choosing instead to get drunk. That led to a chance encounter between the two.
Jon demanded of Tyrion, "What the hell would you know about being a bastard?" Tyrion replied: "All dwarves are bastards in their father's eyes." That is the line Tyrion wrote to Jon in his summons. Again, it's a heartwarming little nod to how far both of these characters have come since that first episode: Jon, the bastard, is now the King in the North and has outlived all of the Stark men except Bran. And Tyrion has broken free of the Lannister shackles—killed his father and outgrown that hideous blond hair he was sporting in the pilot.
Related: "Game of Thrones" director Jeremy Podeswa confirms the Season 7 finale will be "supersized"
Like father, like son
I guess the distrust and disgust of Littlefinger (Aidan Gillen) runs through the Stark family. In Sunday's episode, Jon Snow saw red and pressed Littlefinger against the wall, choking him, after he made comments about Sansa Stark (Sophie Turner).
That is reminiscent of a Season 1 scene where his father, Ned Stark (well, really his uncle), basically did the same thing to Littlefinger for hiding his wife, Catelyn Stark, in one of his brothels. (Hat tip to /u/Vault_94 on Reddit for spotting this cool moment.)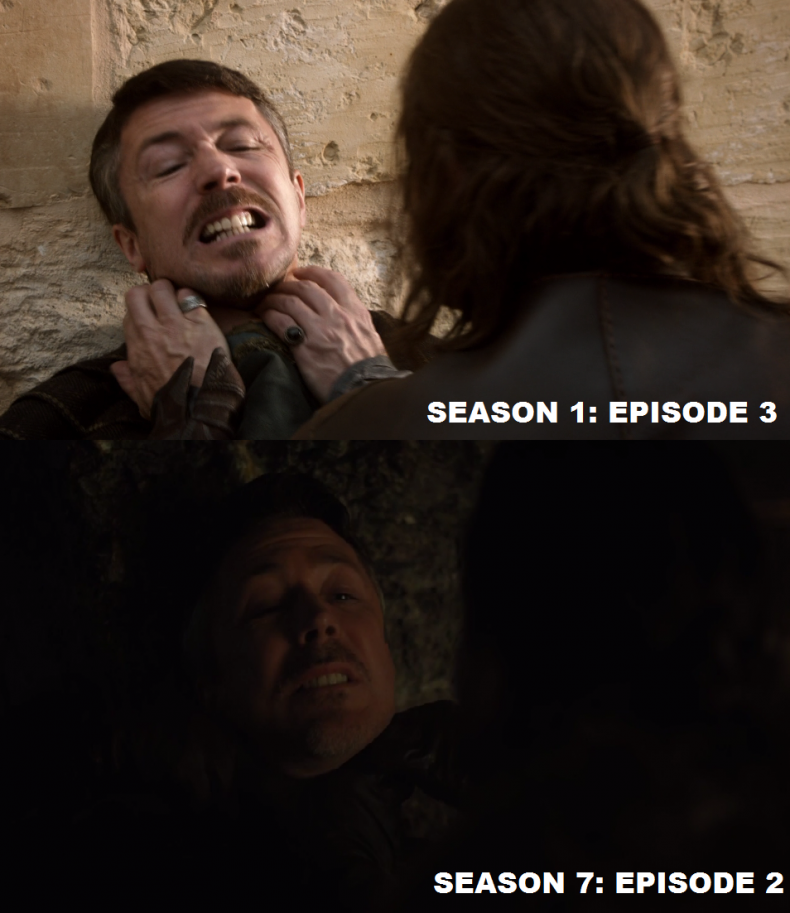 Balerion the Black Dread vs. Drogon
Of Dany's three dragons, Drogon is the biggest, right? Well, compare his skull to that of this beast we saw in "Stormborn" and, well, Drogon better eat his vitamins and protein.
Reddit user /u/Banana11crazy posted this comparison of Drogon and the skull of legendary dragon Balerion, used by the Targaryens in their first conquest of the Seven Kingdoms, and you can see why this monster was called the Black Dread.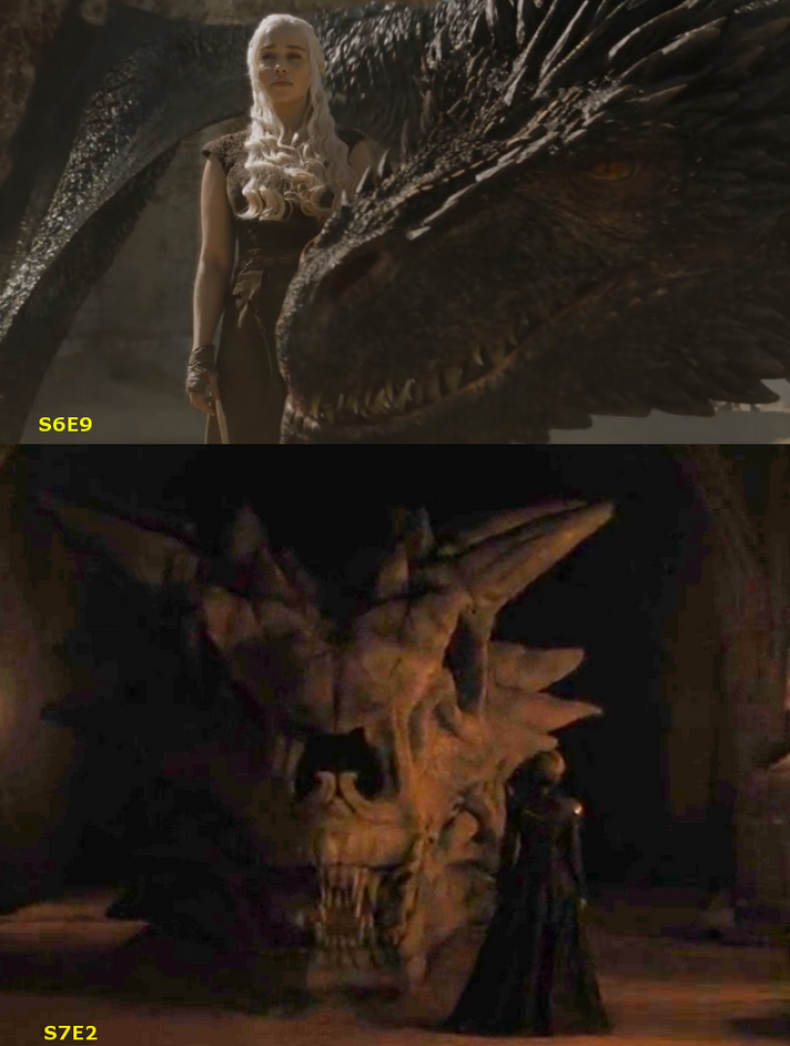 'Something a bit more poetic'
Major theory time. In Sunday's episode, we learned that maesters in Game of Thrones really love to write historical books. Jim Broadbent's Archmaester Ebrose told Sam he plans to write a book called A Chronicle of the Wars Following the Death of King Robert I.
Sam wasn't too impressed by the title and suggested he would pick "possibly something a bit more poetic." Sam has been known to be a vociferous reader throughout the last six seasons and is probably an eloquent writer.
One Reddit theory posits that Sam may, in future, survive the war for the Iron Throne and when he's an old maester like his mentor Maester Aemon Targaryen, he might write a book about the events. That book? A Song of Ice and Fire. That seems pretty poetic, and it's also the name of the books by George R.R. Martin that Game of Thrones is based on.
Game of Thrones airs Sundays at 9 p.m. on HBO.
For more Game of Thrones coverage on Newsweek, click here.