'Game of Thrones' Eunuch Sex Scene: How Grey Worm and Missandei Are Able to Get Intimate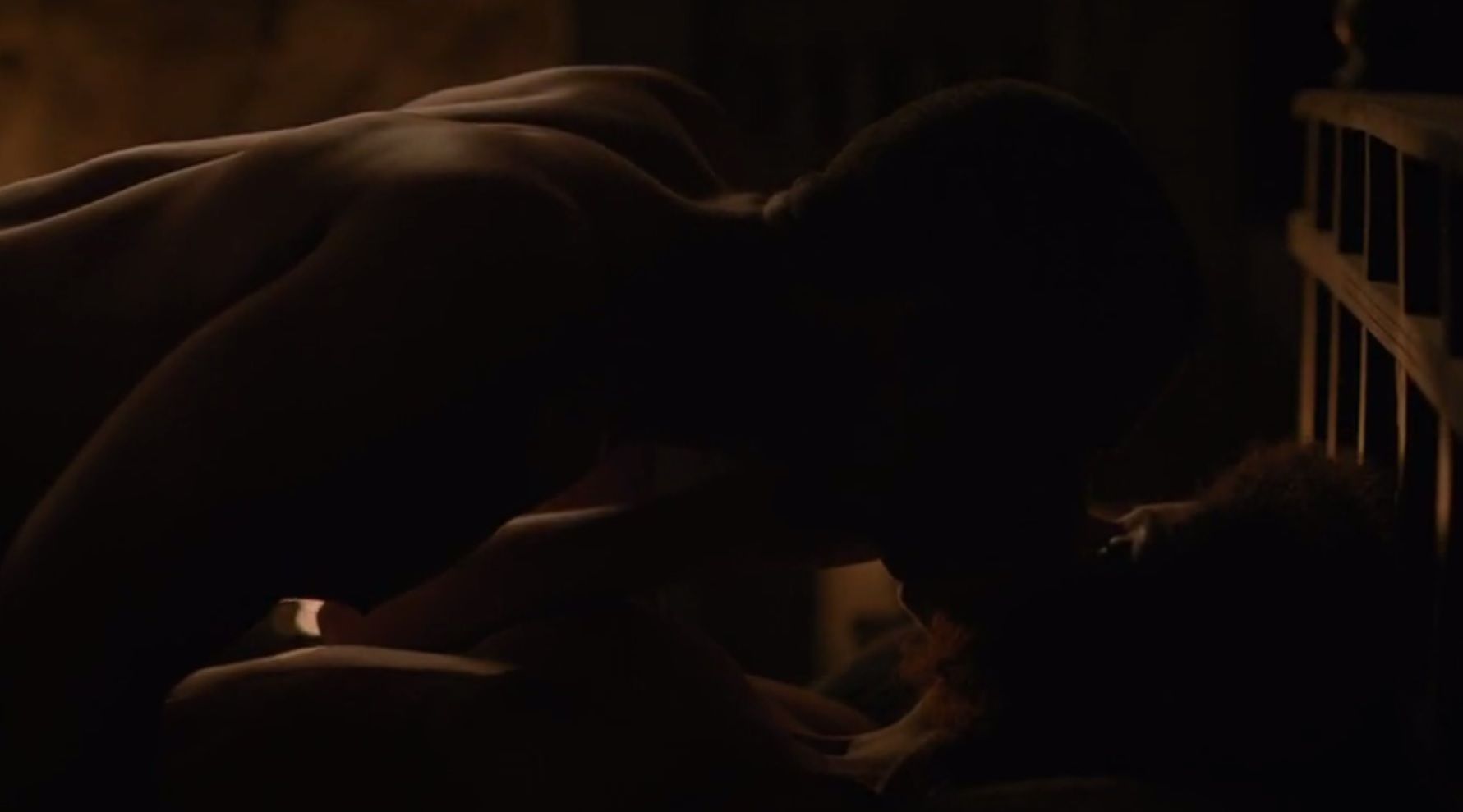 Can you guess what the Merriam-Webster dictionary's most-searched word was after Game of Thrones Sunday night? Ten points if you guessed "eunuch."
In Sunday's GoT, "Stormborn," Daenerys Targaryen's most loyal subjects, Grey Worm (Jacob Anderson) and Missandei (Nathalie Emmanuel), finally took their burgeoning relationship to the next level. Grey Worm, leader of the Unsullied and the most famous eunuch in all Westeros, melted hearts by declaring that Missandei is his "weakness."
That declaration prompted the pair to get it on in what has to be one of the most unconventional sex scenes in television history—though, somewhat unusually for GoT, much of that was left to viewers' imaginations.
Of course, the question that immediately springs to mind is: How? As a eunuch, Grey Worm is no longer in possession of his external genitalia, which means penetrative intimacy between him and Missandei is impossible.
In George R.R. Martin's A Song of Ice and Fire novels—the source material for GoT—the Unsullied are enslaved soldiers who are fully castrated of their penises and testicles. Their sole reason for existing is to be obedient and skilled soldiers. The idea is that their testosterone levels and sex drive are depleted and they are undistracted by sexual desire.
But being a eunuch in Game of Thrones, or in real life, does not preclude one from intimate relations or craving intimacy. Thomas W. Johnson, a cultural anthropologist, told Vulture in 2015 that "Chinese and Korean eunuchs often married and then, because they were infertile, they would adopt young eunuchs."
Related: Watch a preview of the next Game of Thrones episode, "A Queen's Justice"
And in GoT, there is precedence for the castrated Unsullied seeking intimacy: In the Season 5 premiere "The Wars to Come," Daenerys was confused to learn that one of the Unsullied, White Rat, had been to a brothel. Grey Worm told her, "Even those who lack a man's parts may still have a man's heart." White Rat did not crave sex but affection—he lay in a hired prostitute's arms as she soothed him with melodic humming.
Grey Worm and Missandei's chemistry isn't just a physiological one but a deeply emotional one which, psychosexual therapist Mike Lousada tells Newsweek, can form the basis of a satisfying sex life.
There is more to sex than penetration. As Sunday's episode showed. Grey Worm performed oral sex on Missandei in their bedroom scene. "Lesbians manage to have full and delicious sex lives, and there's no penis penetration. There's this very heteronormative attitude that we have: that sex is a penis going into a vagina, and it's such a limited understanding of what sex is," Lousada says. "If you limit to the genitals, orgasm, getting an erection, we really limit our understanding of what's possible."
Should Grey Worm and Missandei continue to explore their relationship through physical acts, there are plenty of ways they can both be satisfied.
Says Lousada, "Western cultures are very much focused on genitals and penetration as the point of sex. But tantric practices and ancient Arabic practices emphasize more whole-body sensuality and whole-body aliveness.
"I do a lot of work with men who've had prostatectomies, who have erectile problems…helping them to experience a new understanding of what pleasure and sex means, by moving it away from this friction-based experience to feeling sensations through different parts of the body."
The simplest method to achieve intimacy in such cases, Lousada says, is "to lay with your partner with your groin areas touching.
"If you lie there for 30 minutes and have eye contact…you just bring your awareness to that part of the body. You will feel an electrical charge that sparks between the two genitals in a pleasant way," the sexologist explains.
It's also possible to "visualize having a penis," according to Lousada. "A woman can visualize having a penis…the person receiving that will experience the energy of being penetrated, even though there's no physical part of the body to penetrate with."
Game of Thrones airs Sundays at 9 p.m. on HBO.
For more Game of Thrones coverage on Newsweek, click here.