Ancient Egyptian Sphinxes Found in English Garden Worth $265,000
We all dream that the crumbling pot we found at a yard sale, or grandma's old necklace, is secretly worth thousands.
However, for one family in Suffolk, United Kingdom, this dream became a reality when they recently came to sell some statues that had been in their garden for years.
Two stone models of sphinxes, a mythical creature with a human head and lion body, were gathering moss in their garden for years when the homeowners decided to sell them at auction because they were moving house.
Believing them to be 18th or 19th century replicas, the family put them up for sale at Mander Auctioneers in Sudbury where they were valued at between £300-500 ($407-680).
However they are now thought to be the real artefacts from Ancient Egypt, around 5,000 years old and they were sold for a staggering £195,000 or $265,527.60.
Auctioneer James Mander explained to the East Anglia Daily Times that the pair of sphinxes were in poor condition due to "heavy wear and various losses. They had been repaired by the current owners, using concrete, to fill the missing part under the head of one of the statues."
He told Newsweek that the family simply had them on their "garden patio as decoration until last month when they were consigned to the auction.
"There was some interest prior to the auction during the viewing, but really we had no indication of their value until the auction began."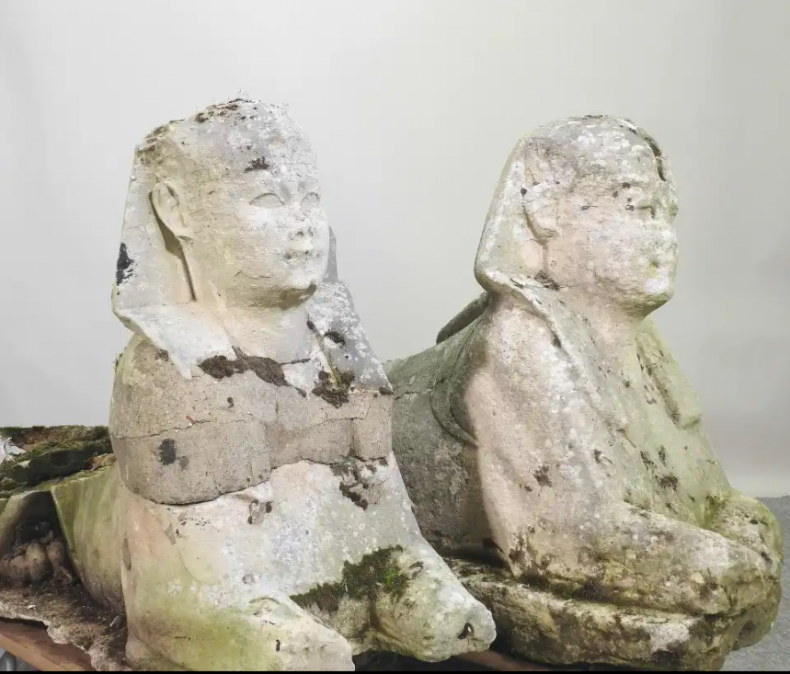 The 110cm-long statues began the bidding at £200, which translates to $272, and this price kept rising during the 15 minutes before the hammer fell.
Mander revealed: "The bidding started at £200, and it took fifteen minutes to sell, with competition from four telephone bidders and numerous internet buyers.
"The bidding quickly went up to £100,000 and then seemed to stall, until the hammer finally fell at £195,000 to an international auction gallery, setting a new house record.
He added that the opinion of the buyers was that the statues are actually "Ancient Egyptian examples, which had somehow passed through recent history as 18th-century copies."
Mander said: "This was an exciting day at the auction, and we were very pleased to inform the vendors who had purchased and enjoyed these as garden ornaments for many years, with no idea of their true value.
"These are one of the highest value lots to be sold at a provincial auction this year."
The pieces were originally bought at a Country House Sale in East Anglia around fifteen years ago, for the bargain price of a few hundred pounds.
At this time they were thought to date back to the 18th century and acquired during the grand tour in the 18th or 19th century.
Recently another gem was inadvertently unearthed in the form of a rare 16th-century dish that illustrates the Bible story of Samson and Delilah.
It was discovered in a drawer in a Scottish home and sold at auction for $1.7 million.
This was far above the expected value range of $109,000 to $163,000.