Gardener Ripped for Seething Response to Neighbors Who 'Stole' Sunlight
Members of a popular internet forum called out a gardener who lodged a series of fiery complaints against their new neighbors.
In a viral Reddit post published on r/AmITheA**hole, Redditor u/Few_Sea1502 (otherwise referred to as the original poster, or OP) said their once-quaint neighborhood has been snapped up by real estate developers and detailed the construction project that finally drove them to the brink.
Titled, "[Am I the a**hole] for telling the new neighbors that they got what they paid for, including being shunned by the neighborhood?" the post has received more than 7,500 upvotes and 2,400 comments in the last seven hours.
"My home's been in my family for several generations," OP began. "We have always been known for having a large, beautiful garden."
Continuing to explain that their garden has served as a neighborhood focal point for years, the original poster said that recently, developers purchased the lot next to theirs and erected an enormous residence, blocking out light to their property.
The original poster also said that, after a young couple moved into the house, relations were tense across the community.
"The new owners moved in and were not welcomed warmly," OP wrote. "We finally came face to face and the woman asked if we could chat. She said that they felt like maybe they'd done something wrong.
"The guy says that he's surprised considering it felt like a 'nice' and somewhat 'affluent' neighborhood, and given the price, he was expecting friendly neighbors," OP continued. "I asked if they'd ever looked in our backyard. They said yes and said they think the garden is cute.
"I said, 'Yes, the garden that now has about half less sunlight than before that house was built was a neighborhood treasure,'" OP added. "The guy said 'Well it's not our fault you built the garden there'...[and] I said 'Well, you guys got what you paid for. 2 million dollars for a house that everyone in the neighborhood hates.'"
Though the first few months of the pandemic allowed some to comfortably slide into a new home, the last 1 1/2 years have been far less forgiving.
This year, data published by Statista showed that the median price of homes sold in the United States was roughly $451,000, a whopping $73,000 increase from 2021.
And while individuals, couples and families have taken the brunt of such major housing hikes, investors across the country are cashing in, then cashing out.
Investors, including various firms and other real estate conglomerates, purchased 24 percent of single-family homes on the market last year, according to Pew Trusts. From 2012 to 2020, investors were responsible for just 15 or 16 percent of those same purchases.
In 2022, analysis published by Realtor.com revealed that investors accounted for 9.7 percent of the February home sales in the U.S., marking an all-time high for investment purchases in a single month.
As a result of this recent influx, many homeowners have been pushed out of neighborhoods their families have occupied for generations. Left in their place? Burgeoning development sites meant for luxurious mansions and a lifestyle unattainable to a large majority of the country's population.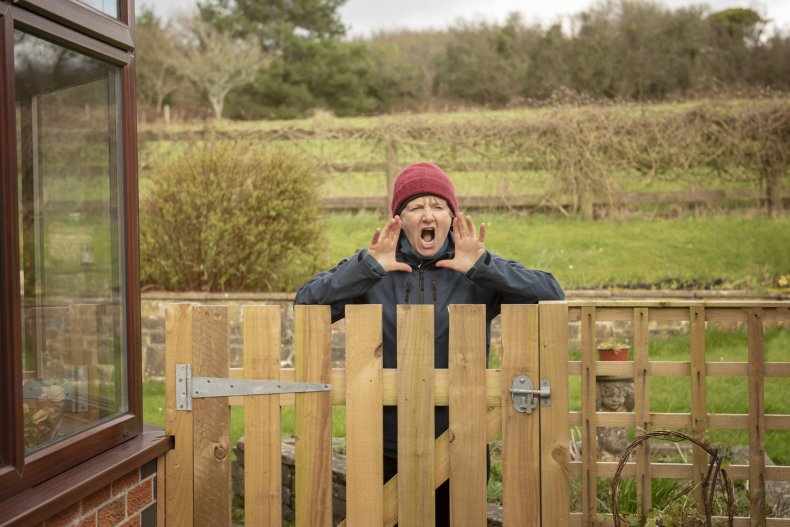 However, for those who can still afford to purchase homes in the U.S., there is still an expectation for friendly neighborhoods. And throughout the comment section of the viral Reddit post, Redditors took issue with the original poster's chastising of their new neighbors and chalked up the heated interaction to a case of misdirected rage.
"So you unloaded your pent up anger at the developers on the couple who unwittingly bought the house?" Redditor u/parasometimeslegal questioned in the post's top comment, which has received more than 14,000 upvotes. "[You're the a**hole].
"That couple did nothing wrong — they bought a house that was on the market," they continued. "If they had been the ones to buy the house/land...bulldoze it down, and then build their million dollar mansion, you might have a leg to stand on."
"They apparently stole your sunlight and you are big mad about it," Redditor u/JenWess added, receiving nearly 3,000 upvotes. "These people likely had no idea about your garden...it's not their fault the house was built there."
Redditor u/Parttime-Princess, whose comment has received more than 6,000 upvotes, echoed that sentiment.
"[You're the a**hole]," they wrote. "They just bought a house.
"Is your garden a big thing so well known it's in papers? That people could know about it without having talks with the neighbors before moving in[?]" they continued. "Even then, they did not design the house...it is not their fault, and you are being angry at them as if it is."
"You are mad at the situation and taking it out on the wrong people," Redditor u/LuxSerafina chimed in, receiving nearly 3,000 upvotes. "They didn't explicitly [choose] to give your garden less sunlight, the previous owner of the land chose to maximize his profit."
Newsweek has reached out to u/Few_Sea1502 for comment.