Gary Karr, Involved in Killing Of Atheist Leader Madalyn Murray O'Hair, Gets New 50-Year Sentence
A man convicted on charges related to the 1995 kidnapping and murder of atheist leader Madalyn Murray O'Hair and her family has been resentenced to nearly 50 years in prison.
Gary Karr had already spent over 20 years behind bars after being convicted of extortion and other charges related to the triple murder. He was given a fresh sentence of 595 months by U.S. District Judge Lee Yeakel on Friday, according to Austin, Texas NBC affiliate KXAN. Yeakel reportedly called the case "just as serious a crime as I have ever seen in this court" while handing Karr the maximum possible sentence.
In 2000, Karr had been sentenced to two life sentences for his part in the extortion and murder plot. He had previously served decades in prison for crimes including rape, kidnapping and armed robbery. Now in his 70s, Karr's resentencing in the O'Hair case was the result of an appeal, with an appeals court having ruled in his favor prior to Friday's resentencing hearing at a federal courthouse in Austin.
David Waters, the plot's so-called mastermind, was convicted of murder but died of lung cancer while incarcerated in 2003. A third man believed to be involved, Danny Fry, was allegedly killed and dismembered by Waters and Karr days after the triple murder.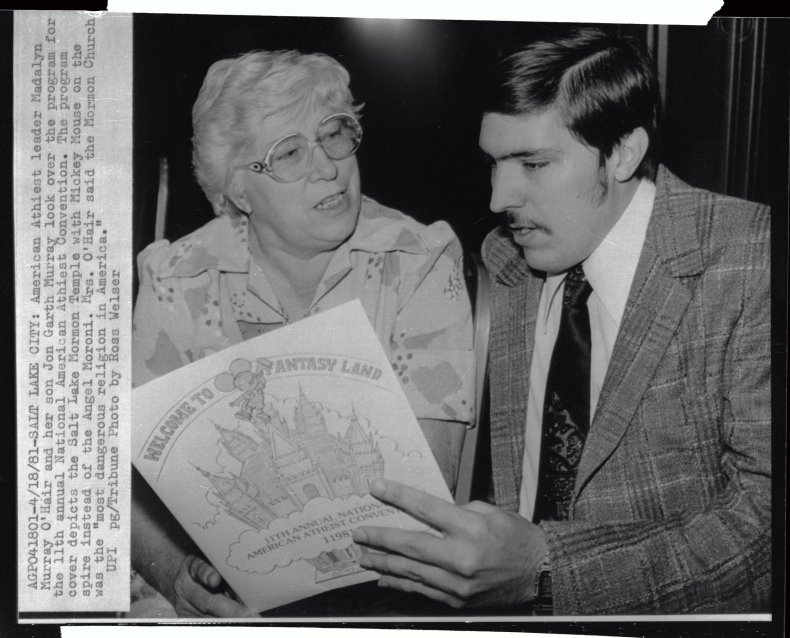 O'Hair, her son Jon Garth Murray and her granddaughter Robin Murray O'Hair all went missing in 1995, along with $600,000 in gold coins. They were held at a San Antonio hotel by their kidnappers for a month after being abducted, erroneously believing that paying the $600,000 ransom would spare them their lives. Authorities found their mutilated remains on a ranch that Waters led them to more than five years later.
Prior to the murders, Waters had been an employee of American Atheists, the activist group that O'Hair founded in 1963. He was fired after stealing from the group and only months before the kidnapping had pleaded guilty to theft. The plot was said to have been motivated in part by revenge, with Karr and Fry recruited to help carry out the plan.
Decades before the murders, O'Hair and American Atheists gained notoriety following a legal fight to ban prayer in school. The U.S. Supreme Court sided with O'Hair in 1963, in an 8-1 decision that found requirements for prayer in public schools was unconstitutional.
The group, with O'Hair as president until 1986, went on to fight many subsequent legal battles aimed at maintaining the separation of church and state. O'Hair's atheist activism was laced with fiery rhetoric that brought with it a great deal of national attention, much of it negative.
A 1964 Life magazine article dubbed O'Hair "The Most Hated Woman in America." A 2017 Netflix biopic focusing on her kidnapping and murder used the same title.
Newsweek reached out to Karr's attorney for comment.