Gary Neville: Will it be Manchester United, Aston Villa Or the Couch for Sacked Valencia Manager?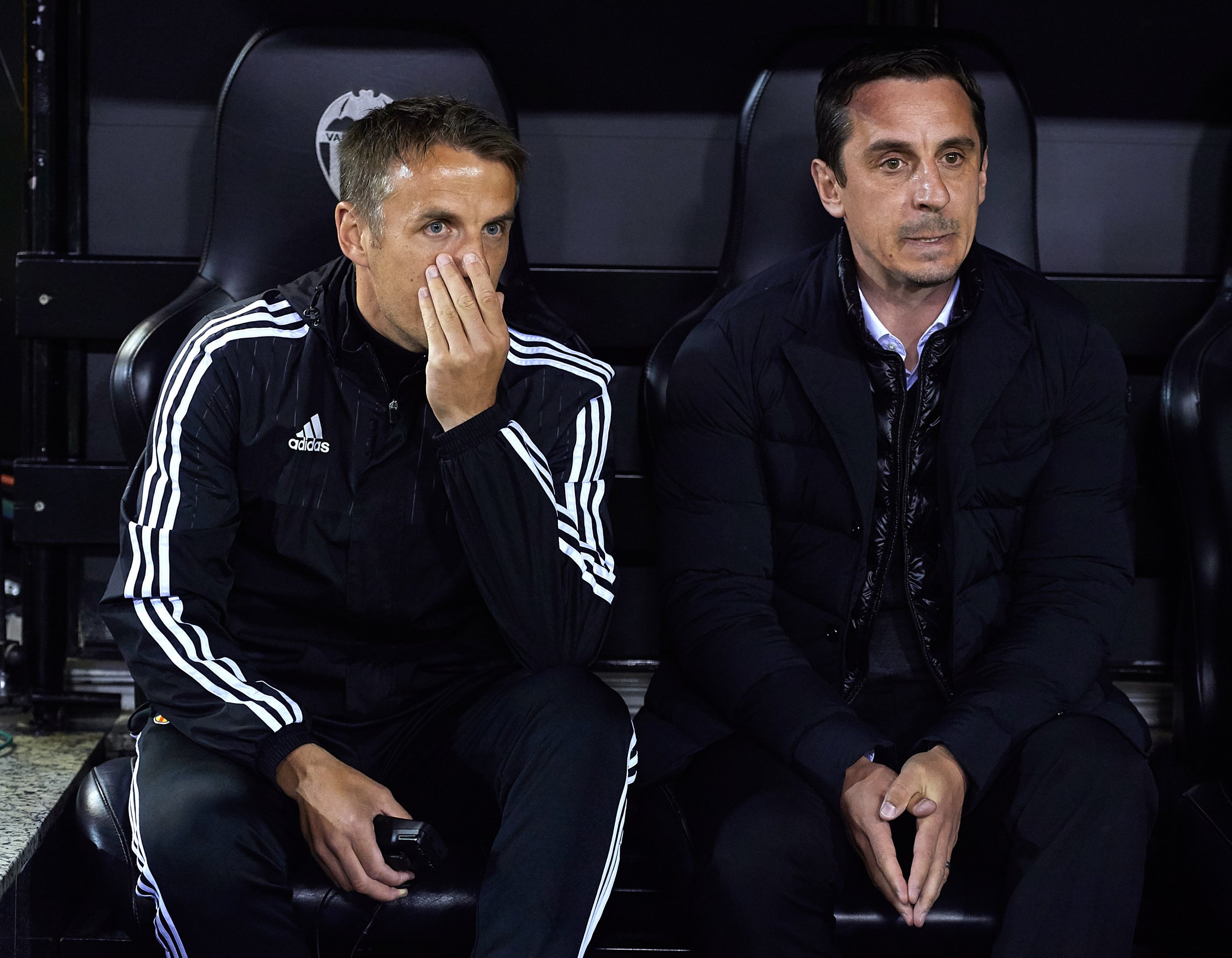 Gary Neville finds himself in a strange position following his dismissal by Valencia after less than four months in charge.
The Valencia job was Neville's first as a manager—an unprecedented move for a young British coach taking his first steps abroad, although of course the former Manchester United defender was already England assistant when he took the job at the Mestalla stadium.
Has Neville's reputation been damaged? Yes, in the sense that he has failed, albeit at a dysfunctional club that has now been through seven managers inside four years.
Yet football's so-called "renaissance man" will still be an attractive option to a number of English clubs—partly because his failure occurred abroad, partly because of his multivarious talents, as a former player, a coach, a pundit and a manager.
This is, though, a crucial point in Neville's career. Fail again, and he may have that lingering stench attached to him through his career. Succeed, and he, and the British footballing public, can forget about his ill-fated sojourn on the Mediterranean coast. So where will he go next?
Aston Villa
Don't all laugh at once. One of Britain's leading football writers, The Times' Henry Winter, thinks Neville could rock up at Villa Park, which currently has the atmosphere of a morgue in particularly heavy, icy rain as its tenant stumbles out of the English Premier League.
This would be a risk for Villa and Neville. Like the 41-year-old, and perhaps to a more extreme degree, Villa can hardly afford another failure. It needs to be promoted again from the Championship to the Premier League first time. And Neville would face a mighty task in turning around a supertanker lumbering towards oblivion. Still, with great risk, the potential for great reward. If he got it right, Neville would be fêted in Aston, and you cannot really ask for more than that.
England
The obvious choice and destination, in a little while. Neville has worked under Roy Hodgson, the England manager, as an assistant coach since May 2012; he knows the players, the environment and system. And international management, while hardly a bask in the tropical sun, can be slightly more forgiving than the relentless glare of the club game.
On the other hand… if and when Hodgson goes, England might want to look outside of the bubble, to a "big name," perhaps outside of the British Isles, in which case it is possible that Neville could be passed over. But sit tight, and the prince, despite his recent stumble, could become the king.
The couch
Management is a notoriously stressful game; there are countless examples of ill health to prove it. Neville is a shrewd man; he has been careful with his money, and can probably afford to sit tight for a few months watching Homes Under the Hammer until a big job becomes available.
Neville is, however, a ferociously competitive individual, and ambitious, too. Sitting on his hands will not, in all likelihood, be a satisfying experience.
Manchester United
Leftfield, but not impossible. Jose Mourinho may be slipping through United's fingers like tears through rain; Louis Van Gaal may be on his way out whether Mourinho comes to Old Trafford or not.
That leaves Ryan Giggs, already Van Gaal's assistant at United, as one of the only plausible candidates… so could Neville join him in a "Class of 92" managerial dream team? They already work together at Salford City FC, the club they co-own, so this wouldn't be too much of a stretch.
It is, though, hard to see United's board taking this kind of a risk on two tyros, despite the goodwill they would have at the start from United's supporters. If results began to go downhill, things could get messy, and quickly. File this under "unlikely."
A bar on the Costa Del Sol
With Roy Hodgson, riding off into the Spanish sunset together, using Hodgson's affable nature and Neville's ferocious energy and business nous to hawk cheap lager to British expatriates. Also has the potential to be turned into a BBC3 sitcom; altogether far more relaxing and possibly more lucrative than football management.