Gas Prices Are Starting to Rise Again in These States
As the U.S. midterm elections approach, the Biden administration has been keen to see inflation fall, especially gas prices, one of the key drivers of voter sentiment over the economy.
Since gas prices rose to over $5 per gallon nationally back in June, the price has steadily dropped back to around $3.70, with 99 days straight of decreases. That streak snapped on Wednesday, when average prices went from $3.678 per gallon to $3.68, according to data from the American Automobile Association (AAA).
While a single cent increase is hardly much to notice, this is a national average, and hides regional differences. In fact, in several states, gas prices have risen not just on Wednesday but have increased over the past week.
States with rises over the past seven days include: Arizona, Arkansas, California, Colorado, Indiana, Iowa, Kansas, Michigan, Minnesota, Missouri, Montana, Nebraska, Nevada, New Mexico, North Dakota, Oklahoma, Oregon, South Dakota, Wisconsin, and Wyoming. The full data is below, with price changes over the last week and 24 hours.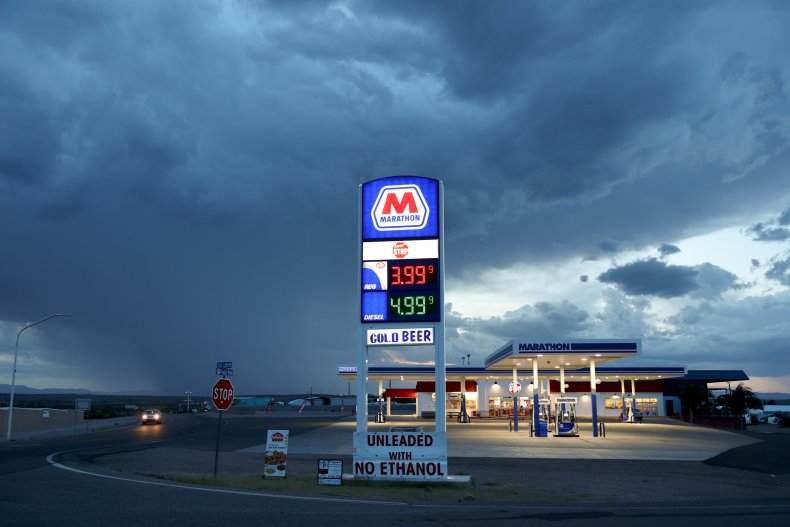 Andrew Gross, AAA spokesperson, said in a statement: "All streaks have to end at some point, and the national average for a gallon of gas has fallen $1.34 since its peak in mid-June. But there are big factors tugging on global oil prices—war, COVID, economic recession, and hurricane season. All this uncertainty could push oil prices higher, likely resulting in slightly higher pump prices."
Another reason for the falling prices is that many states have switched to using the less expensive winter blend gasoline. Only California has yet to make the switch, which will happen in November.
The underlying oil price will continue to affect pump prices, but there are several factors affecting the price recently in different directions. Oil fell on news of the Federal Reserve's 0.75 percent target rate hike; prices rose on fears over Russian escalation in Ukraine with the increased troop mobilization; and prices have dampened due to the strong dollar and falling demand at the pump.
According to the U.S. Energy Information Administration (EIA), gasoline demand over the past four weeks fell to 8.5 million barrels per day, its lowest level since February.
That makes it difficult to predict gas prices for the next few months—a key period leading up to the midterm elections, during which the Democrats will hope to see further falls, or at the very least prices staying below $4 per gallon on average.
| | | |
| --- | --- | --- |
| State | Change since yesterday ($) | Change since last week ($) |
| Alabama | -0.01 | -0.04 |
| Alaska | 0.01 | -0.02 |
| Arizona | 0.02 | 0.06 |
| Arkansas | 0.01 | 0.04 |
| California | 0.03 | 0.08 |
| Colorado | 0.02 | 0.08 |
| Connecticut | -0.02 | -0.12 |
| Delaware | -0.02 | -0.07 |
| District of Columbia | -0.01 | -0.06 |
| Florida | -0.01 | -0.06 |
| Georgia | -0.01 | -0.06 |
| Hawaii | -0.01 | -0.01 |
| Idaho | 0.00 | -0.05 |
| Illinois | 0.00 | -0.03 |
| Indiana | 0.06 | 0.04 |
| Iowa | 0.03 | 0.16 |
| Kansas | 0.00 | 0.03 |
| Kentucky | -0.01 | -0.06 |
| Louisiana | -0.01 | -0.04 |
| Maine | -0.01 | -0.10 |
| Maryland | 0.00 | -0.04 |
| Massachusetts | -0.02 | -0.11 |
| Michigan | 0.02 | 0.05 |
| Minnesota | 0.00 | 0.04 |
| Mississippi | 0.00 | -0.04 |
| Missouri | 0.01 | 0.05 |
| Montana | 0.01 | 0.02 |
| Nebraska | 0.02 | 0.09 |
| Nevada | 0.01 | 0.03 |
| New Hampshire | -0.02 | -0.11 |
| New Jersey | -0.02 | -0.11 |
| New Mexico | 0.02 | 0.11 |
| New York | -0.02 | -0.11 |
| North Carolina | 0.00 | -0.03 |
| North Dakota | 0.02 | 0.03 |
| Ohio | 0.00 | 0.00 |
| Oklahoma | 0.02 | 0.11 |
| Oregon | 0.04 | 0.03 |
| Pennsylvania | -0.01 | -0.06 |
| Rhode Island | -0.02 | -0.13 |
| South Carolina | 0.00 | -0.05 |
| South Dakota | 0.01 | 0.01 |
| Tennessee | -0.01 | -0.04 |
| Texas | -0.01 | -0.03 |
| Utah | -0.01 | -0.06 |
| Vermont | -0.01 | -0.09 |
| Virginia | -0.01 | -0.06 |
| Washington | 0.02 | 0.00 |
| West Virginia | -0.02 | -0.11 |
| Wisconsin | 0.00 | 0.03 |
| Wyoming | 0.02 | 0.05 |
Source: AAA