Gas Station Snafu Leads to Drivers Filling Tanks With Water
A gas station in Hartford, Connecticut, shut down some of its pumps earlier this week after drivers inadvertently filled their vehicles with water instead of fuel.
The incident occurred at a Phillips 66 gas station, and NBC Connecticut reported that one woman's car broke down after she filled up at a pump there early Tuesday morning.
"Right underneath the sign exit 29A, that's where my car had completely stalled out and I had immediately rushed to the shoulder," Selena Pineda told the news station, and added that she was later told by her dealership that her gas tank had been filled with water.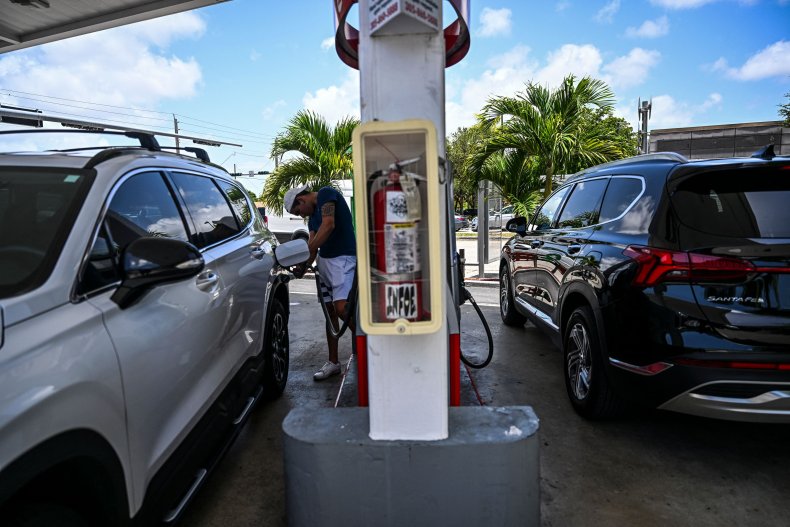 NBC Connecticut reported Wednesday that eight people called the gas station reporting similar complaints, and that the gas station had shut down 10 pumps at the time.
The owner of the station spoke to NBC Connecticut anonymously and said that a truck had broken a pipe cap for an underground storage tank and that a storm's heavy rains had caused water to enter the tank.
Pineda said the gas station told her it will reimburse her and others impacted by the situation for expenses they've incurred as a result.
"The man was willing to talk to me. He was very nice. And let me know he was going to pay for all the damages and all the replacements," Pineda said, according to NBC Connecticut.
Newsweek has reached out to Phillips 66 for comment.
This unfortunate incident comes as the United States continues to see high fuel prices. While prices have dipped in recent weeks, some analysts have predicted that prices could go up again as soon as October, ahead of an oil ban that the European Union is slated to impose on Russia by the end of the year.
This week, two rival gas stations in Altavista, Virginia, have been selling the cheapest gas in the country in a battle to set the lowest prices.
"It's just a friendly competition between two business owners," said Lucinda Davis, the owner of One Stop Mart, one of the stations, according to WSET. "He decided to lower down, so I just come down too."
Earlier this month, another gas station in Virginia temporarily dropped its prices to below $1 per gallon. The price was briefly $.76 per gallon, and drivers could fill up their tanks at the low price for only two hours.
The current national average gas price in the U.S. is $4.41, according to the American Automobile Association (AAA), down from $4.95 a month ago.