Rival Gas Stations Slice Prices Under $3 Per Gallon in Cheapest Fuel Battle
Two rival gas stations in Altavista, Virginia, have been selling the cheapest gas in the country in a fuel battle after drivers have struggled with record high prices in recent months.
GB and One Stop Mart on Main Street are facing off against each after they both decided to sell cheaper gas to their customers even if it means facing potential profit losses, local TV news station WSET reported Thursday.
"It's just a friendly competition between two business owners," said Lucinda Davis, the owner of One Stop Mart, according to the news station. "He decided to lower down, so I just come down too."
GB confirmed to Newsweek on Friday that it's charging customers $2.93 per gallon, which only applies to cash payment. Meanwhile, one customer reported that they saw One Stop's price at $2.99 per gallon on Thursday, according to the Altavista Journal. Newsweek reached out to One Stop Mart to confirm its price, but they declined to comment.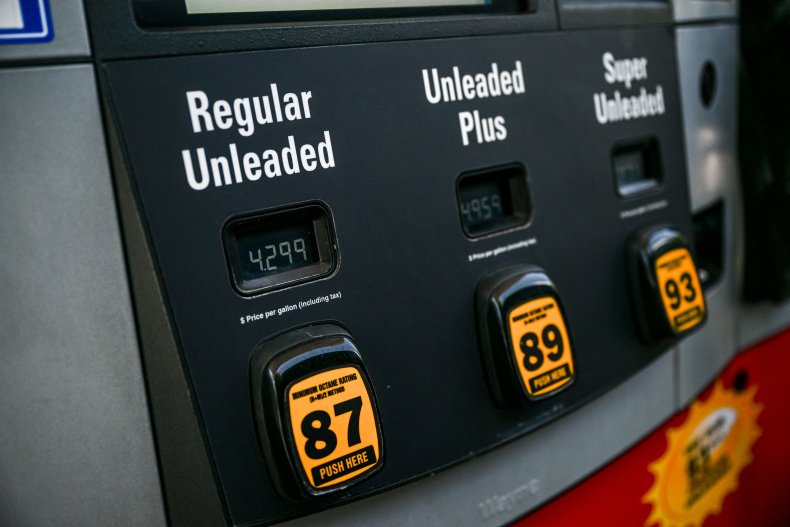 The national average for gas prices in the United States as of Friday morning stood at $4.413 per gallon, according to the American Automobile Association (AAA), dropping from $5 a gallon on June 17 and sliding from $4.842 a gallon on July 1. As of Friday morning, the average price in Virginia was at $4.188 per gallon.
Andy Gill, the fuel manager for GB, said that lowering gas prices is meant to support the community, according to WSET.
"It's also a good way to give back to the community, even though we're going down with the gas prices," said Gill. "Look at the gas prices over the last year where they've gone. It makes a lot of sense, just to sometimes sacrifice your profits to protect the business model that you established. It's very important to us."
Customers have been lining up at both gas stations as they welcomed the cheaper prices. "It's good that this owner here can put the gas prices down to help people out," said GB customer, Greg Lindsey, according to WSET.
Meanwhile, Jessie Byrd, a One Stop Mart customer, noted that the lower prices are better for him because gas costs a dollar more per gallon where he lives in Gretna, Virginia.
"I like him, I think he's a good person," Davis said about the competition with Gill, according to WSET. "I mean, really, he's giving me the will to keep going."
In a Facebook post on Wednesday, GB wrote about its low gas prices and said: "2.99 cash at GB we love gas wars since 2012 ! Its kinda our thing part of our history!" The gas station also referenced a 2016 article by The Roanoke Times in which Gill was quoted as saying: "We have a strategy: We're going to be the cheapest gas price no matter what."
A recent Gallup poll showed that two-thirds of Americans are experiencing financial hardship due to high gas prices. Over 1,000 people across the country were surveyed over a 20-day period last month.