Gas Price Rises Causing Hardship to Two-Thirds of Americans, Poll Finds
Two-thirds of Americans say skyrocketing gas prices are causing them financial hardship—one of the highest numbers since records began, with pollsters collating data in response to this question since 2000.
The survey was conducted by the polling company Gallup, which questioned 1,015 people from across all U.S. states over a 20-day period in June. People were asked: "Have recent price increases in gasoline caused any financial hardship for you or your household?"
Some 67 percent of respondents—two-thirds of those asked—replied that it had caused some degree of hardship, with 22 percent describing the issue as "severe hardship" and 45 percent describing it as "moderate hardship." While 33 percent of those asked about gas prices said the spiraling costs had not caused them financial difficulties.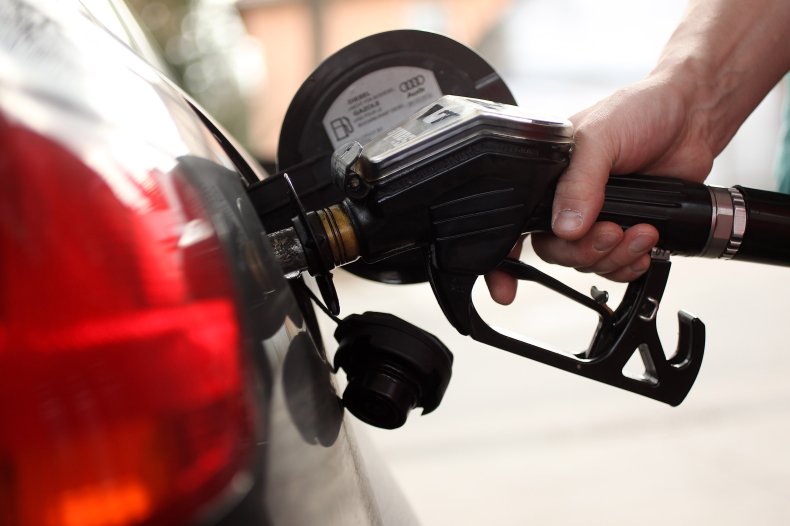 The latest results have shot up from the last time the question was asked, in April. Back then, some 52 per cent said they were feeling the pinch, with 14 percent describing their financial hardship as "severe."
The 67 percent of people experiencing hardship is among the highest levels Gallup has ever found when asking this question at other times of rising gas prices since 2000. The last time it was at this level was in May 2011, statisticians said.
Prices at the pump have spiked this year, rising by nearly a dollar a gallon over the past few months and now averaging close to $5 per gallon nationally. Americans were paying just over $2 a gallon, on average, at the start of 2021. The hikes have been caused by a global increase in oil prices, fueled by Russia's invasion of Ukraine hitting oil production, global sanctions against Russia which is one of the largest oil exporters, and increased demand for oil and gas as countries attempt to return to normal life amid the COVID-19 pandemic.
The poll also looked at how Americans were trying to adapt in the face of increasing gas prices and the advent of financial hardship it brought for many.
More than six in 10 Americans say the price of gas has caused them to drive less this summer than they might have otherwise. While 55 percent said the price of gas has forced them to change their summer vacation plans this year. The one time Gallup asked this question previously, back in May 2005 when 59 percent said rising gas prices caused them financial hardship, 46 percent reported altering their plans.
The increasing struggles faced by many thanks to the cost of filling up their vehicles has naturally coincided with a plunging economic outlook among Americans. Gallup's "Economic Confidence Index" now stands at its lowest since the recession in 2009. The index, which is a summary of Americans' ratings of current economic conditions, has sunk 13 points over the past month to -58.
The index has a theoretical range from +100 if all respondents describe the economy in positive terms and think it's improving to -100 if all describe it in negative terms and think it's worsening. The -58 score is the lowest measure since a -64 reading back in February 2009. At that time, the country was still embroiled in the 2007-2009 recession and confidence was only just showing signs of recovery after hitting an all-time low of -72 in October 2008.
When asked what they thought the top non-economic problems facing the country were, some 18 percent of Americans answered "the government." The government has consistently ranked among the top two mentions since 2016. Other responses included gun control (8 percent), crime (6 percent), and racism (3 percent). When asked what the top economic problem was, 18 percent named "inflation/the high cost of living." Some 5 percent said specifically named "fuel prices," while 1 percent said unemployment was the biggest problem.
Newsweek has reached out to the American Automobile Association (AAA) for reaction to the Gallup findings that gas prices have caused hardship for so many.
In June, spokesperson Andrew Gross warned: "If prices stay at or above $5, we may see people start to change their daily driving habits or lifestyle, but it hasn't happened yet."