While several Republican lawmakers have called on President Joe Biden to increase domestic energy production in the wake of rising gas prices, energy experts warn that doing so could be detrimental to climate action goals that the U.S. is already not living up to.
As of June 30, the American Automobile Association reported that the average price for gas sat at nearly $4.857 per gallon across the nation, leading some members of Congress to blame the Biden administration's "war on American energy" and restrictive policies for oil companies.
But climate activists and progressives argue against the call to increase domestic production of oil, saying that doing so could undermine the president's climate-focused agenda and calls for transition to cleaner energy.
Samantha Gross, director of the Energy Security and Climate Initiative at the Brookings Institution, told Newsweek that the two sides put Biden in a "real pickle" and that any policies moving forward will require a balancing act of feeding the current energy system while encouraging a greater transition of energy sources.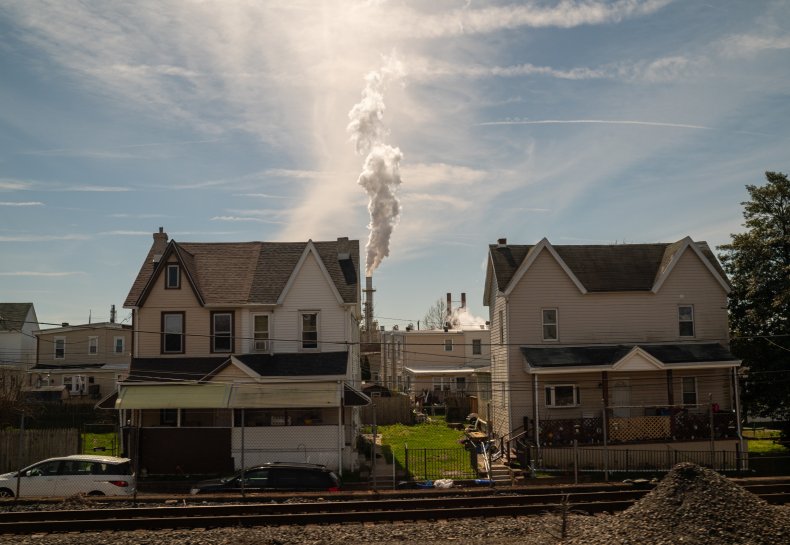 "We have to keep it running even if we don't necessarily like the fact that it's so carbon-intensive because it takes time to change it," Gross said. "So we're stuck with it for now."
However, Gross added that moves to increase the output of fossil fuels as a way to combat energy costs could result in a wider gap between the U.S. and its own climate goals, and is wary of what damage could carry over into the next 10 years.
"What I don't want to see us do is make great, big capital intensive investments that then are going to have to be paid off over decades when we actually don't want to use them for decades for climate reasons," Gross said.
After quickly rejoining the Paris Climate Agreement once taking office, Biden pledged to lower greenhouse gas pollution by 2030 to about 4,000 metric tons of carbon dioxide emissions per year, a 50 percent to 52 percent drop in levels since 2005.
The U.S. did see a sharp decrease between 2019 and 2020 in carbon emissions due to low demand for energy during COVID-19 restrictions. But the Energy Information Agency predicts the U.S. will be sitting at about 5,000 metric tons of carbon emissions by 2023, an almost 8 percent increase from 2020. And according to the Climate Action Tracker, without sufficient policies put in place by Congress, the U.S. is not anticipated to reach its proposed emission targets in time.
Antony Froggatt, senior research fellow in the Environment and Society Programme at the Chatham House, echoed Gross's warnings about increasing fossil fuel energy but argued that utilizing infrastructure already in place—such as increasing production at refineries with spare capacity for production—could get the U.S. through the next year without seriously hurting climate goals.
"To be honest, I don't see what else you could do," Froggatt told Newsweek. "It's either a combination of using existing infrastructure more efficiently or reducing demand."
Biden has urged U.S. refineries to ramp up production to help lower the cost of gasoline, which the president said in partnership with his proposed gas tax holiday should lower the price by at least $1 a gallon.
But the U.S. Energy Information Administration reported that national refineries operated at about 93.7 percent capacity last week, and refinery capacity across the board dropped for the second year in a row in 2021, leaving a small margin to increase production in the U.S.
Froggatt said that increasing oil production at the home front could also make little difference in the overall price of gasoline, given that fossil fuels are traded on a volatile global market and subject to factors outside of a country's control.
Gross argued that the transition to clean energy is just as much about national security as it is climate action.
"You know, you can't have a war in Eastern Europe that cuts off your solar supply," Gross said.
Climate activists also pushed back on the call for increasing domestic oil, saying that not only would doing so be counterproductive to long-term climate goals but will also not work quickly enough to lower energy prices.
In a statement to Newsweek, Ellen Sciales, spokesperson for the climate policy group Sunrise Movement, said, "More leases and more drilling won't change gas prices tomorrow—in fact bringing new fossil fuels online takes significantly longer than new renewables—instead, we must lower the cost of living for those in need while rapidly pursuing a renewable energy transition."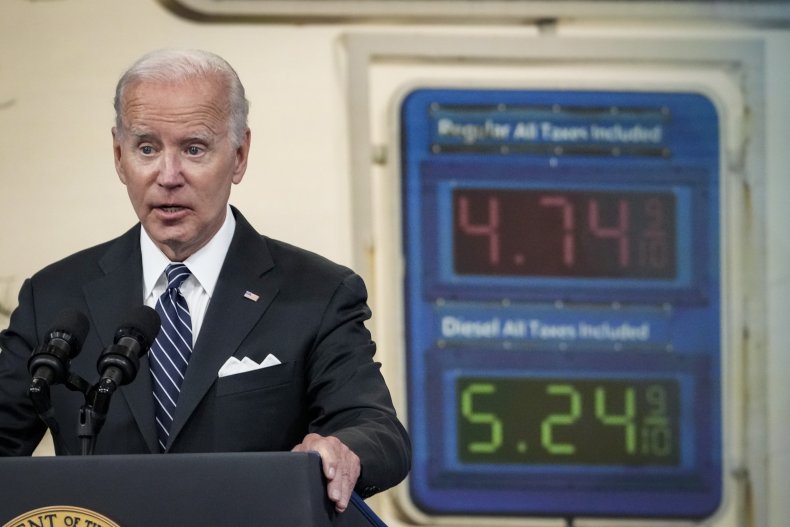 The Sunrise Movement has increasingly encouraged Biden to use executive power to accelerate the transition to renewable energy through means like the Defense Production Act (DPA), which was enacted by the president in early June to increase the production of solar supplies and other green energy initiatives.
Last week, Congress backed up the DPA with an investment of $100 million for domestic manufacturing of clean energy in the 2023 Energy and Water Development spending bill, which the Sunrise Movement referred to as a model of how climate action should look moving forward.
Some activists hope that rising energy costs in fossil fuels will also encourage a switch on the individual level, such as drivers opting for electric vehicles instead of diesel-powered ones. Froggatt added that while the economic incentive to reduce energy consumption is high, consumers are much more likely to take part in little ways to conserve energy in their private lives as well, such as shutting off lights when leaving a room.
But a greater switch to renewable energy sources will still take time to make a real impact on costs as many questions about green energy still remain, such as how to secure materials for the new infrastructure.
"There should be a degree of optimism that could accelerate the transition," Froggatt said. "But it is by no means certain, and I think that we have to see what happens over the next 12 months, basically."