'Gas the Synagogue' was Trending on Twitter Because in Trump's America, Anti-Semitism Goes Viral Until We Stop it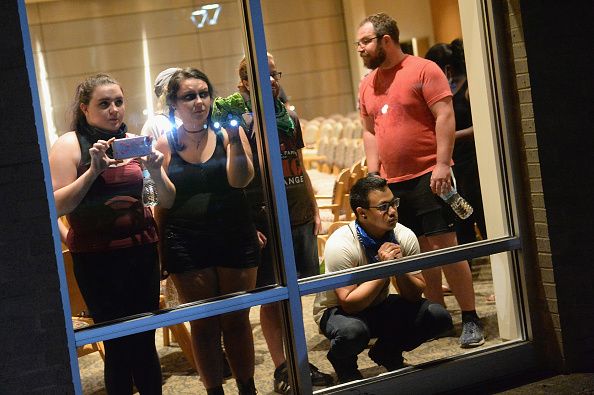 The World Jewish Congress (WJC) thanked Twitter on Monday for blocking the hashtag #GasTheSynagogue from trending after users urged police to gas St. Louis protesters who were sheltering inside a synagogue after the unrest following the Jason Stockley verdict.
Twitter would not confirm taking action, but the WJC, a nonpartisan organization that represents and advocates on behalf of Jewish communities and organizations in more than 100 countries—said the social media giant blocked the hashtag within 24 hours of its request.
The hashtag began trending on Friday, after the Central Reform Congregation in St. Louis offered refuge to protesters demonstrating against the "not guilty" verdict for Stockley, a white police officer who fatally shot Anthony Lamar Smith, a black man, in 2011. After tear gas and rubber bullets were reportedly used against demonstrators outside, the synagogue opened its doors to about 250 protesters. St. Louis Metropolitan Police officers reportedly threatened the protesters inside with tear gas.
As some of the protesters sheltering in the synagogue took to social media to express their gratitude for the hospitality, other users took to platforms like Twitter to encourage police to "gas the synagogue." The resulting hashtag recalled the Nazis' atrocities against Jews during the Holocaust—many of whom were murdered in gas chambers at extermination camps—in a horrifying echo more than seven decades later.
The hashtag garnered a great deal of attention, with users pointing out the connection to Nazi Germany and questioning why such a hashtag was allowed to exist on Twitter. "Not Germany 1936, but US 2017. Nazis start #GastheSynagogue in reaction to St. Louis Jews Shielding Protestors," one tweeted. Another added, "This is just sickening: "#GastheSynagogue" campaign invoking gas chambers in Nazi concentration camps." A third said that "I'm totally against the riots in #StLouis but the #GasTheSynagogue is probably the most disturbing thing I've seen in my entire life."
The WJC said over the weekend it contacted the policy team at Twitter not only to demand this particular hashtag be blacklisted but also to urge Twitter to prevent similar content from trending in the first place.
Reached via email, a spokeswoman for Twitter declined to comment on any individual accounts or trending topics. But the platform's FAQs about trends say the company wants to "promote healthy discussions," which means that it might sometimes prevent certain content from trending. That includes trends that contain profanity or adult/graphic references as well as those that incite hate on the basis of race, ethnicity, national origin, sexual orientation, gender, gender identity, religious affiliation, age, disability or disease.
Twitter explains that newsworthy content might continue trending despite including such material and that even if a hashtag or content is prevented from showing up on the trending topics list, it might still be accessible on Twitter.
On Tuesday, a quick search on Twitter for posts using the hashtag revealed a list of tweets still available. However, most of them appeared to be from users condemning the hashtag.
The #GasTheSynagogue controversy began within hours of The Daily Beast reporting that Twitter, like Facebook and Google, had allowed advertisers to target audiences based on derogatory words, including "n****r" and "Nazi." In response, Twitter said that it prohibited the use of "offensive or inappropriate content" in ad campaigns and that it had fixed a bug that allowed a few such campaigns to be launched.
The real question, perhaps, is why the hashtag was not prevented from trending, and the ads from going through, in the first place. The after-the-fact actions didn't mollify everyone. "The time for lame excuses and half-hearted apologies is over," Karissa Bell wrote in Mashable about the advertising snafus by three Internet giants. "The biggest tech companies in the world are more than capable of fixing this. It's time that they do."