Americans living in states led by Democratic governors are paying more tax on average for gas than those who live in states where a Republican occupies the top job.
Each state imposes its own taxes on gas and the price can be pushed up by other fees such as sales tax. Those fees are in addition to the federal tax on gas, which currently stands at 18.4 cents per gallon.
President Joe Biden is considering a federal holiday on gas taxes amid high prices at the pump and an annualized rate of inflation that stood at a 40-year high of 8.6 percent in May.
However, a move to suspend federal gas tax will not affect state taxes on gas—and state governments have taken significantly different approaches to the issue.
Figures from the American Petroleum Institute (API) and IGEN, a tax solutions platform, show that some of the states with the highest gas tax are led by Democrats.
IGEN's figures examine the tax states impose on gas per gallon, while API's numbers analyze a broader range of taxes and fees, including excise and other duties. API represents the U.S. natural gas and oil industry.
When recent changes in state gas taxes are taken into account, IGEN's figures show that Americans living in states with Democratic governors are paying an average gas tax of 29 cents per gallon, while in states with Republican governors it's 26 cents per gallon.
API's figures paint a similar picture, with the average gas tax in states with Democratic governors at 37.1 cents per gallon when recent changes are accounted for. In states with a Republican governor, the average tax is 29.2 cents per gallon.
These differences may be partly due to differing attitudes to taxation in traditionally blue and red states but tax levels also varied significantly among the individual states, with the individual gas tax rising as high as 57.6 cents per gallon in Pennsylvania and as low as 0.895 cent in Alaska, according to IGEN.
However, state gas taxes aren't a clear-cut political issue and different state governments have adopted alternative approaches.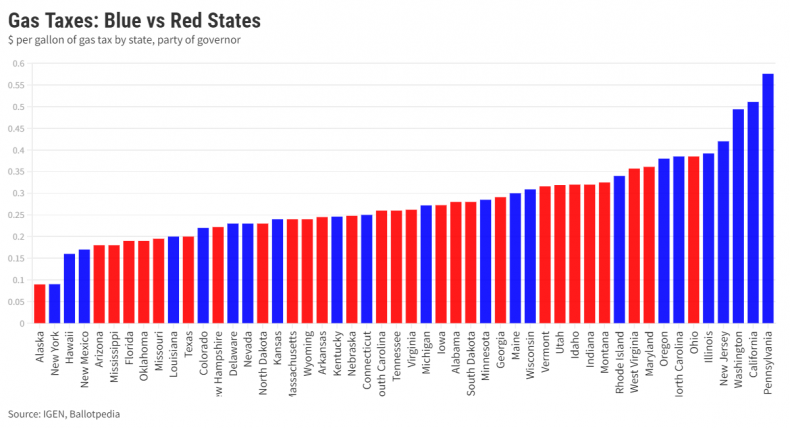 Some states have introduced their own gas tax holidays, with Connecticut suspending its 25 cents per gallon tax until mid-June and New York suspending its 16 cents per gallon tax until December 31.
IGEN listed New York's gas tax as 25.3 cents per gallon and noted that their figure included a petroleum testing fee. Following the recent suspension, that would now give the state a gas tax of around 9.3 cents per gallon. However, API found total tax on gas in New York was 48.2 cents per gallon, which would now mean an effective tax of around 32 cents per gallon.
Connecticut's 25 cents per gallon tax was suspended in April but that suspension will expire on June 30. The figures quoted here include Connecticut's tax as the suspension is set to end next week.
Florida will have a one-month fuel tax holiday beginning on October 1. That will lower the price of gas by 25.3 cents per gallon when all the state's taxes on gas are taken into consideration. API found that total tax on a gallon of gas in Florida is currently 43.5 cents. Governor Ron DeSantis is a Republican and the party controls the state legislature.
Other states have taken a different approach as California plans to increase its gas tax from 51.1 cents per gallon to 53.9 cents per gallon from July. Governor Gavin Newsom, a Democrat, has asked the Democrat-controlled state legislature to suspend gas tax rises that were approved in 2017 but they have refused to do so.
Indiana will also raise its gas tax from 56 cents per gallon to 62 cents per gallon in July. The state has both a Republican governor and Republican-controlled legislature. They are examining different forms of relief for residents such as tax rebates.
Maryland was the first state to suspend its gas tax via emergency legislation that took effect on March 18 that suspended the state's 36.1 cents tax per gallon on gasoline and the 36.85 cents per gallon tax on diesel for 30 days. Maryland Governor Larry Hogan is a Republican but the state legislature is controlled by Democrats.
In Michigan, Democratic Governor Gretchen Whitmer vetoed a bill in March passed by the Republican-controlled legislature that would have suspended the state's 27.2 cents per gallon tax. Her veto was partly due to the fact that suspending the tax would have cut funds for road repairs. Michigan Republicans have already crafted other bills aimed at lowering the gas tax.
While states with Democratic governors have higher taxes on gas on average, the situation differs significantly from state to state and both parties have taken different approaches depending on the particular conditions in their state.