What Color Was the Gatorade in Super Bowl 2023? A Surprising Choice
The Kansas City Chiefs managed a stunning victory over the Philadelphia Eagles in Super Bowl 57 but there was one moment that surprised everyone.
The NFL's championship game is full of exciting moments where fans can guess the outcome, including which color Gatorade will be poured on the winning coach at the end of the game.
The long-standing tradition sees players and team staff douse the coach, in this year's case, Andy Reid, with a giant bucket of the iced sports drink.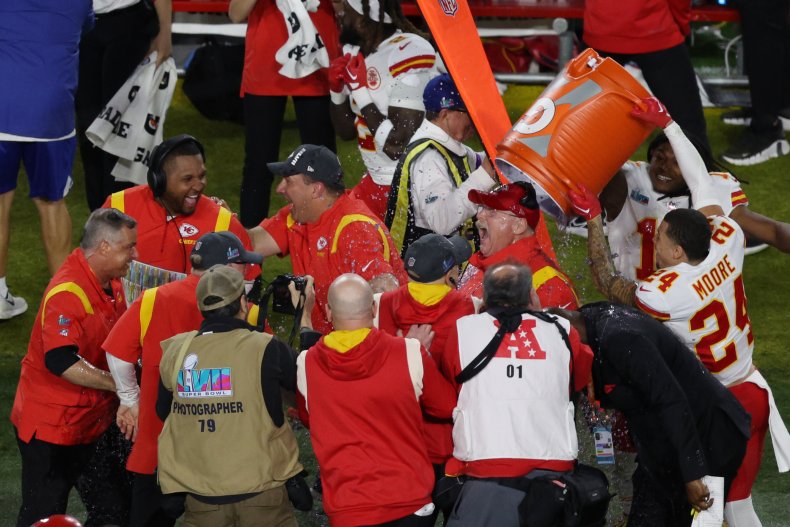 While betting agencies saw the odds on which color would be favorite change many times in the lead up to the game, not many people predicted the final color, which was purple.
Yellow/lime green traded places a number of times as favorite, with blue, red and orange also moving around the table of odds before the championship game, according to sports betting site, Fan Duel.
The tropical color of yellow/lime green sat at +110 odds before the game, with orange at +180.
But purple was an outsider at +750, according to Sports Betting Dime, while closer to kickoff it had jumped to even larger odds at +900.
Blue has been the color of choice in each of the last two and four of the past eight Super Bowls.
It can be hard to predict the color of the Gatorade because it is chosen by the drink company and generally has no correlation to the team.
The tradition started about 35 years ago and many watching the game tweeted their surprise at the rare color, while others reveled in guessing correctly.
"Who drinks purple gatorade, please stand up," tweeted one viewer.
Another added: "They laughed at me when I said put my money on purple."
And a third wrote: "EVERYONE I TOLD THAT THE GATORADE COLOR WOULD BE PURPLE OWES ME 20% OF THEIR BET."
Guessing the color of the Gatorade is not the only non-game specific moment fans can bet on at the Super Bowl.
Other landmark moments are the coin toss at the start of the game, the length of the national anthem—this year sung by Chris Stapleton, and which will be the first and last songs performed by the half time headliner, Rihanna.
The Chiefs fought hard to make an impressive comeback against the Eagles, winning the game 38-35 for their second Super Bowl triumph in four years.