Gavin Newsom 2024? Why Democrats Are So Eager for an Alternative to Kamala Harris
Even before the decline in President Joe Biden's approval ratings following the disastrous American withdrawal from Afghanistan, Democrats in Washington and around the country were quietly beginning to face their political dilemma: If Biden, who will be 82 years old in 2024, does not run for re-election (because he and those around him believe he's not up to it, either physically or mentally), who will be their nominee?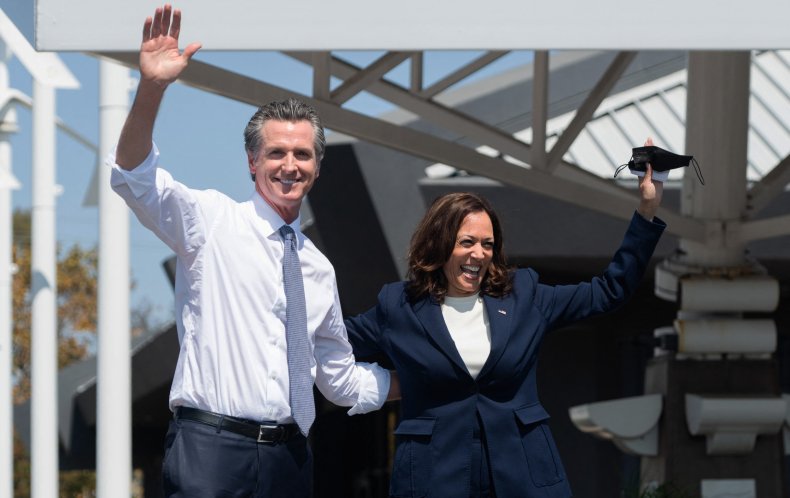 The obvious—if not especially welcome—answer was Vice President Kamala Harris. But now? California Governor Gavin Newsom is coming off a smashing win in the California recall election. His easy win in Tuesday's recall election—which was not a foregone conclusion—has put Newsom squarely in that conversation. He effectively nationalized the race by comparing California's success in dealing with the pandemic to the dire infection rates seen in Texas and Florida, and by painting primary Republican opponent Larry Elder, a conservative talk show host, as the face of "Trumpism." His win dealt a blow to Republicans who predicted that opposition to mask mandates would be a winning wedge issue.
That's something any Democratic 2024 nominee will try to do, no matter who the GOP opponent is. There's now "no question" that Newsom has some national wind at his back, says one prominent Democrat who's a key fundraiser. "Progressives like him, but he's not viewed as a lunatic," he says. But, he adds, only half-jokingly given how identity-politics-obsessed many Democratic activists are, "he's a straight white male. So that might be a problem."
Why are Democratic operatives so relieved to see Newsom as a plausible '24 candidate? They're eager—not to say desperate—for an alternative to the vice president. On the surface, Harris is a Democrat's dream date, a woman of color with an impressive political resume: attorney general in California, U.S. senator and now the first woman vice president from the biggest blue state in the country. That was the reason Biden selected her as his running mate last year, and it's the reason she would be the presumptive nominee should Biden elect not to run in 2024. She even campaigned for Newsom in the Bay Area in the week before the election.
But privately, an increasing number of Democratic activists and fundraisers have acknowledged that things aren't that simple. Harris's approval ratings so far are below Biden's. The latest Real Clear Politics average has her down into Trump territory: her approval (41.2 percent) vs. disapproval (50.4 percent) numbers are nearly identical to the former president's. Vice Presidents don't usually accomplish much while in office, but the one high-profile issue Biden assigned to her—dealing with the Southern border—is viewed by most independents and Republicans as a debacle. She didn't help the public perception of her in an interview with Lester Holt of NBC News, who asked her why she hadn't yet been to the border she was supposedly in charge of. She responded, bizarrely, that she hadn't been to Europe, either. Her laugh when asked about the chaos in Afghanistan was equally uncomfortable for viewers.
Harris has also been hit with a spate of news stories describing an allegedly "toxic" work environment in the vice president's office. Her spokesperson, Symone Sanders, dismissed those claims, saying "we are not making rainbows and bunnies all day." But a prominent Democratic fundraiser from California says similar stories dogged Harris when she was state Attorney General. "It's par for the course," he says. Harris skeptics point out that she didn't win a single vote in the 2020 primaries and caucuses, dropping out of the race before Iowa because she was polling so poorly.
There is as yet no public hint that anyone around the president believes a run for reelection is unlikely. But the next presidential election is still more than three years away, and there are moments when Biden does not appear particularly sharp. Last week, Politico reported that some of his aides mute the sound whenever he's on television, so fearful are they that he will veer "off message." Any suggestion that he not run again, however, would have to come from close family members, beginning with First Lady Jill Biden. "No one else would ever broach that topic," says a longtime Biden friend who requested anonymity in order to speak candidly.
Still, Biden's age has already led some Democrats to begin casting about quietly for a 2024 alternative. Prior to Tuesday's California recall results, the hushed private conversations about possible 2024 candidates focused on 2020 also-rans. The California fundraiser, for one, is pushing Amy Klobuchar, the Minnesota senator who dropped out of the 2020 race just before Super Tuesday last time, having been drubbed in South Carolina. Klobuchar is viewed as a "moderate" policy wonk by Democratic standards. She had trouble appealing to non-white voters in 2020 and several party activists interviewed by Newsweek say they don't think that would change should she run again. But her record and her respectable 2020 campaign put her in the conversation. "Think of her as Hillary's political daughter: smart, moderate, wonky and occasionally a little bit difficult to work for," says a supporter who worked on her 2020 campaign.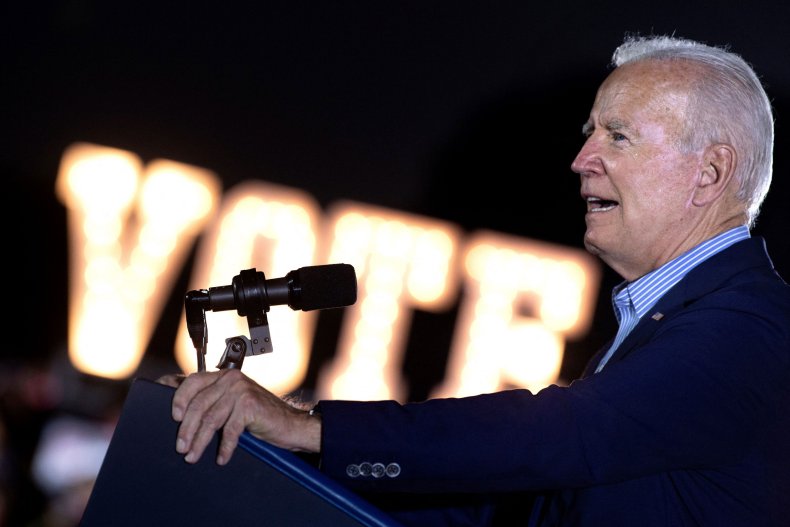 Should the 2024 nomination turn into an open competition, the divisions currently on display in the Democratic Party between moderates and progressives would be on full display. Elizabeth Warren, who failed as a progressive candidate the last time, would likely look at another run. Bernie Sanders, who just celebrated his 80th birthday, might stand down. But some Democratic activists say they wouldn't put it past ambitious New York Congresswoman Alexandra Ocasio-Cortez—arguably the most prominent "progressive"—to run. "She's already got a national fundraising base, a national brand, and like Harris she's a two-fer: a woman of color," says a Hollywood-based Democratic operative who used to work in Washington. "Why bother challenging [New York Senator Chuck] Schumer for his seat when you can very plausibly run for president?"
Other potential candidates might try to bridge the divide between establishment and progressive Democrats. Transportation Secretary Pete Buttigieg had some success trying to do just that in 2020, winning the Iowa caucus and finishing a close second in New Hampshire. As a gay married man—now the father of twins—he doesn't have a problem with the identity politics tests that the Democrats have set up for themselves.
Neither does Cory Booker, another 2020 aspirant who many Democrats believe is likely to take another shot. Booker is trying to buff his progressive bona fides by pushing for so-called "baby bonds" to be included in the $3.5 trillion reconciliation bill the Democrats are pushing in the Senate. Under his proposal, the Treasury would set up an account for every new born child in the country, fund it with an initial $1,000, and then add up to $2,000 every year until they turn 18.
Biden, as the most prominent alumnus of the still-revered (in Democratic circles) Obama administration, was able, perhaps uniquely, to paper over the divisions between progressives and establishment Democrats, most of whom view proposals like Booker's as money-grows-on-trees lunacy. But as many Democrats, worried that Biden is at best a one-term president because of his age, mull alternatives for 2024, it's not clear who, if anyone, can appeal to both wings of the party. Harris theoretically has the potential to do so—but only if she can improve her image in the eyes of voters between now and then.
Kurt Schmidt, a veteran Republican fundraiser, says he was at a recent social event in Washington with a bunch of mostly Democratic colleagues, and he described their mood as "concerned, but not yet panicked."
Why are they not yet panicked? The Gavin Newsom playbook in California provides the answer. In running against Larry Elder, he essentially ran against—and defeated—Trumpism. Says Schmidt: "They all assume they'll be able to run against Donald Trump again. And they think pretty much anybody will be able to beat him again."