California Governor Gavin Newsom was assaulted Friday while visiting Oakland, but the uninjured politician cracked a joke about the incident.
Newsom was on a trip to promote small businesses. As he walked to Beastmode Barbershop and Graffiti Pizza, he was "approached by an aggressive individual," Fran Clader, communications director for the California Highway Patrol (CHP), said in a statement.
"Members of the Governor's security detail removed the Governor from the situation and the individual was arrested by CHP officers," she continued.
Newsom did not appear to be injured, and reporters did not see exactly what happened, according to the East Bay Times. Reporters on the scene only saw the CHP, which provides security for the governor, detain the suspect. Newsom reportedly joked that "different people have different ways of saying hello," according to the paper.
Video of the arrest was posted by KABC, and appears to show the suspect, a 54-year-old Black man, lying on the ground as an officer puts him in handcuffs. The man was identified as Serge Emanuel Benoit Chaumette Jr. from Berkeley. Chaumette was transported to the Santa Rita Jail and bail was set for $35,000. He was booked for investigation of resisting an executive officer and assaulting a public official, according to KABC.
The suspect's sister told the Associated Press that he was homeless and suffered from severe problems with mental health, saying that the allegations were "consistent with his past behavior." Chaumette will be arraigned on Monday.
In the KABC video, Newsom did not seem upset or flustered by the incident. In the video, the governor walks past a small crowd of people and fistbumps them.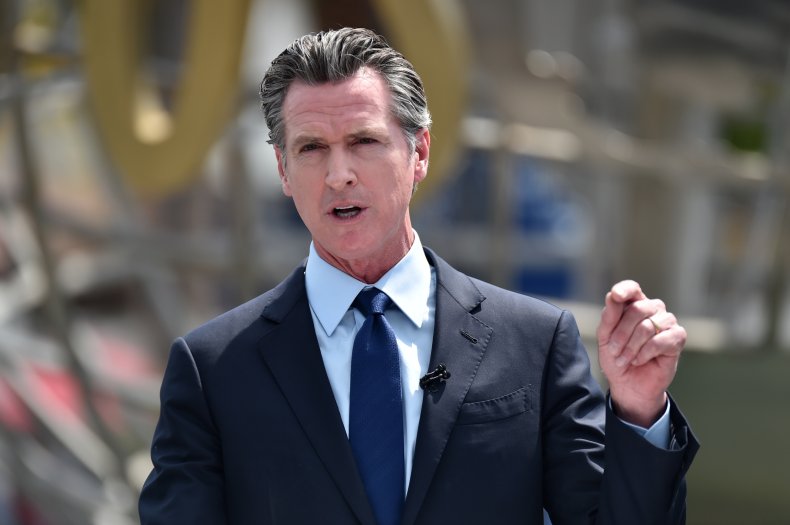 Newsom is at the center of a recall campaign. The campaign has gathered enough signatures earlier this spring to qualify for a recall election, but a date has not yet been set.
Critics of the governor started the recall effort over the economic shutdowns Newsom ordered in response to the COVID-19 epidemic. Last fall, Newsom came under fire for dining with at least 10 other people at the three Michelin-star restaurant, the French Laundry, where he was accused of flaunting his own guidelines barring groups larger than three households from meeting in person.
"I made a bad mistake," Newsom said at the time. "I should have stood up and walked back, got in my car and drove back to my house. Instead, I chose to sit there with my wife and a number of other couples that were outside the household."
The Recall Gavin Newsom campaign also cite a number of policies as reasons to remove him from office. In addition to the handling of the pandemic, recall supporters point to tax increases, rising crime and lack of affordable housing.