Gavin Newsom Calls Abbott Ending Texas' Mask Mandate 'Absolutely Reckless'
Democratic California Governor Gavin Newsom has called Republican Texas Governor Greg Abbott's decision to reopen state businesses and end all mask mandates during the ongoing COVID-19 pandemic "absolutely reckless."
The mayor of Houston, Texas and the director of the Centers for Disease Control and Prevention (CDC) have both also criticized Abbott's decision as counterproductive.
Abbott announced his rollback of state coronavirus restrictions on Tuesday, the state's Independence Day. He effectively ended the mask mandate that he imposed eight months ago. His decision also ended customer limits in bars, restaurants and other business venues. The changes will take effect statewide on March 10.
Texas is now the largest state to end such restrictions intended to slow the spread of COVID-19. Abbott's announcement follows a dip in the state's numbers of new infections.
On February 1, the state announced its second-highest ever daily toll of new cases, with 39,250 newly confirmed COVID-19 cases reported on that day. While the number of new daily cases has steadily decreased since then, as of March 1, the state still averaged around 7,693 new cases a day.
In a tweet published Tuesday afternoon, Newsom reacted to Abbott's decision with just two words: "Absolutely reckless."
Houston Mayor Sylvester Turner also criticized Abbott's decision.
"We urge you to keep the requirement in place," Sylvester wrote in a statement co-signed by County Judge Lina Hidalgo. The statement called Abbott's decision "premature and harmful" and noted that the CDC still recommends wearing masks in public. The statement also expressed worry that the rescinded mandate might increase COVID-19 deaths.
"Masking requirements have allowed many small businesses to remain open and their employees to return to work... more students to return to in-person learning and has better protected them, their teachers and school staff," the statement continued.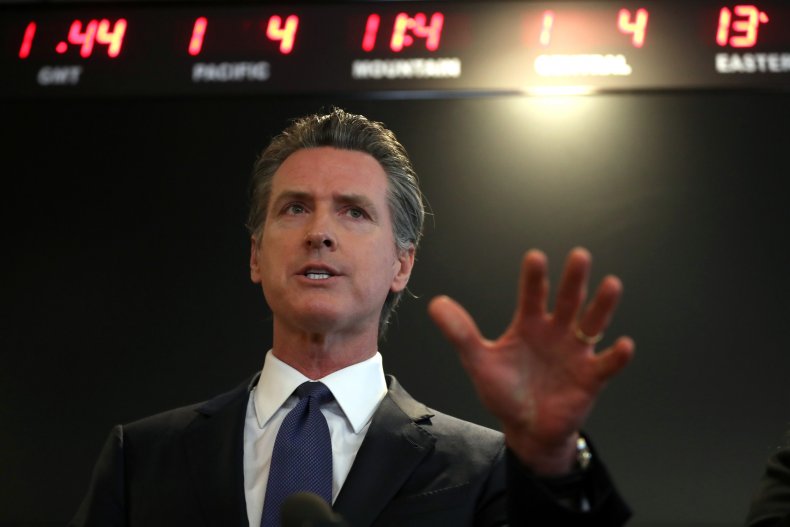 In a tweet published after Abbott's announcement, Turner wrote, "Every time we start moving in the right direction the Governor steps in and sets us back and makes all of our jobs harder. He minimizes the sacrifices of people and businesses. I just don't get it."
CDC Director Rochelle Walensky also reacted to Abbott's announcement—and a similar announcement from Republican Mississippi Governor Tate Reeves—by stating that their decisions threaten to worsen the pandemic after a brief reduction in new cases.
"At this level of cases, with variants spreading, we stand to completely lose the hard-earned ground we have gained," Walensky said, according to Jordan Fabian, White House correspondent for Bloomberg News. "Now is not the time to relax the critical safeguards that we know can stop the spread of COVID-19 in our communities, not when we are so close."
Texas ranks second among states with the highest overall number of COVID-19 cases and the third amongst states with the highest overall number of related deaths. Since the start of the pandemic, Texas has reported over 2.6 million coronavirus cases and over 44,108 related deaths.
Newsweek contacted Abbott's office for comment.