Gavin Newsom Defends 'Judicious' Mask Wearing After Magic Johnson Photo
California Governor Gavin Newsom is defending himself, saying he was very "judicious" after receiving criticism for a maskless photo with Magic Johnson.
On Monday, Newsom was asked about the photo, which has turned into the subject of much controversy, during a press conference. While the photos of the unmasked governor and the basketball legend have been making rounds, the governor insists that he did, in fact, exercise sound judgment.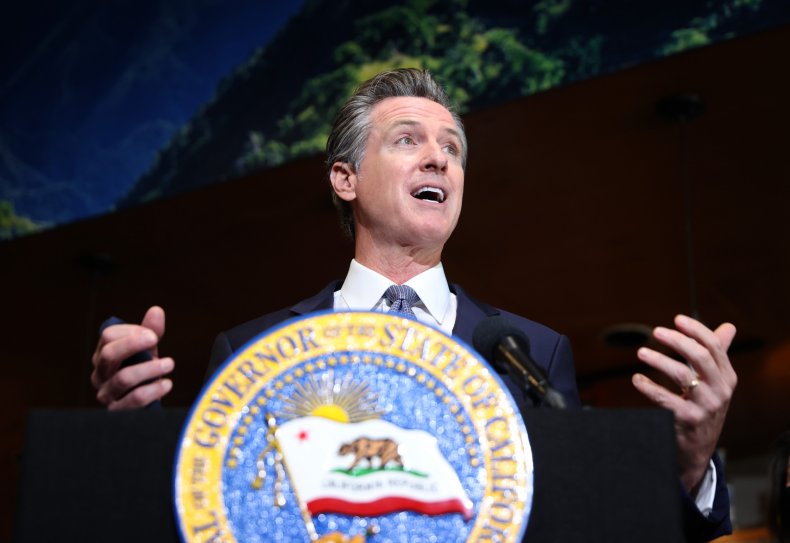 "I was very judicious yesterday. Very judicious. And you'll see in the photo that I did take, where Magic was kind enough, generous enough to ask me for a photograph, and in my left hand's my mask and I took a photo. The rest of the time I wore it, as we all should. Not when I had a glass of water and I encourage everybody else to do so."
The photo of Newsom and the NBA Hall of Famer, who was also unmasked, was taken inside SoFi Stadium during the 49ers-Rams NFC Championship game Sunday. In the photograph, both Newsom and Johnson, a Lakers icon, are shown in direct violation of California's mask mandate. Currently, everyone is required to wear masks in all indoor public spaces until February 15, according to the state's COVID-19 website.
During Monday's press conference, Newsom was asked if he should have reconsidered taking the mask off for the photo, both due to the message it sent and his staunch support of COVID-19 masking measures. Newsom answered in the affirmative, but that the mask only left his face for a minuscule period of time.
"Yeah, I mean of course. I was trying to be gracious. I was trying to be gracious and took the mask off for a brief second. I encourage people to continue to wear them."
After Newsom was documented breaking California's mask mandate, many called out the governor, including the California Republican Party. In a mass email sent out by the party Monday afternoon, it said, "Unfortunately, in just one picture, Newsom broke a plethora of rules, including his own. The state of California is currently subjected to his extended mask mandate. There is a mask mandate in LA county. And, in compliance with LA county, there is a mask requirement at SoFi Stadium."
However, the governor of California wasn't the only one captured breaking California's mask mandate Sunday during the Rams' win over the 49ers. Los Angeles Mayor Eric Garcetti and San Francisco Mayor London Breed were also spotted at the game in photos with the former Lakers point guard, all three without masks.
On Monday, the Golden State reported a little more than 172,000 new COVID-19 cases and 459 deaths. In total, California has had more than 7.8 million cases and nearly 79,300 deaths due to the virus.