Gavin Newsom Maskless Photo With Magic Johnson at Rams vs. 49ers Sparks Outrage
Several conservative figures have criticized California Governor Gavin Newsom after he was pictured not wearing a mask inside the SoFi Stadium in breach of the state's COVID-19 rules.
Newsom was seen posing with basketball legend Magic Johnson during the San Francisco 49ers game against the Los Angeles Rams at the stadium in Inglewood on Sunday.
Johnson, who was also not wearing a mask in the photos, also shared images of him alongside San Francisco Mayor London Breed and Los Angeles Mayor Eric Garcetti, neither of whom were wearing masks.
Newsom and the other Democratic leaders have since been criticized on social media for not following California's COVID-19 guidelines.
On January 5, California extended its public health guidelines requiring people in all indoor public settings to wear masks regardless of their vaccination status until February 15.
The SoFi Stadium's website also states that masks are required for all attendees and can only be removed to actively eat or drink, after which they must be immediately put back on.
In a tweet, California State Senator Melissa Melendez, a Republican, wrote: "Toddlers are being forced to wear masks all day long in school. Maybe one day they'll be governor or the mayor of LA and they won't have [to] follow the rules they impose on others."
Frequent GOP congressional candidate Omar Navarro added: "Hey Gavin Newsom can you explain to our kids why you can attend a sporting event with thousands not wearing masks, but you keep them muzzled in schools?"
Fadde Mikhail, a sports agent who is is challenging Democratic Rep. Julia Brownley in California's 26th Congressional district, tweeted: "It's one thing for the fans to not wear a mask (because we are sick of it) but when the person making the rules is not wearing a mask WHILE forcing our children to wear masks for 8 hrs a day is absolutely disgraceful."
Mikhail also said, without providing specifics, that he was told Newsom also did not show his vaccination card while going through the VIP entrance into the SoFi Stadium.
"I couldn't take my son to a game all year long because he's not vaccinated," Mikhail added. "Over 600k students wear masks for 8hrs a day. Have you no shame Gavin Newsom?"
In a statement to Newsweek, Erin Mellon, the communications director for Newsom, said: "The governor acknowledged that he took off his mask for a few moments during Sunday's game. He continues to encourage all Californians to do their part to get through the pandemic and this latest surge, including wearing a mask and getting vaccinated."
The California governor was previously criticized in 2020 after he was found to have attended a birthday dinner with at least a dozen people from multiple households in breach of COVID guidelines at a time when gatherings of no more than three households were permitted.
Newsom said he only realized the size of the group gathered around the outdoor table at the Michelin-starred French Laundry restaurant on November 6, 2020, after he sat down.
"I made a bad mistake," Newsom said in a statement at the time. "Instead of sitting down, I should have stood up and walked back, got in my car and drove back to my house. Instead, I chose to sit there with my wife and a number of other couples that were outside the household."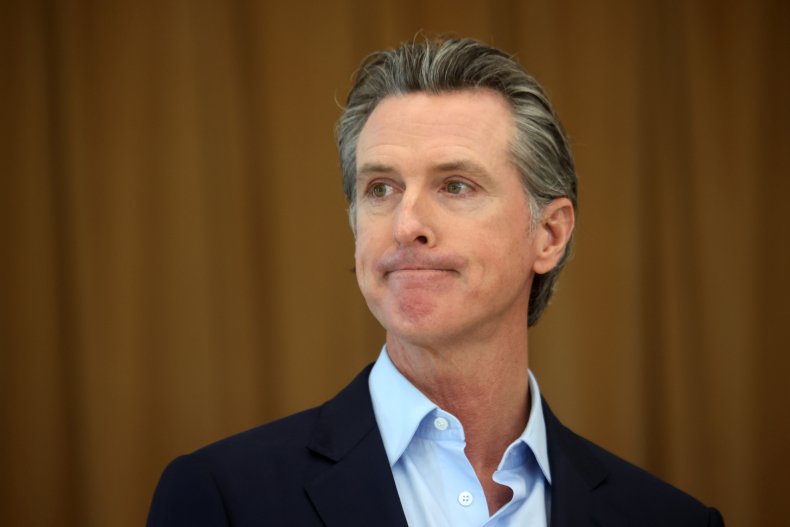 Update 2/1/22, 2:08 a.m. ET: This article has been updated with comment from Newsom's office.