Gavin Newsom Denies California's Reopening Is Motivated by Recall Effort
Governor Gavin Newsom denied on Wednesday that California's reopening has been motivated by the recall effort against him.
Newsom was asked on CBS This Morning if the recall petition against him has "influenced" any of his decisions on the response to the coronavirus in California.
"Absolutely not," Newsom replied. "In fact, quite the contrary. We're just focused on the data, disease prevalence. I'm focused on what's actually happening on the ground."
His comments come shortly after he announced that California aims to fully reopen on June 15, but he is also facing a recall effort against him.
"With more than 20 million vaccines administered across the state, it is time to turn the page on our tier system and begin looking to fully reopen California's economy," Newsom said in a statement. "We can now begin planning for our lives post-pandemic. We will need to remain vigilant, and continue the practices that got us here—wearing masks and getting vaccinated—but the light at the end of this tunnel has never been brighter."
Newsom's statement included two criteria that the state must meet in order to fully reopen by June 15: a sufficient vaccine supply to inoculate residents 16 and above and hospitalization rates that remain stable and low.
During a press conference announcing the planned reopening date, Newsom spoke about how California has seen a decline in coronavirus cases and hospitalizations. According to data from the U.S. Centers for Disease Control and Prevention, California is averaging about 2,570 new cases daily, a major decrease from previous months.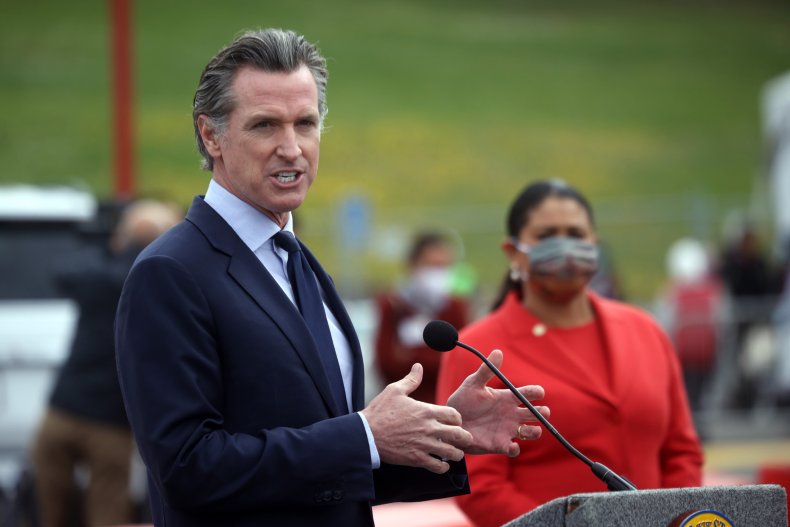 California has also seen a major decline in COVID-19 hospitalizations and intensive care unit patients, according to data from the state's health department.
Even as virus cases and hospitalizations decline in the state, Newsom is under pressure from the recall campaign against him. According to the RecallGavin2020 website, the petition has garnered over 2 million signatures. As of March 17, 1,964,203 signatures were pre-verified through an independent third-party vendor.
The petition's website notes that 1,497,000 valid signatures are needed by April 29 to place the measure on the ballot and force a recall election.
On CBS This Morning, Newsom was asked about business leaders who are supporting the recall effort. "We've put $2.5 million in small-business grants. California's the first state to do a stay-at-home order, we have among the lowest death rates of the major states in the country," he replied.
"We think we're better positioned than most other states to come roaring back, and we're providing record amount of relief and support for small businesses," he added.
Newsom has started his own campaign in opposition to the recall effort, with a political action committee endorsed by notable Democratic senators such as Bernie Sanders, Elizabeth Warren, Cory Booker and Alex Padilla.
Newsweek reached out to Newsom for further comment but did not receive a response in time for publication.