California Governor Gavin Newsom says he's never had plans to run for the White House and that his plans haven't changed since surviving Tuesday's recall election.
In his first interview since his win, Newsom told CBS News that running for president has "100 percent never been on [my] radar."
"It was never a childhood dream," the governor said on Thursday.
Calling Washington, D.C., "a very challenging environment," Newsom said that running for president isn't "in my cards."
On Tuesday, an effort to remove Newsom from office failed after two-thirds of Californians voted against the recall and handed Newsom a landslide victory.
The governor said the results of the election sent a message to Democrats across the nation "that we need to stiffen our spines and lean into keeping people safe and healthy."
The effort to remove Newsom from office picked up steam over the course of the pandemic as some Californians staunchly opposed the governor's approach to business closures as well as mask and vaccine mandates.
Securing his position in office, Newsom said it is clear that voters approved of the way he has handled the pandemic for the state.
"We shouldn't be timid in trying to protect people's lives and mitigate the spread in transmission of this disease," the governor said, adding that the recall results proved "that it's the right thing to do, but its also a motivating factor in the election."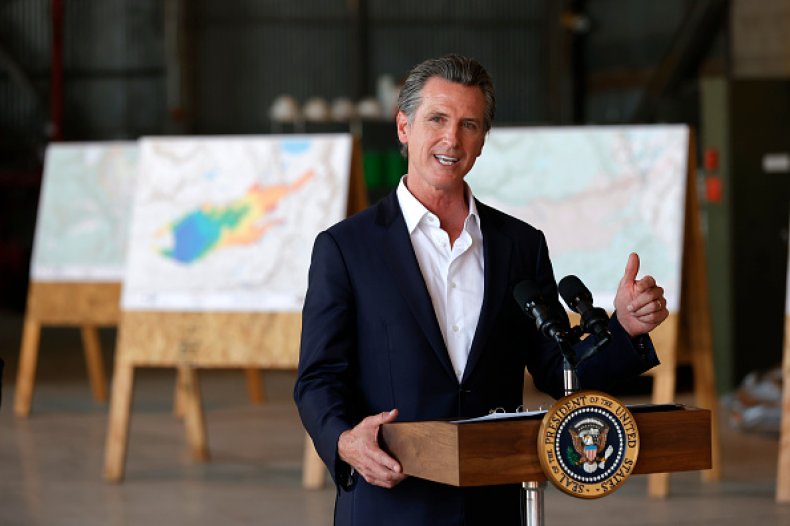 Newsom was heavily criticized last November after photos emerged of him dining maskless inside The French Laundry, a Yountville fine dining restaurant, while his administration was discouraging Californians from gathering in close proximity with people outside their households amid California's latest wave of infections.
On Thursday, Newsom called the backlash "humbling."
"[I] made a mistake and you own it. No one's beaten me up more than I have myself for just not getting up when I sat down," the governor said.
Asked if he thought his indoor dining experience caused the recall election, Newsom replied, "I think it was a component of that, but I think it was much broader than that and I think at the end of the day, I think it was about our approach to the pandemic. We leaned in, and people didn't like that."
Although Newsom's win—and Republican candidate Larry Elder's loss—seemed to send a message that his anti-Trump campaign was a success, the governor said support for former President Donald Trump in California is "still alive."
"I remain committed to try to meet people at where they are, regardless of whether or not they support me or reject [me]," Newsom said.
While Trump largely stayed out of the race, in the final days leading up to the election, Trump made several unsubstantiated claims that the election was rigged.
Elder's campaign echoed those claims but the Republican talk radio host conceded on Wednesday, saying, "Let's be gracious in defeat. We may have lost the battle, but we are going to win the war."
Newsom is the governor in California history to face a recall election and the first to defeat an effort to remove him from office. In 2003, Democratic Governor Gray Davis was replaced by Republican Arnold Schwarzenegger.