California Governor Gavin Newsom holds a narrow lead in the state's recall election, according to the latest poll from Emerson College, which suggests a tightening race.
The poll found that 48 percent of respondents said they would vote to keep Newsom, a Democrat, while 46 percent said they would vote to recall him. Six percent of voters were undecided.
Although California is usually a solidly Democratic state, the poll shows the race becoming closer. Newsom held a three-point lead in March and a five-point lead in July, according to the poll report.
Conservative talk show host Larry Elder received the most support to replace Newsom, as 23 percent of respondents said they would vote for him. Businessman John Cox and former Olympian and reality television star Caitlyn Jenner each received 7 percent.
However, 40 percent said they were still undecided on who they would vote for as Newsom's replacement, and 14 percent said they would vote for someone else.
The poll also found that 48 percent of respondents approve of Newsom, while 43 percent disapprove, a slip in approval from July, when 49 percent said they approved of Newsom and 42 percent disapproved.
Twenty-three percent of Democrats said they planned to vote to recall Newsom, as did 54 percent of independents and 80 percent of Republicans.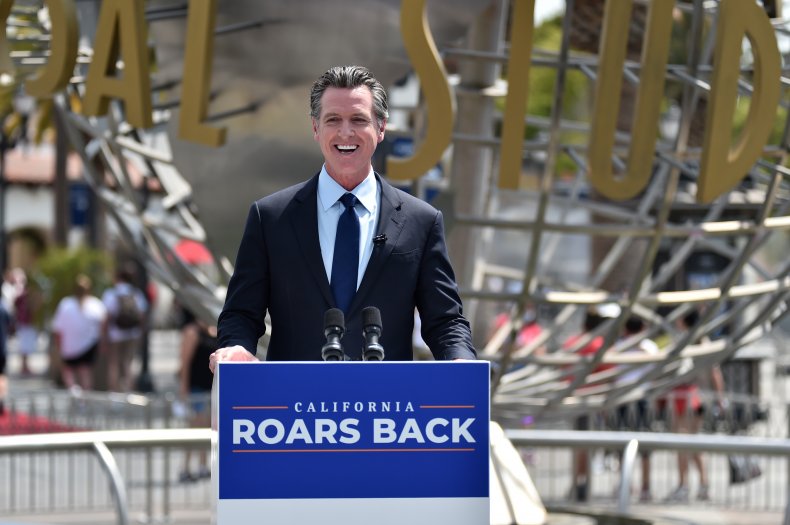 The poll also asked voters about what they believe is the top issue impacting California. Homelessness was the top issue, at 19 percent. Other top-ranking issues include COVID-19, crime, the environment, jobs and education.
"This poll suggests that the tightening of the race could be attributed to people's increased concern on crime," Spencer Kimball, the director of Emerson College Polling, said in the report.
The poll was conducted from July 30 to August 1 and consisted of registered voters in California.
Newsweek reached out to Newsom's office for comment but had not heard back as of publication.
Ahead of the recall, Democrats are worrying about turnout. Some party leaders are concerned about complacency among Democrats, who may believe Newsom will easily win the recall. Juan Rodriguez, the campaign manager of the anti-recall effort told the Associated Press he is "very concerned" about turnout.
Newsom has said losing the recall would have "profound consequences nationwide" and could encourage other attempts to remove elected officials across the country.
Newsweek previously reported Newsom has faced six recall efforts since being elected in 2018, but only the current one qualified for the ballot. The petition collected more than 2 million signatures. The recall is scheduled for September 14. Only one California governor has ever been recalled. In 2003, voters recalled Democratic Governor Gray Davis, who was replaced by Republican Arnold Schwarzenegger.