Gavin Newsom Mocked After In-Laws Donate to Ron DeSantis
Conservative media personalities are mocking California Governor Gavin Newsom in the wake of a Fox News report revealing that his in-laws made a sizeable donation to political rival, Ron DeSantis, who is seeking re-election against Democratic challenger Charlie Crist in Florida's gubernatorial race.
Newsom—a bitter rival of DeSantis and a potential contender to take him on in a future head-to-head matchup for the presidency—recently pledged to make DeSantis a "one-term governor" after donating a six-figure amount to support Crist, who is widely considered an underdog in November's general election.
However, Fox News reported Wednesday that a trust run by Newsom's in-laws, Kenneth F. Siebel Jr. and Judith A. Siebel, recently contributed $5,000 to support DeSantis, pitting two halves of the family against one another in a proxy battle for partisan supremacy in one of the nation's most narrowly contested states.
The story picked up significant traction in conservative media circles, which used it as proof of Newsom's alienating policies as leader of a coastal state seen by many as the polar opposite of Florida.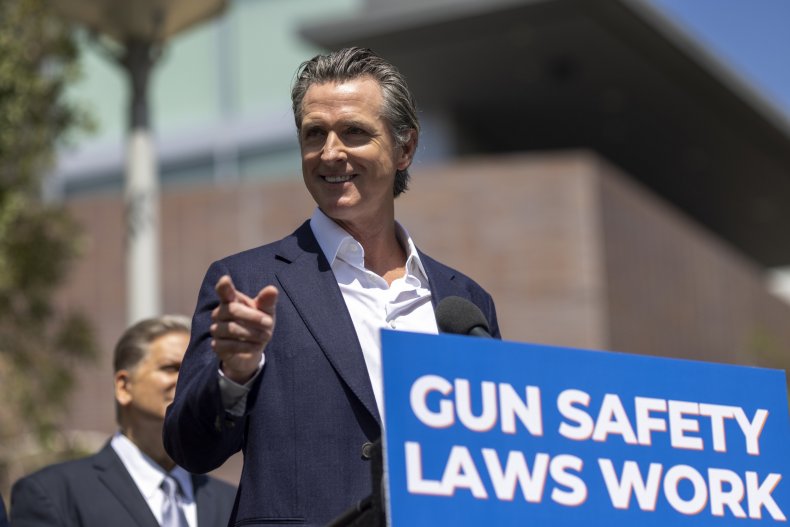 "Gavin Newsom's father-in-law donated to Ron DeSantis," conservative podcaster Liz Wheeler tweeted. "That is objectively hilarious."
But the donation is not unusual. The wealthy patriarch of the Siebel family has a long history of donating to Republican candidates and causes around the country, with campaign finance reports showing a legacy of significant donations to groups like the Republican National Committee and hardline conservatives like Wisconsin Senator Ron Johnson, Arkansas Senator Tom Cotton and Missouri Senator Josh Hawley.
Though DeSantis is running well ahead of Crist in most polling, the race is likely to rank among the country's most closely watched in November, elevated by national Democrats to become a referendum on DeSantis' hardline brand of conservatism in a place where most statewide races are decided by margins in the low single digits—which, some said, made the donation even more impactful.
"I'm sure he's humiliated because of how aggressive he's come out against Ron DeSantis," conservative radio personality Clay Travis said on an appearance on Fox News on Wednesday. "There's a possibility guys, that this could be a presidential election in 2024 or 2028. These guys don't like each other. And they have such diametrically opposed perspectives when it comes to COVID.
"Ron DeSantis got everything right on the data," he added, "and I think [that] deep in his heart, Gavin Newsom knows that, and he's so bothered by it that he can't stop talking about [DeSantis]."
While Travis propped up the donation as proof Newsom's own family being able to "see through the lies," he downplayed the prospect of a personal vendetta between members of the family, saying it might simply be an example of them believing in a different direction for the country.
"We try to create this narrative that everybody is in a silo of red or blue," he said. "The reality is for most families, when they go to Thanksgiving, or they go to Christmas, or they celebrate the new year, there are people who voted both ways in the larger collective family. That's what happens in a 50/50 nation."