Gavin Newsom Vows to Make Ron DeSantis 'One-Term Governor' Amid 2024 Rumors
Governor Gavin Newsom is pledging $100,000 to unseat Governor Ron DeSantis in an escalation of the transcontinental feud that has emerged between the California Democrat and his Florida Republican rival.
In a tweet Thursday morning, Newsom—a rising star in the Democratic Party who is considered a leading contender to succeed President Joe Biden—said he would be donating a six-figure sum to DeSantis' opponent Charlie Crist, who resoundingly won his primary against Florida Agriculture Commissioner Nikki Fried last week to represent his party on the November ballot.
"Time to make Ron DeSantis a one-term governor," Newsom tweeted. "I'm pledging $100k right now to @CharlieCrist. Who will join me in helping Charlie become the next Governor of Florida?"
Newsom is not the first major political figure to donate to Crist's campaign. Campaign finance reports show that House Speaker Nancy Pelosi and Maryland Congressman David Trone each gave $10,000 to his campaign earlier this election cycle. However, Newsom's contribution would be among the largest shows of support from a Democratic politician in a state whose politics have become a symbol of the national partisan divide.
Since the start of 2022, DeSantis' campaign has reported $69 million in contributions while Crist, fresh off a contentious Democratic primary, has amassed just $4 million, a large portion of which was spent securing his party's nomination. However, races for Florida governor—which have recently been decided by margins of single digits or less—often have national connotations and are likely to attract significant donor attention in the lead-up to November.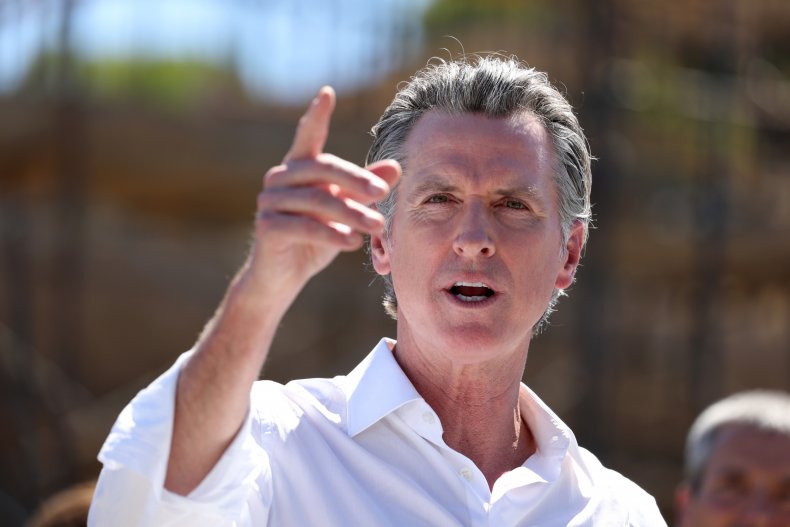 But Newsom's donation also has symbolic context, directly pitting himself against DeSantis, a leading figure in the national conservative movement and a likely future contender for president. While DeSantis has toured the country supporting various Republican candidates down the ballot, Newsom has been floated as a potential Biden replacement if the 79-year-old president—whose recent legislative successes have failed to reverse voters' enthusiasm gap for reelection—declines to run for the office again in 2024.
In July, Newsom's campaign booked more than $100,000 in airtime on Fox News disparaging DeSantis for policies banning certain books from schools and his administration's efforts to impose strict abortion regulations.
"I urge all of you to join us in the fight, or join us in California, where we still believe in freedom," Newsom said in the July 4 advertising spot.
DeSantis, who made California a frequent target throughout the COVID-19 pandemic for its policies to mitigate the virus' spread, fired back in a speech four days later, saying that Florida—unlike California—was growing.
"I was born and raised in this state," DeSantis said in his speech. "And until the last few years, I rarely, if ever, saw a California license plate in the state of Florida. You now see a lot of them. I can tell you. If you go to California, you ain't seeing very many Florida license plates."
While DeSantis won the governorship in 2018 by a razor-thin margin, his popularity in the state has grown over the last four years. FiveThirtyEight currently projects DeSantis to win his reelection campaign by roughly 10 points in November, while most polls project DeSantis as a clear favorite to hold onto his office.