We Just Got Our First Taste of 2024: DeSantis v. Newsom | Opinion
We just got a taste of what the 2024 presidential race might look like, and it could be shaping up to be a matchup for the ages. I'm not talking about the replay of 2020 that so many are predicting, with President Joe Biden running yet again against former President Donald Trump. Both are deeply unpopular, and not just with Americans on the other side of the political aisle, and their cratering poll numbers have opened what was considered a totally closed lane to new aspirants. And two of them just locked horns: Florida Governor Ron DeSantis and California Gov. Gavin Newsom.
Newsom is seen as a rising star in the Democratic Party, and he seems to be trying to further elevate his profile by crossing swords with the GOP's most popular governor. Amid speculation that he could become the Democrats' presidential nominee in 2024, Newsom has placed DeSantis in his crosshairs by releasing an ad that takes direct aim at DeSantis.
"The Republican leaders, they're banning books, making it harder to vote, restricting speech in classrooms, even criminalizing women and doctors," Newsom says in the ad, while photos of DeSantis fill the screen. "I urge all of you living in Florida to join the fight or join us in California where we still believe in freedom: Freedom of speech, freedom to choose, freedom from hate and the freedom to love. Don't let them take your freedom."
Newsom's ad comes a week after he excoriated DeSantis during an interview with CNN. "He's running for president," Newsom said. "I don't like people being used as political pawns. This is not just about him, but he is the poster child of it... We're as different as daylight and darkness."
DeSantis has also thrown his share of haymakers at Newsom, accusing Newsom of allowing a "coercive biomedical apparatus" influence the Golden State's onerous lockdown orders and COVID-19 restrictions. He also referred to San Francisco, where Newsom once served as mayor, as a "dumpster fire."
Unfortunately for California's governor, the data shows that picking a fight with DeSantis might not exactly be the best use of this time. In fact, several studies show that if he wants to advance his career, Newsom would be better served by focusing on fixing his own state instead of getting into the ring with DeSantis.
Consider the fact that Newsom's approval rating is quite dismal when compared to his Florida counterpart. In February, University of California, Berkeley's Institute of Governmental Studies conducted a poll showing that just 48 percent of registered voters approved of Newsom's performance, while 47 percent disapproved. Even worse, 54 percent of respondents felt that the Golden State is headed in the wrong direction. Only 36 percent believe the governor is leading the state in the right direction.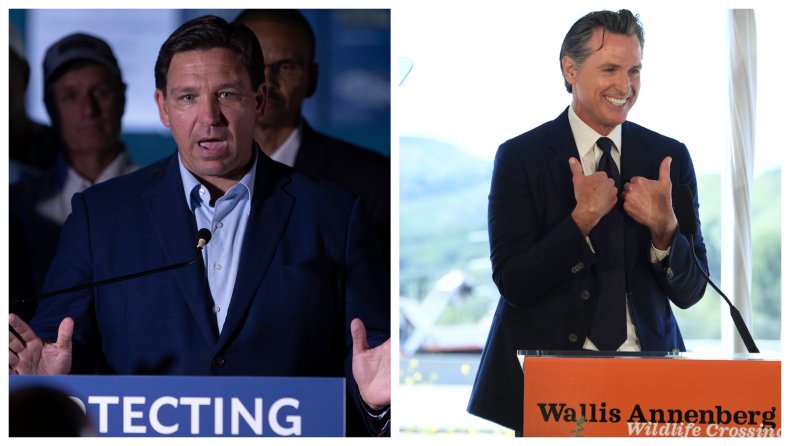 Conversely, a Florida Politics survey also conducted in February found that 54 percent of respondents approved of Gov. DeSantis' performance, while 38 percent disapproved. These results are in line with another poll conducted by University of North Florida which showed DeSantis' approval rating at 55 percent.
The Sunshine State's Chamber of Commerce found that 50 percent of Florida residents believe the state is headed in the right direction, while 41 percent disagreed. Moreover, for the first time in the state's history, Republicans have more registered voters than Democrats.
To put it simply, Floridians love DeSantis far more than Californians love Newsom, who was the target of a recall attempt last year.
Changes in population are another metric that does not favor California. According to CalMatters, the Golden State's population has seen a drastic decline over the past decade. But even more recently, the Census Bureau found that the state "had a net loss of more than a quarter-million residents between July 1, 2020, and July 1, 2021." Since 2010, about 7.5 million people moved from California to other states—but just 5.8 million people moved to California.
On the other hand, U.S. Census Data shows that Florida has seen a remarkable increase in its population; 211,000 Americans chose to make Florida their home just between July 2020 and July 2021.
People are fleeing California like President Biden from a press conference—many of them to Florida.
As if these numbers weren't bad enough for Newsom and Co., Florida also ranks higher in overall quality of life than most other states, including California. A U.S. News analysis ranks the Sunshine State at number 10 out of all 50 states. California was ranked at an abysmal 24. The rankings are based on a variety of factors such as education, healthcare, crime, economy, and others.
Interestingly enough, both states are neck-in-neck when it comes to their respective economies; California ranks at 10 and Florida at eight. But Florida blows California out of the water in education. The Sunshine State is ranked third in the country, while California is ranked at 20. The only metric where the Golden State beats Florida is in healthcare.
Despite having the world's 11th largest economy, California just does not compare to Florida when it comes to quality of living. The Golden State is plagued with crime, homelessness, an exorbitant cost of living, and a governor whose highest priority is maintaining an inappropriate level of oil in his hair.
As they say, the numbers don't lie: Florida is a much better state to live in than California. Given the facts on the ground, does Team Newsom really want to pick this fight? Does he really want to enter a national battle with his record?
One thing is for sure: It will be a battle for the ages.
Jeff Charles is the host of "A Fresh Perspective" podcast and a contributor for RedState and Liberty Nation.
The views in this article are the writer's own.