Gavin Newsom Skips U.N. Conference and Attends Oil Heiress' Wedding, Faces Backlash
California Governor Gavin Newsom has received some backlash after being spotted at the wedding of oil heiress Ivy Getty in San Francisco over the weekend, despite canceling a trip to a recent climate change summit.
Getty, 26, is the great-granddaughter of oil baron J. Paul Getty and heiress to one of the wealthiest fortunes in California history.
Newsom attended the wedding after having not been seen at a public event in the 13 previous days. He had been scheduled to appear at the United Nations' COP26 Climate Conference in Scotland, but scratched it off his agenda at the end of October.
Some criticism was angled towards Newsom after various outlets documented the opulent nature of the wedding compared to the message being sent by COP26. The wedding included a number of high-society engagements at the Getty Mansion, a DJ party with Earth, Wind and Fire, and a lavish ceremony at San Francisco City Hall.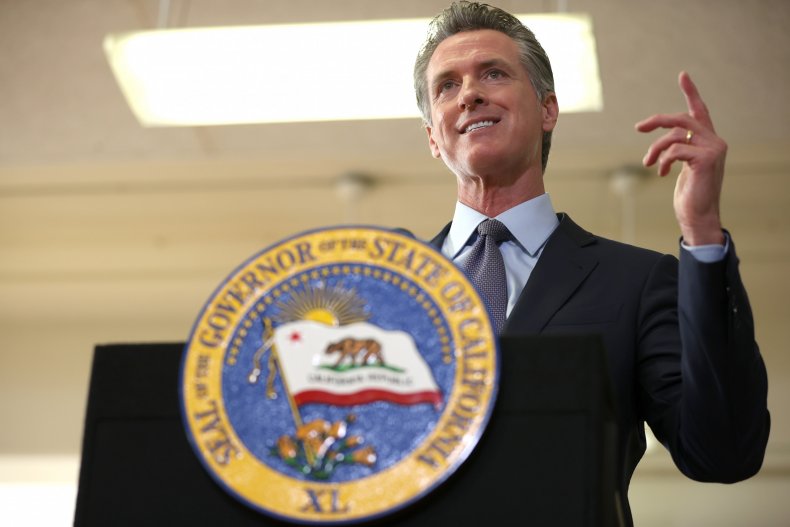 A number of other politicians attended, including San Francisco Mayor London Breed and House Speaker Nancy Pelosi, who presided over the ceremony. Numerous high-profile celebrities were also spotted, including singer Olivia Rodrigo and The Queen's Gambit star Anya Taylor-Joy, who served as Getty's maid of honor.
While Newsom's office did not officially confirm that the governor was in attendance, a picture was snapped of a figure that appeared to be Newsom watching the ceremony.
Washington Post national correspondent Philip Bump tweeted that the wedding was a "powerful editorial in support of a wealth tax."
Critics were quick to point out that, given the Getty's wealth from oil profits, Newsom's attendance at the lavish wedding seemingly went against the Democratic Party's green platform, specifically President Joe Biden's climate change initiatives seen in his reconciliation bill.
Some outlets speculated that Newsom's absence at COP26 could have been due to a negative reaction to the COVID-19 booster shot he received before the trip. His office, however, told Newsweek that this was not the case, and that Newsom had simply canceled the trip to spend time with his children over Halloween.
COP26 took place from November 1 to November 3, meaning that Newsom would have theoretically had time to fly to Scotland for the conference and attend the wedding.
Despite not being physically present, Newsom did participate in COP26, with his office issuing a statement that "[Newsom] will instead be participating virtually, focusing on California's landmark climate change policies."
Newsom likely attended the wedding due to his history with the Getty family. The Sacramento Bee documented how Newsom grew up around the family, and was by their side for a large portion of his political career. Speaker Pelosi, a representative for California, also has a close relationship with the Getty family.
Newsweek has reached out to Governor Newsom's office for comment.