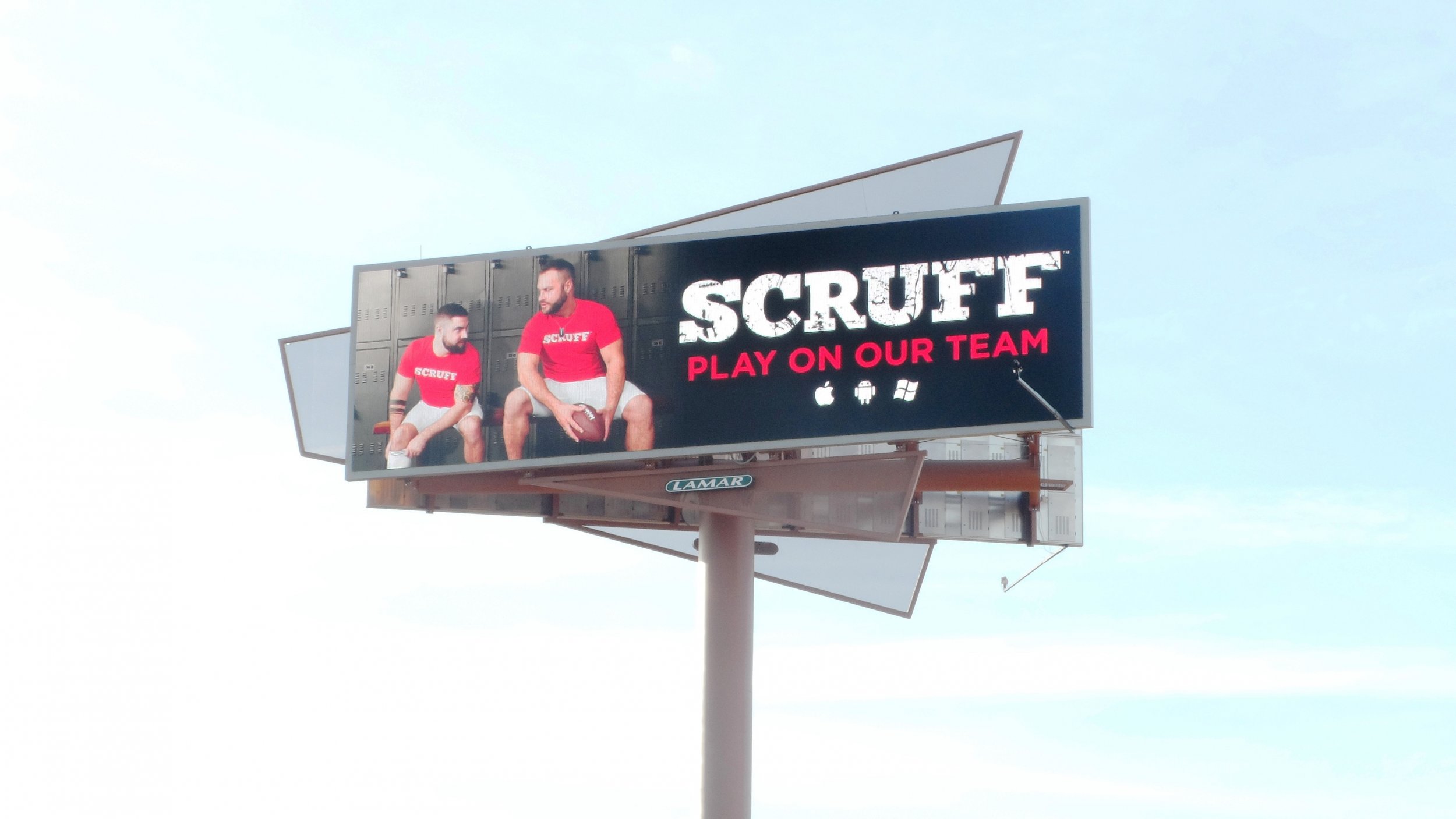 As football fans make the drive to Arizona's University of Phoenix Stadium for the Super Bowl, they will see two 48- by 14-foot digital billboards featuring a couple of buff men in a locker room, holding footballs. The first ad is on the highway leading up to the arena, with the second directly next to the stadium in the parking area.
At first glance, the ad seemingly could be for many things: T-shirts, sports gear or, given the company's name, Scruff, perhaps even shaving equipment. The ad, however, is a bit more risqué than that: Scruff is a dating app for gay men—athletic men in particular—that has 7 million users worldwide, and its message reads, "Play on our team."
Scruff spent $3,500 for the billboards during Super Bowl week, and it appears likely to see an impressive return on the investment. About half a million people are expected to be exposed to the ads, and already Scruff has seen a 20 percent increase in new profile creations in the Phoenix area, compared with the same period last year, spokesman Daniel DeMello told Newsweek. Since the first of the year, the app has generated more than a million logins since in Arizona.
"While the oversized cultural statement is obviously an attempt to attract more members, it's also a nod to brave athletes like Michael Sam and Kwame Harris, begging the question: What does 'gay' look like?" the company said in a statement.
For some attending the Super Bowl, the ads may shift the focus to another team besides the Seahawks and the Patriots.
Uncommon Knowledge
Newsweek is committed to challenging conventional wisdom and finding connections in the search for common ground.
Newsweek is committed to challenging conventional wisdom and finding connections in the search for common ground.
About the writer
Polly Mosendz is a breaking news reporter for Newsweek. She was previously a staff writer for The Wire and associate editor for The Atlantic. Her reporting on the Islamic State has been recognized by a variety of organizations, including the Middle East Institute. Her writing has appeared in The New York Observer, The Commercial Observer, Cosmopolitan, Business Insider, Yahoo News and a variety of other publications. Born in Kiev, Ukraine, she is fluent in both Ukrainian and Russian. Mosendz attended the New School University where she studied media writing and American history. She lives in Greenwich Village with many books.