Gay Democrat Wins Landslide Against Rival Who Attacked Him for Performing As Drag Queen
An openly gay Democratic primary challenger has claimed victory over the incumbent candidate who criticised his participation in drag events as "unbelievable."
Eric Morrison claimed 61 percent of the vote in Tuesday's poll over fellow Democrat, Rep. Earl Jacques is in the race to represent the 27th District in Delaware's House of Representatives.
The pair had previously clashed on the subject of Morrison's appearance at drag shows after Jacques said during an interview in December with The News Journal: "That is so far off-base for our district, it's unbelievable.
"You wonder what the point is. You can have fundraisers, I don't care about that. But dressing in drag? Really?
"I'm not sure he represents the people who attend those places of religion. If he's actually having a fundraiser in drag, I don't think those churches would endorse that ... I'm just saying it's a little different, that's for sure."
Jacques faced criticism from local Democractic leaders and was forced to apologise at the time, acknowledging his remarks were "insensitive, hurtful, and simply wrong."
He said: "It is wrong to attempt to pass judgment or impose one person's belief structure onto others.
"My job as a state representative is to represent all constituents of the 27th District, regardless of gender, race, creed, orientation or identity, period."
Responding to his apology, Morrison, who has performed in drag events for more than two decades, said he "very much" appreciated the remarks, but added: "Unfortunately, this does not change the fact that Rep. Jaques voted against same-sex marriage in 2013, and refused to vote yes or no on banning the barbaric practice of conversion therapy for Delaware's LGBT minors in 2013 ... those votes trouble me today and will always trouble me."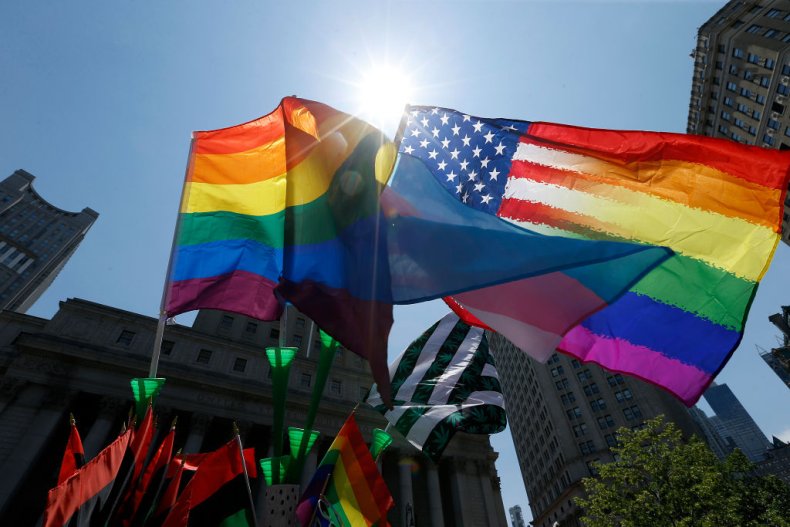 On Sunday, Morrison again raised his opponent's voting record on women's and LGBT+ issues, tweeting: "My opponent claims to be a 'Democratic moderate.'
"But I say that no real Democrat votes against a woman's right to choose, LGBT equality, banning the barbaric practice of LGBT 'conversion therapy,' environmental protections, and preserving vital programs for seniors."
Early on Wednesday morning after his victory was confirmed, Morrison tweeted: "Last night, we won our primary election with a spread of over 22%! Thank you to everyone who supported our campaign in any way, big or small.
"We are taking today to celebrate and rest—and tomorrow, we keep it in high gear for the November 3 general election!"
Elsewhere in Delaware, transgender activist Sarah McBride won a Democratic state Senate primary. If elected, she would become the first transgender state senator.