Gay Rights in Russia: Victim of Chechnya's Alleged Purge Shares Story of Beatings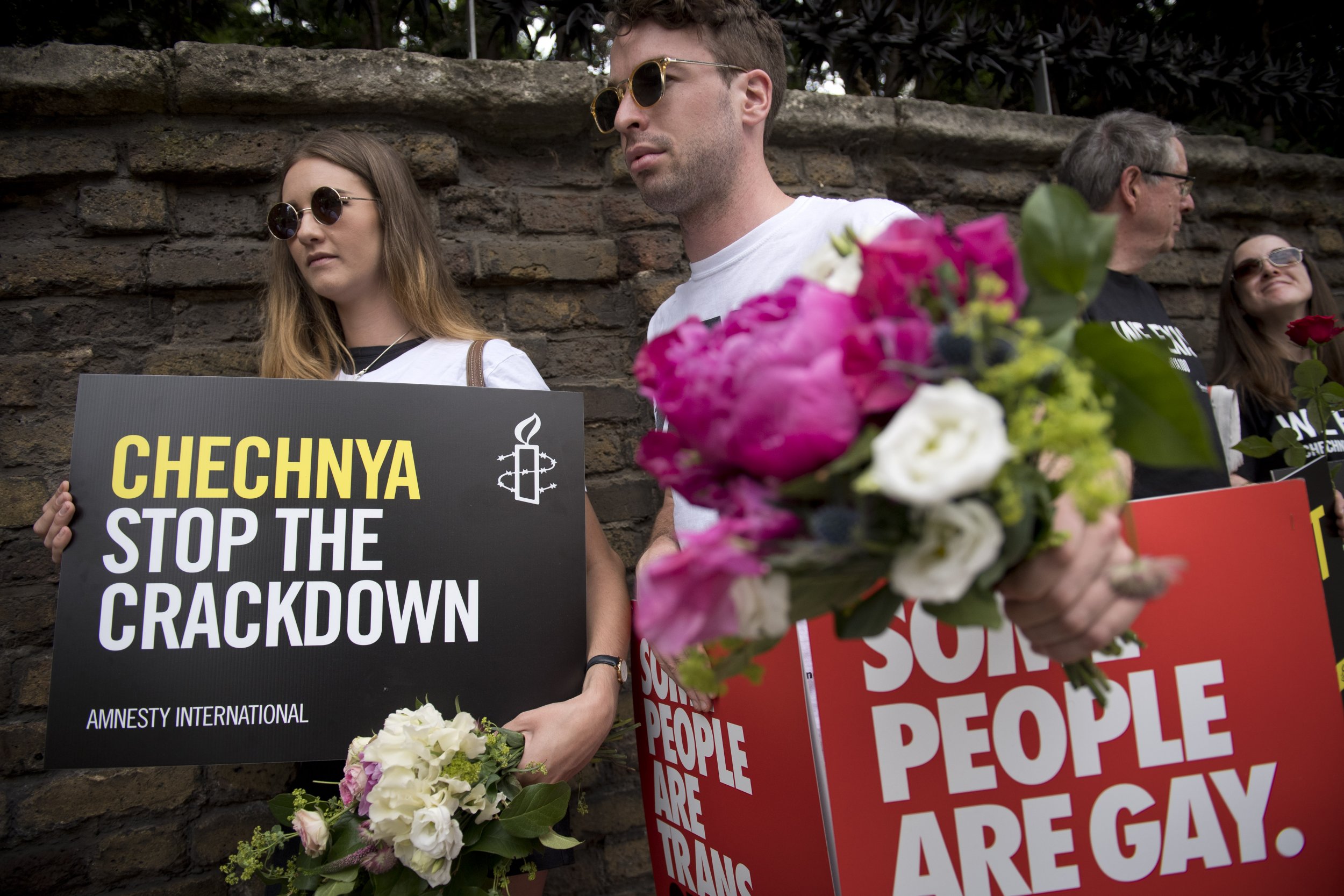 A gay Russian entrepreneur has accused a group of local men in Chechnya of detaining him, beating him and forcing him to denounce other gay men in the region in a reported LGBT purge. As such he has become the first man to identify himself as a victim of a now infamous and ongoing story of human rights abuse that local authorities deny is occuring.
The hardline Muslim authorities in the Russian region first attracted mass ridicule abroad when an explosive exposé in the investigative newspaper Novaya Gazeta last April accused them of running six prisons for gay locals. A spokesman for the region's leader, Ramzan Kadyrov, dismissed the allegations on the problematic grounds that the region had no homosexuals to detain in the first place.
Since then the Kremlin has largely left the investigation of the accusations to authorities controlled by Kadyrov. In a press conference organized by Novaya, Maxim Lapunov, a purported detainee of the draconian anti-gay system, came forward with a first account story of his own detention.
Lapunov, not a local of Chechnya, moved there on business from the city of Omsk in Russia, and said that in March two Chechen men in plain clothes asked him to follow them to a police station, driving him to a building where he was interrogated by a bearded 50-year-old man who went through his phone, asking personal questions about him. The man did not introduce himself but behaved like the leader of a group, according to Lapunov.
"He asked me if I knew why I was driven here today," Lapunov described in a statement published by Novaya, in conjunction with the press cofnerence. "I said that I did not know and he said: 'Have a good think.'"
The man allegedly went through Lapunov's contacts, past text conversations and asked about Lapunov's relationship status.
"From the messages it was evident that I was gay," Lapunov said. "After this the leader accused me of coming to Chechnya in order to 'seduce Chechen boys' and brusquely insisted that I tell him with which gay men I had had intimate relations on Chechen territory, what their names and contact details were. I told him that I do not know anyone and the transcript (of conversations) he had read was with friends from other regions of Russia."
Lapunov's captors did not believe him and threatened to beat him if he did not lead them to other gay men. Two men, put him through a "good cop, bad cop" routine as the latter waved a plastic tube, threatening to thrash him with it if he did not talk. Lapunov recalled that the men were specifically interested in Chechen gay men and asked that he denounce them, after which he would be set free as he is ethnically Russian.
He coalesced and phoned one local in Grozny to arrange a visit to his home on speakerphone with his captors listening for the address, which Lapunov knew. Lapunov exaggerated his ignorance of his friend's address and repeatedly asked him about it, hoping to arouse his suspicion. "He did not understand and said he would meet with me," he said.
Over the course of his 11-day detention he was beaten in a cellar, which he described as "drenched in blood" as soon as he arrived there. He left, "barely able to crawl," by his own account.
Lapunov's release came with a ticket to leave town. He believes he was only released because multiple witnesses saw his arrest and his family had already reported him missing in a different region of Russia.
In the same press conference, Igor Kalyapin, head of Russia's Committee Against Torture NGO, said that as far as the gay purge allegations were concerned, "there has been no investigation." However possibly in relation to Lapunov's impending statement, the Kremlin's Human Rights Ombudswoman Tatyana Moskalkova confirmed last week that the first complainant in the case had come forward.