Gen. David Petraeus Says Afghanistan Collapse 'Catastrophic' for U.S.
David Petraeus, the retired Army general and former director of the CIA, has called the Taliban's tightening grip on Afghanistan "catastrophic" for the U.S. and the world.
Petraeus, who previously served as the top U.S. commander in Afghanistan, described the fall of several Afghan cities to the Taliban in recent days as "disastrous."
"This is an enormous national security setback and it is on the verge of getting much worse unless we decide to take really significant action," he told The Rita Cosby Show on WABC Radio on Friday.
Petraeus said he had feared a "psychological collapse" months ago because the U.S. withdrawal of troops had prompted the removal of NATO troops along with thousands of contractors who had maintained the Afghan Air Force.
"So we're now in a situation where the Taliban is trying to encircle Kabul, a city of 5 or 6 million, before hundreds of thousands of refugees starting flooding into it," he said.
"If we choose to and if we communicated effectively to the Taliban that they need to halt what they're doing or we will bring down the might of the U.S. military on them, we can stop this."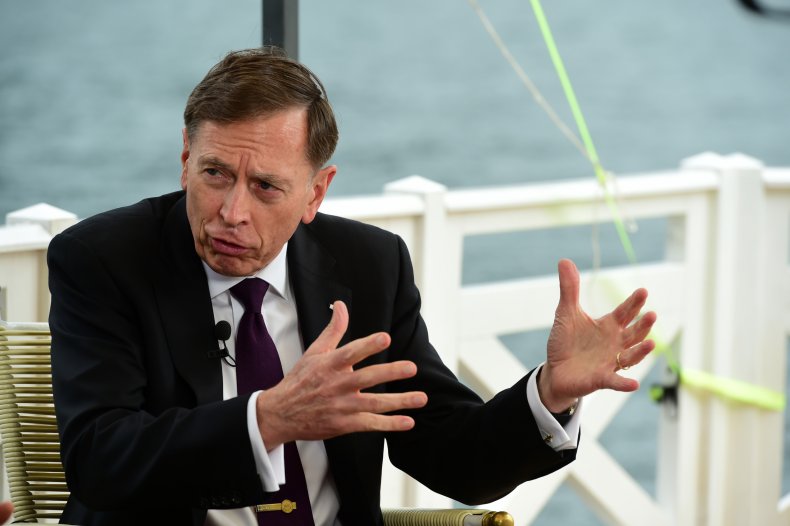 President Joe Biden announced in April that U.S. troops would fully withdraw from Afghanistan by September 11. That deadline was later moved up to August 31, and most troops had already left the country.
On Saturday, Biden said he had authorized the deployment of 5,000 U.S. troops to Afghanistan to ensure "an orderly and safe drawdown" of U.S. and other allied personnel. On Sunday, Taliban militants reportedly entered the outskirts of the Afghan capital, Kabul, as the U.S. ramped up the evacuation of its embassy in the city.
Petraeus said the Taliban's advances had shown that the decision to withdraw U.S. troops from Afghanistan was "a serious mistake."
"We should really take stock of what has happened and acknowledge, I think, that this was a serious mistake, and ask ourselves if having had 3,500 troops on the ground with no battlefield losses for 18 months with a manageable situation was not preferable to the catastrophe that we see unfolding in Afghanistan now," he said.
"Whether it is the Taliban taking over the country or it's the kind of civil war that we saw in the wake of the collapse of the Soviet, post-Soviet government, there are no good outcomes here. In fact, there's nothing more than horrible outcomes unless we are willing to acknowledge that this is not going as apparently the more optimistic projections laid out, and then take stock of the situation and re-examine what we could do."
Petraeus said he didn't fear an immediate threat to the U.S. from what he said was likely to be "a new sanctuary" for al-Qaeda and the Islamic State.
But he noted: "Remember what happened when Syria melted down? We used to describe it as a 'geopolitical Chernobyl', the meltdown of a country that spewed violence, extremism, instability and a tsunami of refugees."
Petraeus said those who made the decisions need to "own it."
He said: "In this case, the results cannot be sugar-coated... there was a saying that we occasionally used for really bad days and I said, look if it's a really bad day in Baghdad or Kabul, just go out to the podium and say we had a terrible day. Don't put lipstick on a pig. It undermines your credibility."
However, he said the situation could still be turned around.
"But it's going to take an enormous amount of effort to do so because we no longer have the major bases on the ground that we used to have," he said.
Petraeus also urged the U.S. to aid Afghans who served as interpreters and in other jobs for the U.S. government and are entitled to apply for Special Immigrant Visas.
"We should mount an airlift to get them out, if not to the United States because all the processing is done, at least to a third country where we can rapidly move them through that particular process," he said.
"Our credibility, our reputation depends on that, I think...we should feel a moral obligation and need to discharge that obligation."