Gender Reveal Plane Crash Is Latest Botched Stunt in Increasingly Absurd Trend
In the latest instance of a gender reveal party gone badly wrong, a plane carrying hundreds of gallons of pink water crashed in Texas after it flew dangerously low.
The pilot of the plane walked away with only minor injuries after the plane crashed in Turkey, a small town 300 miles north-west of Dallas, on September 7. Following an investigation, the National Transportation Safety Board (NTSB) concluded that the accident was caused because the plane was flying too slowly, causing its motors to stall.
"The pilot reported, that while manoeuvring at a low altitude in an aerial applicator airplane, he dumped about 350 gallons of pink water for a gender reveal," the body said in its report. "The airplane 'got too slow', aerodynamically stalled, impacted terrain, and came to rest inverted."
The NTSB said that assisting investigators from the Federal Aviation Authority noted that two people were on board the plane which is designed to only seat one.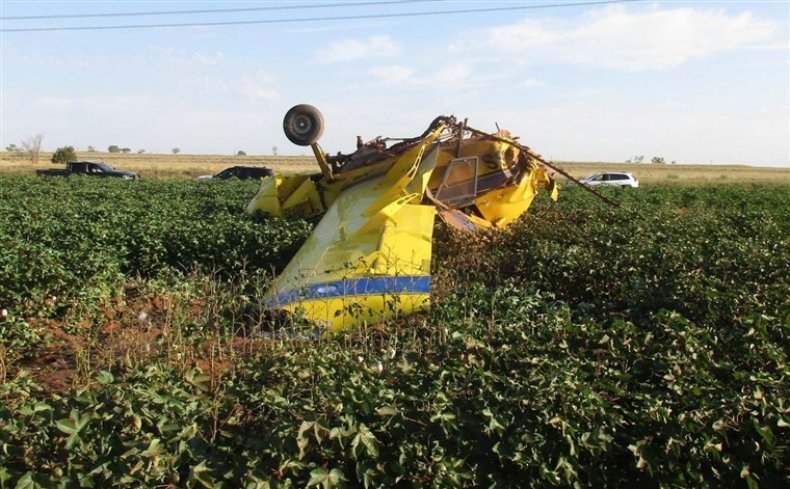 Gender reveal parties have become an increasingly popular trend, and the elaborate stunts devised for the big moment have on occassion resulted in catastrophic consequences.
Last month, a 56-year-old grandmother was killed when family members were experimenting with different explosive materials in order to create a device that would expel a colored puff of smoke.
The family inadvertently created a pipe bomb and the metal shrapnel that flew off the device instantly killed Pamela Kreimeyer of Knoxville, Iowa, when it struck her in the head.
The two cases add to the growing list of mishaps caused by the gender reveal trend which only seems to be growing more absurd.
It first emerged in 2008 when blogger Jenna Karvunidis posted about a party where her child's sex was revealed. After thebump.com featured a story about the reveal on their website, the concept exploded. The pervasive and exhibitionist nature of social media and the need to be original has seemingly driven parents to try increasingly outlandish stunts.
What started off as an endearing and imaginative way to show whether families were due to have a boy or a girl—by slicing into a cake with pink or blue filling, for example—has since seen parents-to-be in one instance using an alligator to pop a smoke-filled balloon.
Though most of these reveals pass without incident, the need to be creative has led them to be more dangerous as well.
In April 2017, an Arizona Border Patrol agent fired his gun at a target containing the explosive substance Tannerite so that the gender of his forthcoming child would be revealed.
The blast set fire to the surrounding bush and after the flames spread, nearly 47,000 acres along Arizona's Highway 83 were incinerated. Almost 800 firefighters were required to put out the blaze and hundreds of people had to evacuate their homes.
Dennis Dicky was forced to pay $220,000 in fines and is under probation for five years after pleading guilty to a misdeanor federal charge of starting a fire without a permit.
In September of this year, a car in Australia burst into flames when its driver used a "burnout"—the practice of keeping a vehicle stationary and spinning its wheels—in order to perform a gender reveal.